AACR 2018
The UCSF Cancer Center is proud to participate in the American Association for Cancer Research Annual Meetings.
In 2018, scores of HDFCCC members and junior researchers participated in panels and poster sessions at the AACR Annual Meeting at McCormick Place in Chicago.For a snapshot of UCSF presenters and participants see the social media highlights below.

Be sure to subscribe to our YouTube channel and follow @UCSFCancer on Twitter for the latest news and event highlights.
---
YouTube
Laura Fejerman, PhD discusses her AACR18 presentation, Ethnicity: nationality, genetic ancestry, and breast cancer in women of Latin American origins.

In addition to participating in the HDFCCC's Cancer Control Program, Dr. Fejerman is active in the Global Cancer Program, the San Francisco Cancer Initiative (SFCAN), and the Institute for Human Genetics. Her research efforts can be viewed on the Fejerman Lab website.
---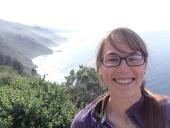 Weaver Lab member Allison Drain discusses her poster, Discoidin domain receptor 1 (DDR1) ablation promotes tissue fibrosis and hypoxia to induce aggressive, basal-like breast cancer.
Allison Drain is a PhD student in the UC Berkeley - UCSF Graduate Program in Bioengineering. Read more about the Weaver Lab at UCSF.
---
Chi-Hen Wu, PhD (McCormick Lab) on the poster, Pathway-directed high-throughput drug screen identifies PI3K inhibitors that synergistically potentiate antitumor activity of HDAC inhibitors in cutaneous T-cell lymphoma.
Read more about the work of Chi-Hen Wu and his colleagues in the McCormick Lab at UCSF.
---
A Bird's Eye View - Top Tweets
Masterful talk by Valerie Weaver @ucsf: deconstructing basic bio of link between breast tissue stiffness and #cancer risk reveals exciting new targets for cancer #prevention for women at high risk #bcsm #AACR18 @UCSFCancer pic.twitter.com/P32qUOpMip

— lore_nick (@lore_nick) April 16, 2018
Congratulations to Roman Camarda in @goga_lab for receiving #AACR Scholar in Training Award for revealing how aggressive #tnbc steals nutrients from nearby breast fat cells #bcsm #AACR18 pic.twitter.com/kxmK7GjfpG

— UCSF Cancer Center (@UCSFCancer) April 16, 2018
Dr. Emily Greenspan @theNCI gives overview at this morningʻs ATOM info session #AACR18. ATOM is working to access and mine large data sets to develop an ecosystem between US national labs, Pharma, and Academia to shorten early drug discovery time from 5 years to 1. pic.twitter.com/dDV7LbbU8x

— UCSF Cancer Center (@UCSFCancer) April 17, 2018
Clint Cario of @WitteLab and team @UCSF using machine learning expand our list of bio markers for #liquidbiopsy for prostate cancer using cell-free DNA#pcsm #AACR18 pic.twitter.com/n2Q2wbqvC5

— UCSF Cancer Center (@UCSFCancer) April 16, 2018
Evidence that non-small cell adenocarcinomas may develop resistance to MAPK inhibitor treatment by suppressing a key molecule involved in degrading growth signals in the cell. I hope I got that right, Manasi! @UCSF @UCSFCancer #AACR18 pic.twitter.com/1TAzM2dbkx

— lore_nick (@lore_nick) April 15, 2018
Highly recommended - tyrosine kinase interactome with application to clinical use of EGFR inhibitors. comments welcome! #nsclc #AACR2018 #AACR18 https://t.co/wjdtFeHPa7

— Bandyopadhyay Lab (@SBLabUCSF) April 15, 2018
Very cool work by Davide Ruggero @UCSF @UCSFCancer showing how tumors evade immune detection by changing which mRNAs are translated into proteins. This would be missed by just measuring DNA read out into RNA. Transcription ≠ expression! #AACR18

— lore_nick (@lore_nick) April 14, 2018
The understudied part of the central dogma. Great education session on Translational Control in cancer chaired by Nahum Sonenberg and @RuggeroDavide getting started right now #AACR2018 @UCSFCancer pic.twitter.com/i1mcvxAVfl

— Kevan Shokat (@kevansf) April 14, 2018