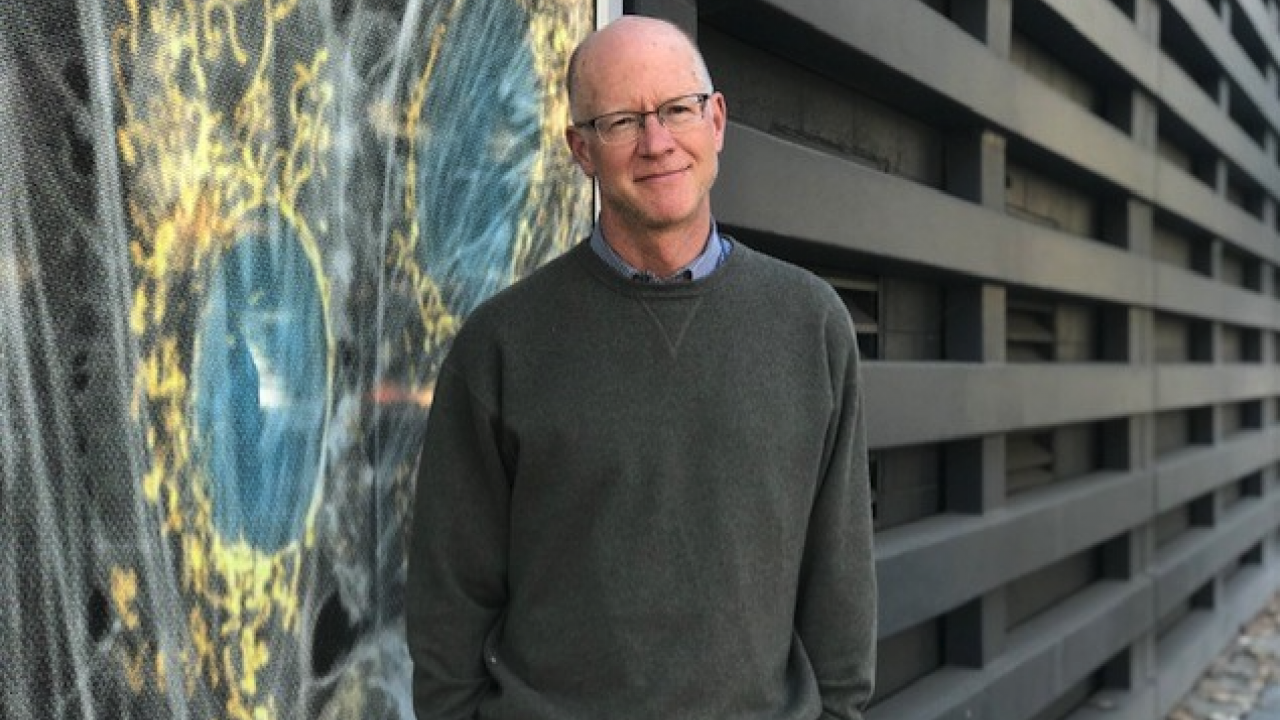 Byron C. Hann, MD, PhD
, Research Scientist and Manager of the Preclinical Therapeutics Core at the Helen Diller Family Comprehensive Cancer Center will be retiring at the end of the month. Since his arrival in 1984, Dr. Hann has collaborated with UCSF's best and brightest scientists and helped to grow the Preclinical Therapeutics Core to the exceptional facility it is today. Below he shares reflections on peers and mentors during his tenure, and his plans for the future.
---
Q. What attracted you most to UCSF? What was your academic journey to UCSF?
I arrived at UCSF in the fall of 1984. My first job after college was as a tech in
Lou Reichardt
's lab. With a degree in physics from Reed College and a recently discovered love of chemistry and biology, I was looking for exposure to the life sciences while applying to MD-PhD programs. That year, I befriended a remarkable set of grad students and post-docs who showed how fun science can be. Lou himself embodied the spirit of combining top notch scientific discovery with world-class mountaineering. During that year I learned a ton of about experimental science, came to know San Francisco, and gained acceptance to the MD-PhD program at UCSF.
"One of the fun aspects of my job is that every day some extremely bright scientist or clinician walks in the door with a clever idea for treating cancer, and we get to think about how to test these hypotheses in vivo."
As a member of one of the early UCSF MSTP classes, I was privileged to join a spectacular set of fellow students and faculty mentors.
Arthur Lander
,
Josh LaBaer
, Josh Miller,
Roland Bainton
,
Don Ganem
,
Harold Varmus
, to name a few. In those days, the concept of a dual degree was relatively new, and still being defined. It was an exciting time, and fun to know that anything was possible. I loved every step of the process, including my med school classes (and classmates, one of whom I married). The AIDS epidemic was in full swing, and science was exploding. PCR was changing the way science was done, the first DNA sequencers were coming online, and we were right in the middle of it.
I had the good fortune to join
Peter Walter's
lab and find a fantastic set of colleagues in the Dept. of Biochemistry and Biophysics. We shared the Health Sciences East 9th floor (on the Parnassus campus) with
Bruce Alberts
,
Marc Kirschner
, and
John Watson
. It was a wonderful time of life and a great time to be at UCSF and to live in San Francisco. Both my scientific and personal life seemed charmed. I started my nine-year graduate school tenure as a fresh college graduate and ended married and with a four-year-old daughter.
Q. What are some examples of how the technology used in the Preclinical Therapeutics Core has advanced in your time at UCSF?
The PTC has witnessed quite a lot of growth over the past two decades. I was first approached by
Joe Gray
to take over the Breast SPORE Preclinical Core in 2003 (to replace
Maria Pallavicini
when she left for the deanship at UC Merced). At that time, we were a two-person operation based at Mt. Zion and supporting a small number of breast oncology labs.
Joe and Bill Hyun had purchased one of the first Xenogen bioluminescent imaging systems, and that kickstarted our preclinical instrumentation. The PTC gradually grew, and in 2006 we became a full cancer center core, one of the first such entities in the country. We gradually acquired more staff and preclinical technology – the core now consists of six full- time staff, a sizeable suite of state-of-the-art molecular imaging devices distributed over three campuses, and expertise in a wide range of animal models. With an annual budget that now exceeds $1M, the PTC supports scores of HDFCCC members in nearly every program.
Q. Who have your mentors at UCSF been, or individuals whose work inspired you most?
This is a topic that I have been thinking about quite a bit recently as my time here draws to a close; my list of heroes is long. I really learned how to think about science, conduct experiments, and communicate results under the wing of my PhD advisor, Peter Walter. Other important influences during those early days were Dennis Clegg, Ira Herskowitz, Bruce Alberts, Ray Deshaies, Bill Hansen and Dan Lowenstein. Coming back to UCSF, my circle of colleagues has expanded and includes a large set of inspired and gifted individuals including Allan Balmain, Martin McMahon, Kevan Shokat, Jim Wells, Charly Craik, Davide Ruggero, Chloe Atreya, and Arun Wiita.
Being part of the Cancer Center has been rewarding and humbling to see daily the unselfish dedication of this remarkable group. I feel grateful to have landed where I did and to have shared in so much scientific discovery. And I want to mention Rosemary Akhurst who has been a trusted friend and colleague for much of my time at UCSF, and a fantastic boss.
Q. What has been the most rewarding/challenging project you've undertaken in your 30+ years with the HDFCCC.
This is a tough question, there have been so many. There is often no playbook for how to proceed. Early on, we developed a novel in vivo model for evaluating a homegrown UCSF agent for pancreatic cancer that is now being used in to treat patients. In another experiment, we did over one year of daily dosing in mice to identify anti-estrogen, pathway-resistance mechanisms. Using surgical tumor samples we generated dozens of novel tumor models, including an
extremely rare human chordoma PDX
.
Field Summary: A Breadth of Publications
One of the fun aspects of my job is that every day some extremely bright scientist or clinician walks in the door with a clever idea for treating cancer, and we get to think about how to test these hypotheses in vivo. In addition to the fun of doing the science, my UCSF colleagues have been incredibly generous in sharing publication authorship.

Q. You and your family are avid travelers. How are you adjusting to the limited mobility of 2020?
The family has adapted remarkably well and appreciated a few of the silver linings of this crazy year. The hardest hit was our daughter Ellen whose plans to join the Peace Corps in Eastern Africa were scuttled. She is now working as a contact tracer while she applies to graduate school. My heart goes out to parents of young children who juggle full-time careers with remote learning, and all of the social and environmental disruptions of the COVID-19 pandemic.
Q. Has the pandemic affected your plans for retirement and, if so, how? What is next on the horizon?
Yes, it certainly has. We had grand plans to tour the world, live and work abroad, and start checking off bucket list items. Mostly, however, our plans for this next chapter of life are to slow down and enjoy time together and with friends and family. For the most part, we are still on track in this regard.
In appreciation
"Byron has made tremendous contributions empowering researchers across the entire Cancer Center. His sage advice and good humor will be much missed but we wish him a lot of fun in his well-earned retirement."
Alan Ashworth, PhD, FRS, President, UCSF Helen Diller Family Comprehensive Cancer Center
---
"Byron has been a wonderful colleague and friend since I came to the USA from Scotland UK over twenty years ago. He has built the Preclinical Therapeutics Core from the ground up to become a thriving and popular shared research facility. Byron's intellectual curiosity, collegiality, and humility, together with his "let's fix it" attitude have been key to this success. He is supportive of both his peers and his staff. I've never heard him say a bad word about anyone. He will be truly missed by all at UCSF, and we wish him a long healthy and active retirement."
Rosemary Akhurst, PhD, Director, Pre-Clinical Therapeutics Core
---
"Besides being a brilliant scientist, Byron has been a role model on living with a good work life balance and has provided great insight on raising kids and being a good person."
Paul Phojanakong, Lab Manager Preclinical Therapeutics Core since 2007