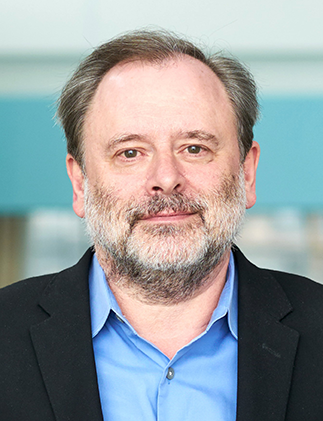 The story of cancer is evolving, and promising new discoveries provide reasons for hope in battling the disease.
At the UCSF Helen Diller Family Comprehensive Cancer Center, we bring together scientists and clinicians from many disciplines to collaborate on virtually every aspect of cancer – understanding the basic biology, identifying risk factors and finding the best ways to control or prevent the disease. Armed with new insights into the molecular basis of cancer, UCSF scientists are pursuing some of the most innovative and exciting research happening today. The results of their work could lead to earlier detection, improved drug therapies, and, ultimately, a dramatic increase in survival rates and patients' quality of life.
Our investigators' laboratory research extends across the university's five principal campuses and beyond. The work of these bench scientists is closely allied with that of physicians on the front lines of patient care. This synergy and collaboration is what is meant by "translational research": While basic scientists investigate cancer's fundamental causes, clinical researchers explore ways that this knowledge can be applied, giving patients access to the latest experimental treatments.
Here on this website, we offer detailed information about such clinical trials, which span nearly all types of cancer. You will also find summaries of our programmatic research initiatives, biographical background on our faculty investigators; links to cancer information resources; access to our clinical services; and suggestions for how to support our work.
Whether you are a patient, advocate, health care provider, researcher, or concerned layperson, thank you for your interest in the Helen Diller Family Comprehensive Cancer Center.
About our Director
Alan Ashworth, PhD, FRS comes to UCSF following his tenure as chief executive of The Institute of Cancer Research, London, one of the world's most influential cancer research organizations. Together with its partner hospital, The Royal Marsden NHS Foundation Trust, the ICR is one of the top rated cancer centers globally.

Acclaimed British Scientist Is Named Director of the UCSF Helen Diller Family Comprehensive Cancer Center (3/17/2014)
---
Previous Leadership

Frank McCormick, PhD, FRS, DSc (Hon) led the UCSF cancer center from 1997 to 2014. He continues his pioneering research on RAS at UCSF as well as leading the NCI's RAS Initiative at the Frederick National Laboratory for Cancer Research (FNLCR).

Peter R. Carroll, MD, MPH, served as interim director in 2014. Dr. Carroll is associate dean of the UCSF School of Medicine, chair of the UCSF Department of Urology, and leader of the prostate cancer program at the UCSF cancer center.