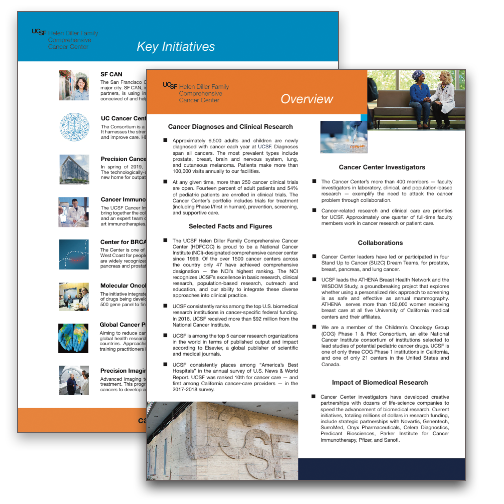 Rankings

UCSF Medical Center has been named to the Honor Roll of the nation's top hospitals for adult care in U.S. News & World Report's 2023-24 Best Hospitals rankings, representing the highest quality of care and safety standards in the country. The distinction was earned by only 22 medical centers nationwide and five in California. Regionally, UCSF Medical Center was the best hospital in Northern California for cancer care, a status it also achieved in geriatrics, ophthalmology, psychiatry, and urology, along with its top California spots in neurology and autoimmune disorders. It is the top-ranked hospital in the San Francisco Metro Area and the only hospital in Northern California to be ranked among the top 50 hospitals in all 14 specialty areas in which it was assessed.
The professional schools of UCSF are among the top in the nation. UC San Francisco's research has been ranked among the top in the world, according to the latest U.S. News & World Report's Best Global Universities 2023 rankings.The rankings reflect the institution's caliber overall, as well as the impact of its scientific publications – a fact made more extraordinary due to UCSF's exclusive focus on graduate health sciences and competition against much larger institutions with a broader range of academic fields.
In 2022, UC San Francisco again was the top public recipient of funding from the National Institutes of Health (NIH), maintaining the spot for the 16th year in a row. UCSF continued to rank high among all public and private institutions nationwide, ranking second overall. In the 2022 the University was awarded over 1,500 NIH grants and contracts, amounting to more than $823 million in funds – a new record for NIH funding to a public university.
UCSF consistently ranks among the top U.S. biomedical research institutions in cancer-specific federal funding. In 2022, UCSF received more than $64 million from the National Cancer Institute.
Elsevier, a global publisher of scientific and medical journals, ranked UCSF as one of the top five institutions in the world for published cancer research and impact.
More about UCSF | More about NCI-designated Centers | More about "America's Best Hospitals"
---
Institutional Memberships and Accreditation
Since 1998, UCSF has been a member of the National Comprehensive Cancer Network, an alliance of 33 of the world's leading cancer centers.
The Cancer Center is also a member of the Association of American Cancer Institutes. This group is made up of leading U.S. research centers whose efforts involve a comprehensive and multidisciplinary program of cancer research, treatment, patient care, prevention, education and community outreach.
Cancer programs at UCSF have been continuously accredited since 1933 by the Commission on Cancer of the American College of Surgeons, and UCSF is among a select group of institutions that have achieved the commission's highest level of accreditation. The commission is a consortium of professional organizations which are dedicated to reducing the morbidity and mortality of cancer through education and setting standards, and monitoring quality, multidisciplinary patient care. CoC-approved programs diagnose and treat 80 percent of those diagnosed with cancer each year.
---
Cancer Center Investigators
The Cancer Center's over 500 members and affiliate members — faculty investigators in laboratory, clinical, and population-based research — exemplify the value of attacking the cancer problem through collaborative, interdisciplinary research. Cancer Center members represent dozens of departments and institutes in the UCSF Schools of Medicine, Pharmacy, Dentistry, and Nursing.
Cancer-related research and clinical care are priorities for UCSF. Approximately one-quarter of the university's full-time faculty members work in cancer research or patient care.
Members exemplify extraordinary scientific distinction as measured by prestigious national and international honors. Among the UCSF Helen Diller Family Comprehensive Cancer Center's present and former members are two winners of the Nobel Prize in Physiology or Medicine (J. Michael Bishop, MD, 1989; Elizabeth H. Blackburn, PhD, 2009). Current Cancer Center members also include three winners of the Albert Lasker Award for Basic or Clinical Medical Research; two winners of the Shaw Prize in Life Science and Medicine; eight Howard Hughes Medical Institute investigators; 20 members of the National Academy of Sciences; 18 members of the Institute of Medicine; 24 Fellows of the American Academy of Arts and Sciences; and six Fellows of the Royal Society and the Royal Society of Edinburgh.
Cancer Center Membership | Members with Extraordinary Scientific Distinction
---
Cancer Diagnoses and Clinical Research
Approximately 6,500 adults and children are newly diagnosed with cancer each year at UCSF. Diagnoses span all cancers. The most prevalent types include prostate, breast, brain and nervous system, lung, and cutaneous melanoma. Patients make more than 100,000 visits annually to our facilities.
At any given time, more than 250 cancer clinical trials are open. Fourteen percent of adult patients and 54% of pediatric patients are enrolled in clinical trials. The Cancer Center's portfolio includes trials for treatment (including Phase I/first in human), prevention, screening, and supportive care.
The Cancer Center continues a growth period made possible a decade ago by an anonymous pledge of $150 million. In addition to expanding the Center's infrastructure for experimental therapies the gift has augmented clinical research activities including the launch of an early-phase trials unit and improved efforts in medical informatics. As a result of these efforts, UCSF saw a 79% growth in clinical trial accruals from 2007 to 2011. The Bakar Cancer Hospital opened at the Mission Bay campus on February 1, 2015.
---
Impact of Biomedical Research
Leading biomedical research universities, such as UCSF, are engines of discovery that launch new ideas into the private sector for development. An estimated 90 life-science startup companies have been spawned from the university's labs. Overall, the University of California system has received more patents than any other university in the world, and UCSF is ranked first in the system for active patents. Among UCSF patents are many of the system's top revenue producers, including hepatitis B vaccine; yeast expression vector, a technique for delivering medicines to the body's cells; a form of recombinant DNA used for the production of therapeutic agents; and magnetic resonance imaging.
Public-private partnerships can speed the advancement of biomedical research and move discoveries from bench to bedside. Cancer Center investigators have developed creative partnerships with dozens of life-science companies to speed the advancement of biomedical research. Current initiatives, totaling millions of dollars in research funding, include strategic partnerships with Novartis, Genentech, SurroMed, Onyx Pharmaceuticals, Celera Diagnostics, Predicant Biosciences, Parker Institute for Cancer Immunotherapy, Pfizer, and Sanofi.
---
Collaborations
Cancer Center leaders have led or participated in four Stand Up to Cancer (SU2C) Dream Teams, for prostate, breast, pancreas, and lung cancer.
UCSF leads the ATHENA Breast Health Network and the WISDOM Study, a groundbreaking project that explores whether using a personalized risk approach to screening is as safe and effective as annual mammography. ATHENA serves more than 150,000 women receiving breast care at all five University of California medical centers and their affiliates.
We are a member of the Children's Oncology Group (COG) Phase 1 Consortium, an elite National Cancer Institute consortium of institutions selected to lead studies of potential pediatric cancer drugs. UCSF is one of only two COG Phase 1 institutions in California, and one of only 21 centers in the United States and Canada.