The UCSF Helen Diller Family Comprehensive Cancer Center benefits from the expertise of external advisors who are leaders in the scientific, business, government and lay communities. Together, these teams are charged with advising the Cancer Center on matters of research, patient care, outreach and advocacy, and fundraising.
The External Advisory Board (EAB) serves a key role in the Cancer Center's planning and evaluation of its research programs and supporting research infrastructure. The EAB includes national leaders in laboratory, population, and clinical sciences in areas of cancer research that match the Cancer Center's research programs. The board reviews the overall strategy and progress and makes specific recommendations to the President relating to recruitment, programmatic structure, shared resources, institutional commitment, and other relevant issues.
Chi Dang, MD, PhD, Scientific Director, Ludwig Cancer Research; and EAB Chair
Fred Appelbaum, MD, Executive Vice President and Deputy Director, Fred Hutch
Michael Berens, PhD, Deputy Director, Research Resources, Translational Genomics Research Institute
Eileen Dolan, PhD, Professor of Medicine, Biological Sciences Division, The University of Chicago
Anita Harrison, Executive Director for Research Strategy, VCU Massey Cancer Center
Terry Hyslop, PhD, Professor, Division of Biostatistics; Director, Center for Health Equity; co-Leader, Cancer Risk and Control Program, Sidney Kimmel Cancer Center, Thomas Jefferson University
Andrew Hyland, PhD, Chair, Department of Health Behavior, Division of Cancer Prevention & Population Sciences, Roswell Park Comprehensive Cancer Center
Michael Knopp, MD, PhD, Vice Chair of Research, Director of the Wright Center of Innovation in Biomedical Imaging, The Ohio State University
Karen E. Knudsen, MBA, PhD, Chief Executive Officer, American Cancer Society
William "Bill" Nelson, MD, PhD, Director, Sydney Kimmel Comprehensive Cancer Center at Johns Hopkins
Julie Park, MD, Chair, Department of Oncology, St. Jude Children's Research Hospital
Electra D. Paskett, PhD, Director, Division of Cancer Prevention and Control, College of Medicine, The Ohio State University Cancer Center
Elizabeth A. Platz, ScD, Deputy Chair, Epidemiology, Johns Hopkins, Bloomberg School of Public Health
Patrick Y. Wen, MD, Director, Center for Neuro-Oncology, Dana-Farber Cancer Institute
Eric P. Winer, MD, Director, Yale Cancer Center
Jedd D. Wolchok, MD, PhD, Director, Sandra and Edward Meyer Cancer Center, Weill Cornell Medicine
---
Patient and Family Advisory Council
The Patient and Family Advisory Council is comprised of UCSF patients and their caregivers who advise and engage UCSF staff and leadership.
The Cancer Center Patient and Family Advisory Council's mission is to infuse the patient and family voice into the delivery of care, to bring about change that improves the patient and family experience, facilitates ease of navigation, and fosters healing and wellness throughout all stages of disease and recovery.  The Council's goals and objectives can be viewed here.
For information on the PFAC please contact
Keren Stronach, MPH
, Cancer Center Patient and Family Experience Specialist.
---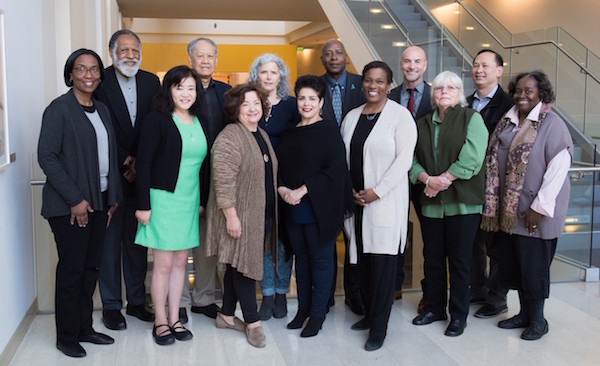 The UCSF Helen Diller Family Comprehensive Cancer Center Community Advisory Board (CAB), established in 2005, comprises representatives from the diverse geographic areas, ethnicities, and lifestyles of Northern California.  Members include representatives of community-based organizations, state and local health departments, community hospitals and medical practices, clergy, and cancer survivors and advocates.
CAB Chairs

Lisa Tealer, Executive Director, Bay Area Community Health Advisory Committee
Roxanna Bautista, Executive Director of Rise Up Solutions

Committee Chairs

Wilma R.  Batiste, CRC, NCPT, Chair, Faith Communities Committee (FCC)  
Michael Shaw, Chair, Men's Health Committee (MHC)
Olivia Fé, Chair, SF Women's Cancer Network

CAB Member Agencies

Amy Alanes, Women's Cancer Resource Center
Rina Bello, Bay Area Cancer Connections (BACC)
Joyce Cheng, Chinese Community Health Resource Center
Barbara Cicerelli Director, SFGH Cancer Navigation Program
Laura Coronado, Equal Opportunity Specialist, HHS region IX
Ysabel Duron Founder &, The Latino Cancer Institute
Maria Lemus, Vision y Compromiso
Jill Longcrier Patient Navigator & Client Services Manager, Cancer Resource Centers of Mendocino County
Carol McGruder Co-Chair, African American Tobacco Control Leadership Council (AATCLC)
Ernesto Padilla CEO, Lake County Tribal Health Consortium, Inc.
Rob Tufel CEO, Cancer Support Community, SF Bay Area
Taunuu Ve'e Co-Chair & Co-Founder,  Regional Pacific Islander Taskforce
---
The Cancer Leadership Council (CLC) advises and assists Alan Ashworth, PhD, FRS, UCSF Helen Diller Family Comprehensive Cancer Center (HDFCCC) president, in enhancing program quality and strategically expanding the scope of UCSF's cancer research, clinical, and community outreach initiatives.
Dana Dornsife, CLC Chair
Brian Cayne
Helmy Eltoukhy
Mark Garrett
Sujay Jaswa (chair, Innovation Committee)
Devyani "Devi" Kamdar (chair, Communications Committee)
W.G. "Van" Van Auken
The council meets regularly, and members actively participate on HDFCCC projects through the CLC committees and ad hoc project teams.
---