The UCSF Helen Diller Family Comprehensive Cancer Center supports healing and wellness by providing patients and their loved ones with a wide range of programs and services to help patients and families get the information, support, and resources they need to manage a cancer diagnosis.
Our Patient and Family Cancer Support Center provides information, support and resources to any person dealing with cancer. You are invited to call to find out more about programs and upcoming events. Click here or call us at 415-885-3693.
Services and Programs at a Glance
Prescriptions for Healing
Image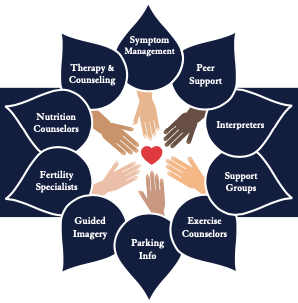 We invite providers and patients alike to download these handy checklist of available support services at UCSF.