Patients at the UCSF Helen Diller Family Comprehensive Cancer Center receive clinical care for cancer at UCSF Health facilities at our Mission Bay, Mount Zion, and Parnassus campuses, as well as at a growing network of affiliate locations in the Bay Area.
Image

Download our Cancer Services brochure for more information, or visit UCSFHealth.org.
Featured Specialized Care
The Cancer Immunotherapy Clinic located at UCSF's Ambulatory Care Center on the Parnassus Campus brings together expert UCSF physicians from across all cancer sub-specialties, and scientists from UCSF and beyond to develop the cancer treatments of the future.
The UCSF Breast Care Center is specifically designed to meet the needs of patients with breast problems, breast cancer, or general concerns about breast health.
Image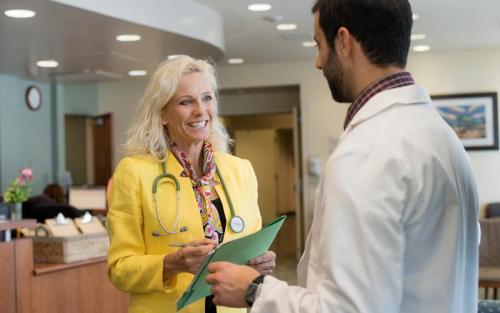 The Center for BRCA Research and corresponding Hereditary Cancer Clinic focus clinical and research activities directly on BRCA mutations, concentrating on clinical care, screening, and prevention – as well as education and outreach.
Offering comprehensive evaluations and personalized treatment plans, the Center for Neuroendocrine Tumors includes a multidisciplinary team that enables patients with any type of neuroendocrine tumor to receive expert, team-based care.
Our experts at UCSF are transforming the way gastrointestinal cancers are prevented, detected, treated and cured.