Image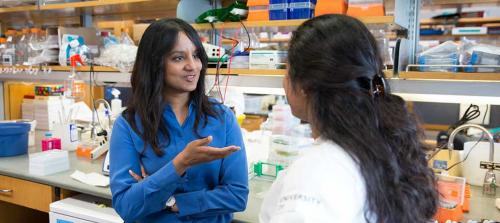 Cancer research is conducted at UCSF across campuses, spanning many departments, programs, and specialties. 
With a culture of collaboration, a commitment to excellence, and access to cutting-edge laboratory and clinical technologies, the UCSF cancer community works tirelessly to improve outcomes for cancer patients everywhere.
Browse by Cancer Type
The overarching goals of the Cancer Immunology and Hematology Program are to understand the molecular basis and dynamic relationship between the immune system and both hematopoietic and solid tumors to discover new strategies for cancer therapy.
Launched in 2009, the Stephen and Nancy Grand Multiple Myeloma Translational Initiative (Grand MMTI), is the premier myeloma translational program on the West Coast, with the goal of speeding development of improved multiple myeloma treatments. The Grand MMTI team consists of internationally recognized cancer researchers and world-class myeloma clinicians working together to develop novel treatments for addressing multiple myeloma.
The Division of Hematology & Medical Oncology within the UCSF Department of Medicine oversees a significant research program, in which investigators study and create novel treatments for blood disorders, diseases of the blood-forming organs, and cancer. The Division's goal is to reduce the risk of these disorders around the world and to improve the life of each patient through basic, clinical, and translational research.
The Neurologic Oncology Program uses a team approach to advance the understanding of brain tumor biology and drive translation into more effective treatments. The Program does not limit its work to any specific type or group of brain tumors, but rather seeks to apply knowledge gained to the understanding and improved treatment of all grades and types of brain cancers.
Established in 1972, the Brain Tumor Center takes a comprehensive, interdisciplinary approach to understanding and treating brain cancer. Its excellence in patient care is both supported and advanced through an extensive program in basic, translational, and clinical research.
The Division of Pediatric Neurosurgery within the UCSF Department of Neurological Surgery is home to several research labs that study the underlying cause and new treatments for pediatric brain tumors, epilepsy, and movement disorders.  A large clinical trials portfolio for pediatric brain tumors includes investigator-initiated trials and those performed as part of national consortia. 
The Breast Oncology Program develops innovative approaches to describe the molecular and cellular networks underlying breast cancer susceptibility, heterogeneity, diversity, and disparities with the aim of improving outcomes for healthy women and women with breast cancer.
The UCSF Breast Science Advocacy Core is a group of trained, dedicated and engaged advocates accelerating the progress of translational research against the disease by leveraging our experience as survivors and caregivers through collaboration with researchers.
The WISDOM study compares annual mammogram to personalized breast screening. You get all your results back and our study recommendation for your breast screening. A study designed for women by women.
Bi-monthly forum at which health experts explore the latest developments and advancements in breast cancer research. The Bay Area Breast Cancer Forum provides an excellent venue for our patients and their families to gather new information about topics related to breast cancer and breast health.
Offering comprehensive evaluations and personalized treatment plans, the Center for Neuroendocrine Tumors includes a multidisciplinary team that enables patients with any type of neuroendocrine tumor to receive expert, team-based care. From laboratory-based studies to therapeutic clinical trials, the Center's research program uses a wide range of approaches to tackle unanswered questions and advance treatment for patients with NETs/NECs.
This program reflects the multidisciplinary practices of the UCSF Gastrointestinal Oncology Clinic -- with doctors, nurses, epidemiologists, dietitians, psychologists, and physical therapists all working together to improve outcomes for patients with gastrointestinal cancers.
Led by Dr. Margaret Tempero, the Pancreas Cancer Program is comprised of a multidisciplinary group of investigators focused on improving treatments for pancreatic cancer, identifying persons at high risk for the disease, and developing new methods for screening and prevention.
The UCSF Liver Center is a consortium of physicians and scientists who are committed to understanding the biology of the liver and alleviating suffering from liver diseases. Researchers within the Center's program on Liver Cell Biology, Plasticity & Transformation study liver cancer and its complications.
The Thoracic Oncology Lab is pursuing a variety of strategies to treat and cure lung cancer, mesothelioma and esophageal cancer. These include the investigation of molecular pathways such as Wnt and Hh, the role of inflammation in lung carcinogenesis, isolation of lung cancer stems cells, and the Lung Cancer Systems Genetics Project, An Approach to Individualized Lung Cancer Diagnosis and Therapy. Eventually, these efforts will have a major impact on these diseases.
The Prostate Cancer Program is a multidisciplinary group of investigators focused on understanding the core biology that drives the clinical behavior of prostate cancer across the full spectrum of the disease. The Program promotes interdisciplinary research that will allow a better understanding of the biology of prostate cancer from the biologic and environmental factors associated with carcinogenesis, through the early detection and disease progression to prognostication, and the biologic basis of disease progression.
Founded in 2019, the mission of the UCSF Benioff Initiative for Prostate Cancer Research is to understand the fundamental biology underlying aggressive prostate cancer and develop strategies that will lead to a cure for metastatic disease. The Benioff Initiative for Prostate Cancer Research recognizes that prostate cancer represents a heterogeneous disease. The Initiative seeks to transform prostate cancer treatment, from a "one-size-fits-all" approach, to a  strategy where therapies are informed by the molecular mechanisms that govern a patient's individual cancer. 
The department conducts basic scientific work to analyze and categorize different types of prostate cancer and the health risks they pose. Department of Urology faculty lead large epidemiological studies on dietary and other lifestyle interventions that may help reduce the risk of the disease. UCSF Urology also heads CaPSURE™, a multicenter longitudinal study of men with prostate cancer.
The UCSF Melanoma and Skin Cancer Program provides advanced care for patients with all stages of melanoma, from early-stage melanomas to advanced metastatic cancer, as well as other types of skin cancer. In addition to caring for patients, participating physicians and scientists perform clinical research to better understand the biology of melanoma and to develop new treatments for the disease.