Image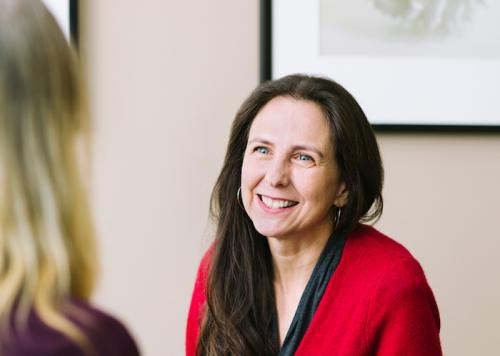 About Psycho-Oncology at UCSF
Psycho-Oncology at the Helen Diller Family Comprehensive Cancer Center includes psychologists and psychiatrists who care deeply about the emotional needs of patients and their families as they cope with cancer and treatment.
The team works closely with Cancer Center providers to identify and address challenges with adjusting to the illness; the stresses of medical treatment; emotional needs; relationships and caregiving; coping with pain, insomnia and other symptoms; and much more. Providers use behavioral approaches and medication to help individuals who are facing cancer and treatment, and life beyond. The clinical service is open to individuals being treated at UCSF and their family members. We collaborate with other supportive care programs, such as the Patient and Family Cancer Support Center, social work, Spiritual Care Services and the Symptom Management Service, to provide the best possible care for our patients and their families.
An important mission of Psycho-Oncology at UCSF is to raise the standard of psychosocial care across the Cancer Center through educational activities and research.
How to Refer
If you are a UCSF Cancer Center patient who would like to set up an appointment with one of our doctors, please ask your UCSF Cancer Center doctor to send a referral.
If you are a UCSF Cancer center provider who would like to refer a patient to Psycho-Oncology, please send a referral in APEX.
For more information regarding referrals, appointment scheduling or any other practice-related matters, please call Missy Buchanan at 415-353-7019.
Locations
Psycho-Oncology appointments can be at one of two clinics, depending on which doctor you plan to see. (Please note that Dr. Lawrence Kaplan sees patients at both locations.)
Mount Zion [directions and parking]
1600 Divisadero, 4th Floor Outpatient Side
San Francisco, CA 94115
Mission Bay [directions and parking]
Bakar Precision Cancer Medicine Building
1825 4th St., 4th Floor
San Francisco, CA 94158
Parnassus
[directions and parking]
400 Parnassus Avenue, Fourth Floor
San Francisco, CA 94143
For questions about your appointment, please contact 415-353-7019.
Contact Us
Monday-Friday (except holidays)
8:30 a.m. to 5 p.m.

415-353-7019
Please use this number if you need to leave a message for a member of Psycho-Oncology, or if you need to reschedule an appointment.
Classes
Survivorship Wellness Orientation: For Post-Treatment Cancer Patients
This is a monthly orientation held for people who are interested in enrolling in Survivorship Wellness, an 8-week clinical program focused on helping survivors of cancer learn about, set goals, and practice skills to optimize their health and wellness after cancer treatment. It is held on Mondays from 1:30 - 3:00 pm.  
Coping with Stress: 5-Week Group Program for People with Cancer
Living with cancer is never easy, but during this incredibly strange and isolating time, we know that stress and anxiety levels are higher than normal.
This class
, which will be held virtually using Zoom, will be a great opportunity to "meet" other patients and learn strategies to be calmer, manage stress, and cope better. Held on Wednesdays, September 30 - October 28. Call (415) 353-9751 to register.