Image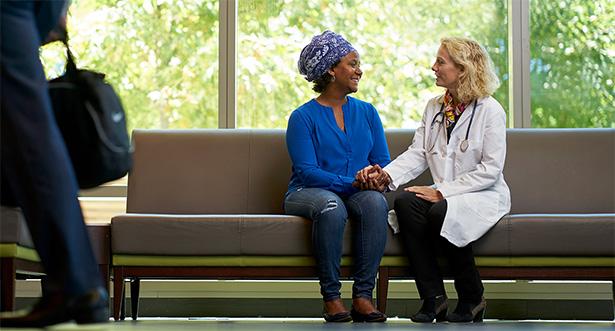 The UCSF Helen Diller Family Comprehensive Cancer Center combines basic science, clinical research, epidemiology/cancer control and patient care from throughout the University of California, San Francisco system.
UCSF's long tradition of excellence in cancer research includes the Nobel Prize-winning work of J. Michael Bishop and Harold Varmus, who discovered cancer-causing oncogenes. Their work opened new doors for exploring genetic abnormalities that cause cancer, and formed the basis for some of the most important cancer research happening today.
Image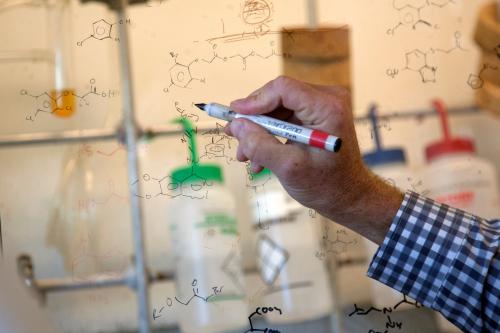 Basic Scientific Research
From understanding normal cellular processes to discovering the underlying molecular and genetic causes of cancer when these processes go awry, UCSF researchers are committed to moving scientific insights forward and pursuing their relevance for clinical oncology and cancer prevention.  
Image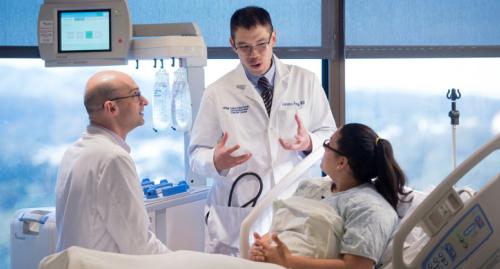 Clinical Research
Clinical scientists explore how a greater understanding of fundamental biological events can be transformed into clinical tools. New forms of cancer treatment, as well as innovations in diagnosis and prognosis, undergo rigorous evaluation for safety and efficacy. This translates into improved patient outcomes and hope for the future.  
Image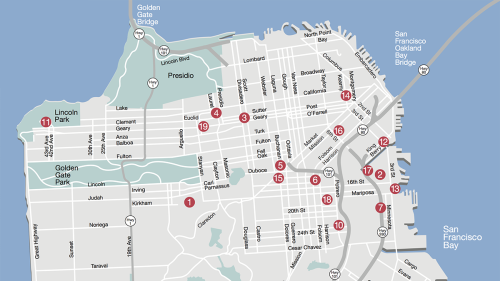 Image
Population Science
Cancer-population sciences at UCSF includes research on the causes of new cancers, and the sickness and death due to the disease. This will help develop ways to improve prevention and early detection of cancer as well as the quality of life following diagnosis and treatment.  
About Helen and Sanford Diller: A Legacy of Philanthropy and Purpose
Sanford Diller, and his wife Helen, were longtime friends and champions of UCSF and the Cancer Center. Helen, who died in 2015, and for whom the Cancer Center is named, and Sanford, who died in 2018, were the bedrock for so much of the Cancer Center's success over the past decade and its ambitious pursuit of innovation. Helen and Sanford's legacies will include improving the lives of countless people with illness, and helping build one of the best cancer research and treatment institutions in the world.
"It was exciting and gratifying to work with Sanford. He was committed to cutting-edge, compassionate care for current patients and the bold pursuit of science likely to bring about the greatest benefit," said Alan Ashworth, PhD, FRS, president of the HDFCCC. "He was a proponent of calculated high-risk-high-reward projects that will allow UCSF researchers, both established and junior, to make or contribute to significant developments for years to come."
Frank McCormick, PhD, FRS, former HDFCCC director, said Sanford's generosity and vision were critical to the development of the Cancer Center.
"His support enabled us to transform the Center towards a new level of excellence, through recruitment of new faculty, greatly improved infrastructure and funds for new initiatives. Furthermore, he enabled the design and construction of the wonderful Diller cancer research building at Mission Bay, which he dedicated to his dear wife Helen," McCormick said. "It was a real pleasure and an honor to know him and his family. We were delighted to name the Helen Diller Family Comprehensive Cancer Center in recognition of all that they had done."
Peter Carroll, MD, MPH, associate dean of the UCSF School of Medicine and chair of the Department of Urology, said the Dillers' vision and generosity are examples of the profound impact one family can have on a community.
"The relationship with the family was one of the greatest highlights of my career. It is impossible to list all the lives they touched here at UCSF," Carroll said. "Whether it was in helping faculty, providing critical support for new programs or in buildings that housed a new generation of scientists, they allowed us to accomplish things which would not have been possible otherwise."
The Helen Diller Family Comprehensive Cancer Center will continue to honor Sanford and Helen Diller by doing as they did – raising the standard and then achieving even more, Ashworth added.
More Info
For questions that may not be answered on this site, please contact us by email.