Image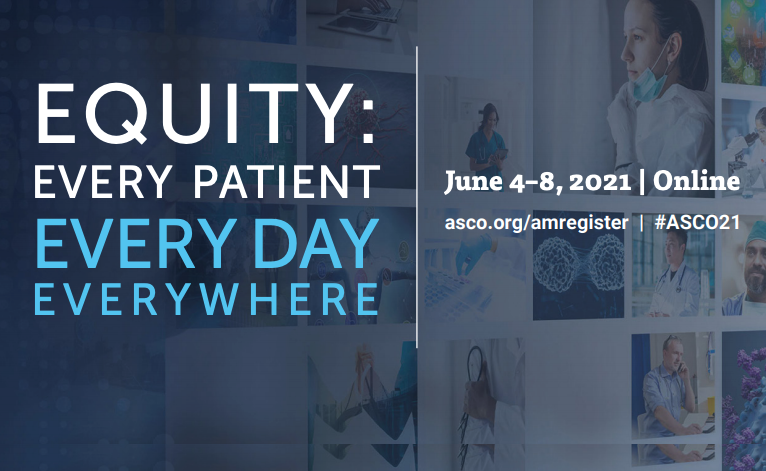 Despite the virtual format due to the coronavirus pandemic, UCSF once again had an impressive presence at this year's annual meeting of the American Society of Clinical Oncologists (ASCO). The program convened online June 4-8, with the theme, "Equity: Every Patient. Every Day. Everywhere." 
Dozens of the HDFCCC's 400+ members were represented in abstracts accepted for presentation, and ASCO provided investigators of all levels a chance to present and review research, confer with colleagues, and return with new ideas.
Conquer Cancer Foundation Awardees
2021 Career Development Award
Image

Julian Hong, MD was awarded a 2021 Career Development Award for "Accessible and equitable computational approaches to reduce acute care for cancer patients."
2021 Merit Awards
Ivan de Kouchkovsky, MD "A phase (Ph) 1b/2 study of ribociclib (R) in combination with docetaxel (D) plus prednisone (P) in metastatic castration-resistant prostate cancer (mCRPC)"
Mazie Tsang, MD, MS "Pre-existing geriatric conditions in older adults with poor prognosis cancers"
Ana Velazquez Mañana, MD "Digital footprint of hematology-oncology fellowship programs: Identifying gaps after the first virtual recruitment season
Evan Walker, MD "The marginal diagnostic benefit of pancreatic cancer molecular profiling after germline testing". Annual Meeting Merit Award"
2021 Young Investigator Awards
Ivan de Kouchkovsky, MD "Clinical and genomic features of low PSMA uptake in castration-resistant prostate cancer"
Swetha Kambhampati, MD  "Phase II Study of Daratumumab in Combination with Azacitidine and Dexamethasone in Relapsed/Refractory Multiple Myeloma Patients Previously Treated with Daratumumab"
Daniel Kwon, MD "Consultation audio recordings to improve informed treatment decision-making in patients with advanced prostate cancer"
Evan Walker, MD "Assessing the role of the human gut microbiome in predicting and influencing treatment outcomes for patients with metastatic pancreatic cancer"
Featured Highlights and News Mentions
Physicians and scientists from the UCSF Helen Diller Family Comprehensive Cancer Center presented cutting-edge clinical research during the 2021 ASCO Annual Meeting as evidenced by this sample of noteworthy news mentions.
Melisa L. Wong, MD, MAS, was featured on the cover of the ASCO Post for study noting aging is accompanied by changes in the immune system, and fewer geriatric patients participate in clinical trials of new anticancer agents. 
Image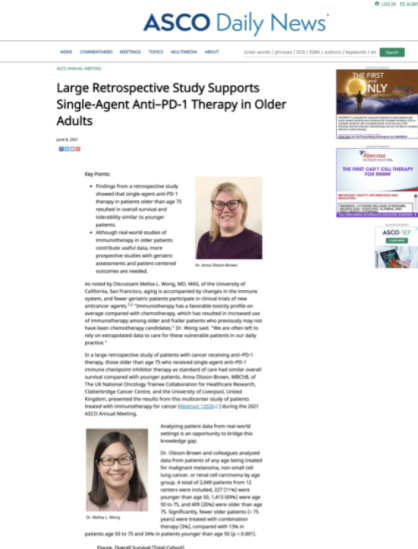 The Parker Institute for Cancer Immunotherapy selected a presentation by Rahul Aggarwal, MD on Radioactive Medicine in Prostate Cancer as one of their Five Key Takeaways from the 2021 ASCO Annual Meeting. UroToday.com reviewed a presentation by Matt Cooperberg, MD in ASCO 2021: The National Impact of the COVID-19 Pandemic on U.S. Prostate Cancer Community Care as well as a session presentation from Franklin Huang, MD on issues to be addressed in delivering precision health for prostate cancer.  In GeneOnline ASCO21: Current Issues with CAR T Cells for Hematologic Malignancies Jeffrey Tice, MD discussed the financial barriers to market access for CAR T cells.
A posted from Pamela Munster, MD addressing minimizing side effects of treatment for HER2+ breast cancer prompted discussion on Healio.com. CancerNetwork examined Numerically Improved pCR Not Significant With SD-101 Plus Pembrolizumab in HER2– Breast Cancer presented by Amy Jo Chien, MD. Additional coverage of UCSF presentations could be found across numerous social media channels.
ASCO Voices
Image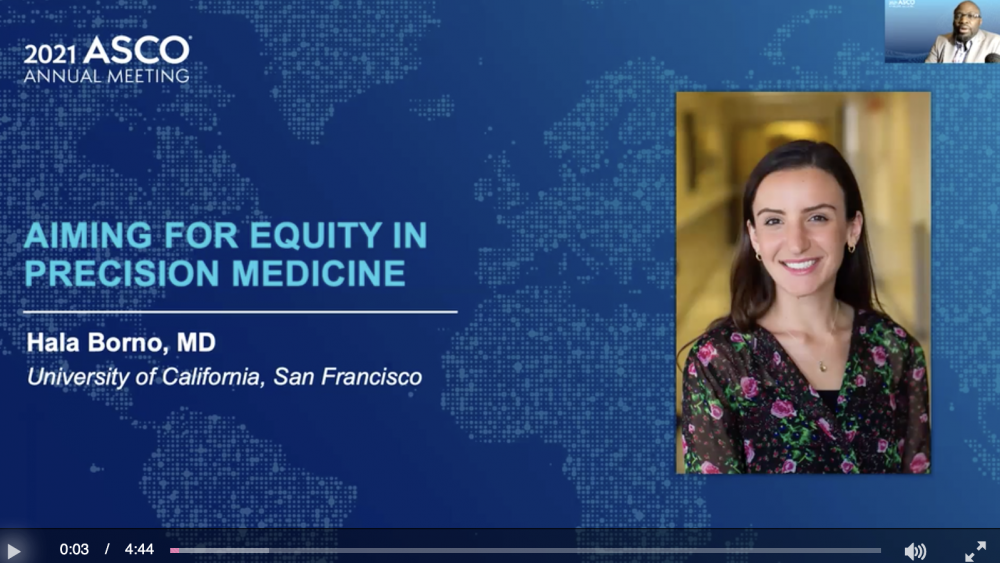 "Aiming for Equity in Precision Medicine" | Hala Borno, MD shared her personal story across the oncology continuum as one of the featured ASCO Voices.
Social Media: Amplifying Colleagues and Collaborations
Image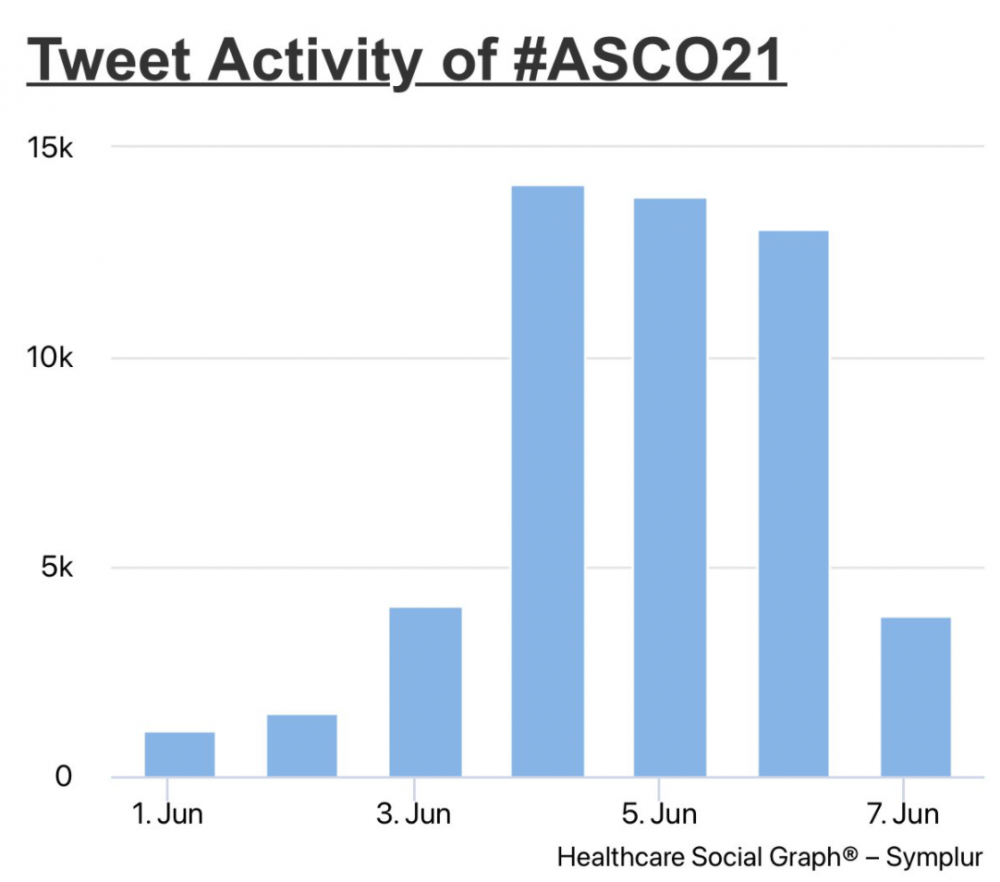 The modified virtual program offered some unexpected benefits with many abstracts and posters available on demand. The virtual format also moved most discussion and debate into the digital realm on Twitter, Clubhouse, and YouTube.
Twitter
Twitter remained the most robust social media channel for #ASCO21. UCSF faculty used the channel to amplify the work of their peers at UCSF and beyond, to champion awardess, and to offer insightful commentary on posters and presentations. The featured tweets below offer a snapshot of UCSF participation.
FORTE #MMsm update by Dr. Gay at #ASCO21 .

KRd_ASCT is cool, BUT - as seen at #ASH20 - amp(1q) obviated any benefit over other arms... more so than with del(17p) which has been our bogeyman for years.

Also illustrates importance of delineating gain(1q) vs amp(1q) [# copies] pic.twitter.com/Jezbn8HHgz

— Rahul Banerjee, MD (@RahulBanerjeeMD) June 8, 2021
---
Clubhouse
Clubhouse, a by-invitation audio app which allows users to host drop-in conversations, had a budding presence at ASCO21. UCSF sessions included a Malignant Heme wrap up and Health Equity wrap up. [ Email for an invite to Clubhouse ]
Image

YouTube
OncologyTube featured analysis of several UCSF presentations such as this video review of Dr. Thomas Martin's Comparison of outcomes for patients (pts) with triple-class exposed relapsed/refractory multiple myeloma (RRMM). As she does annually, Dr. Hope Rugo presented breast cancer findings from #ASCO21 in the latest UCSF Bay Area Breast Cancer Forum, a public forum held via Zoom in which UCSF experts discuss research and treatment recommendations with Q&A from patients and advocates, making the recording available on YouTube for wider distribution.