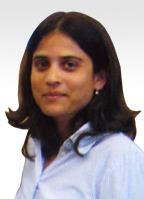 Aditi Bhargava, PhD
Associate Professor, Ob-Gyn, Reproductive Sciences, UCSF
Research Summary
My long-term aim is to delineate sex-specific cellular and molecular pathways in stress-related pathophysiologies. I have a long-standing interest in understanding the regulation and action of neuropeptides during stress and inflammation, both in the central nervous system, and in the periphery. Activation of the hypothalamic-pituitary-adrenal (HPA) axis and involvement of the corticotropin-releasing factor (CRF) system is pivotal step in stress response. CRF and urocortins are involved in mediating immune responses, but the molecular mechanisms involved and cellular pathways activated are unknown. A body of work from my laboratory has established how CRF receptor and their four different ligands that locally produced are sufficient to mediate signaling during stress and acute inflammatory stress using state-of-the-art techniques such as RNAi, electron & confocal microscopy, and mass spectrometry. In 2014, I was appointed as the Director of laboratory research at the Osher Center for Integrative medicine providing me with a unique opportunity to work closely with clinicians to translate research and with access to patient samples from different clinical trials. Using a combination of molecular (RNA-seq & mass spectrometry) and genetic techniques (knockouts), we recently showed that components of the CRF system are produced in the periphery and that locally produced neuropeptides and receptors are sufficient to mediate stress and inflammatory responses in diseases such as inflammatory bowel disease and pancreatitis. My laboratory has active collaborations with faculties both within and outside of UCSF.
Education
University of Rajasthan, India, B.S., 1986, Zoology (Honors)
University of Poona, India, M.S., 1988, Molecular Biology
University of Poona, India, Ph.D., 1995, Mol. & Dev. Biol.
New York Medical College, Valhalla, NY. Postdoc, 1995-1996, Mol. Biol.
University of California, San Francisco, CA, Postdoc, 1996-1999, Neuroendo. & Mol. Biol.
---
Professional Experience
1988-1990
Junior Research Fellow, Microbiology, All India Inst. of Medical Sciences, New Delhi
2000-2003
Post Graduate Researcher, Medicine and Physiology, UCSF
2003-2004
Assistant Research Physiologist, Surgery, UCSF
2004-2010
Assistant Professor, Surgery, UCSF
2010-2015
Associate Professor, Surgery, UCSF
2014-present
Director of Laboratory Research, The Osher Center for Integrative Research, UCSF
2015-present
Associate Professor, Ob-Gyn, UCSF
Honors & Awards
1986 Certificate of Merit, University of Rajasthan, India. Awarded to top 5% BS (Honors) students
1988 Graduate Research Fellowship. The Council of Scientific and Industrial Research (CSIR), India, awarded to top 2% of the students nationwide
1992 UNESCO/TWAS Human Genome Fellowship Awarded to select candidates for obtaining specialized training at the University of Oxford, Oxford, United Kingdom
1994 Senior Research Fellowship, Department of Biotechnology, Government of India
2003 Quest Diagnostic Young Investigator Award, Endocrine Society
2004 Young Investigator Travel Award, GIRI, Montreal Canada
2006 Bavaria California Technology Award (BaCaTe)
2010 New Investigator Award, American Physiological Society (Gastrointestinal
& Liver Physiology section), Experimental Biology, April 24-28, 2010
2010 FASEB MARC Travel Award, June 19-22, Endo 2010, San Diego
2012 Fellow, American Gastroenterological Association (AGAF)
2013 Nominated for the "2014 Ernest Oppenheimer Laureate Award"
2014 Nominated for the "2015 Weitzman Award", The Endocrine Society