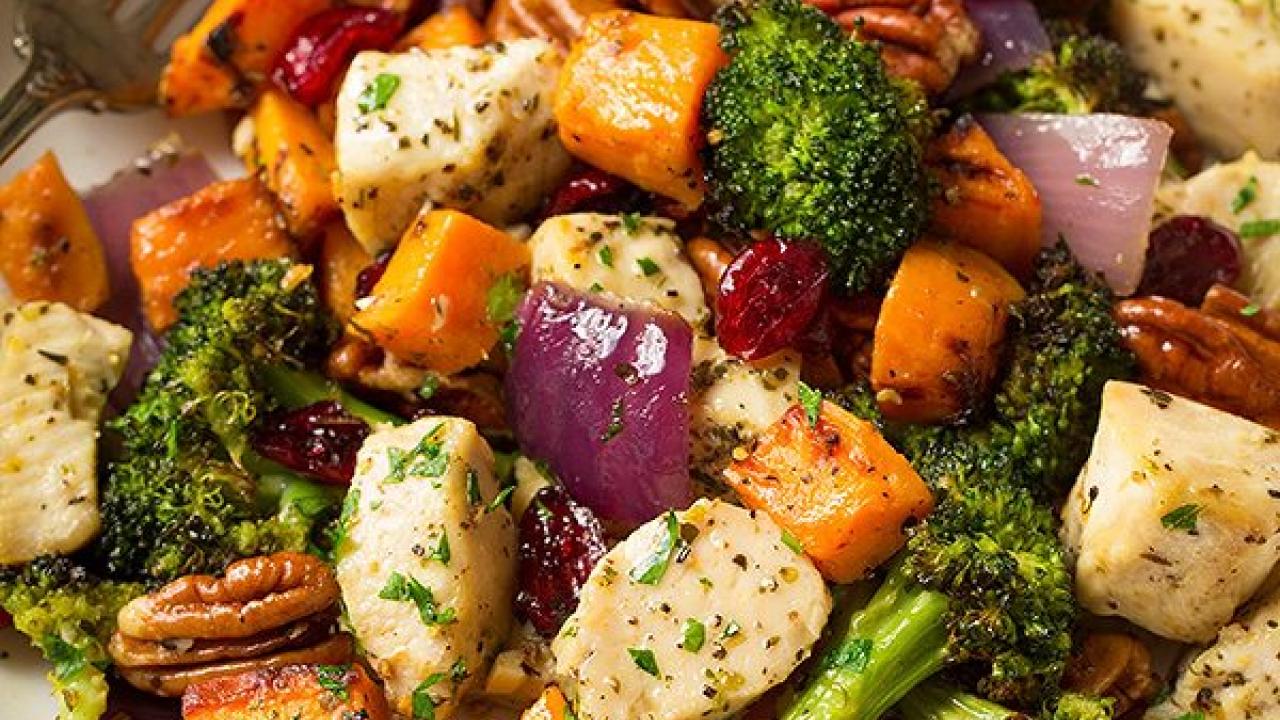 Do you love easy meals that are also an excellent source of fiber, protein, and vitamins A and C? Then this recipe is for you. This delicious sheet pan dinner is packed full of flavorful ingredients and is perfect for when you are meal prepping lunches or want an easy, satisfying dinner.
Ingredients:
2 medium sweet potatoes diced into 3/4-inch cubes (about 3 cups)
4 Tbsp olive or avocado oil, divided
1 lb boneless skinless chicken breasts, diced into pieces (about 1 1/4-inches, keep them close to the same size so they all cook even)
4 cups small broccoli florets
1/2 of a medium red onion, diced into chunks
3 cloves garlic, minced
3/4 tsp of each dried thyme, sage, parsley and rosemary
1/8 tsp nutmeg
Salt and freshly ground black pepper
1/2 cup pecans, roughly chopped
1/3 cup dried cranberries
Directions:
Preheat oven to 400 degrees. Place sweet potatoes in a mound on a rimmed 18-by-13-inch baking sheet, pour 1 Tbsp over top and toss to evenly coat. 
Spread into an even layer and roast in preheated oven for 15 minutes (meanwhile chop and prep remaining ingredients).
Remove sweet potatoes from oven, add chicken pieces, broccoli florets, and red onion around sweet potatoes (just placing everything randomly). 
Sprinkle with garlic and drizzle everything with remaining 3 Tbsp olive oil (focusing mostly on the broccoli so it doesn't dry) and toss with a spatula to evenly coat. 
Sprinkle evenly with thyme, sage, parsley, rosemary and nutmeg and about 1 tsp salt and 1/2 tsp pepper. Toss again to evenly coat with seasonings and spread out evenly (try not to overlap chicken pieces). 
Return to oven and roast about 16 - 20 minutes longer, tossing once halfway through, until chicken registers 165 degrees in center. 
Toss in pecans and cranberries. Serve immediately.
Recipe adapted from www.cookingclassy.com
Serves 4; Nutritional Information per serving: Calories 482; Total Fat 27g; Saturated Fat 4g; Carbohydrate 33g; Fiber 7g; Protein 30g; Sodium 705mg; (nutritional information includes 1 tsp of salt for all 4 servings)