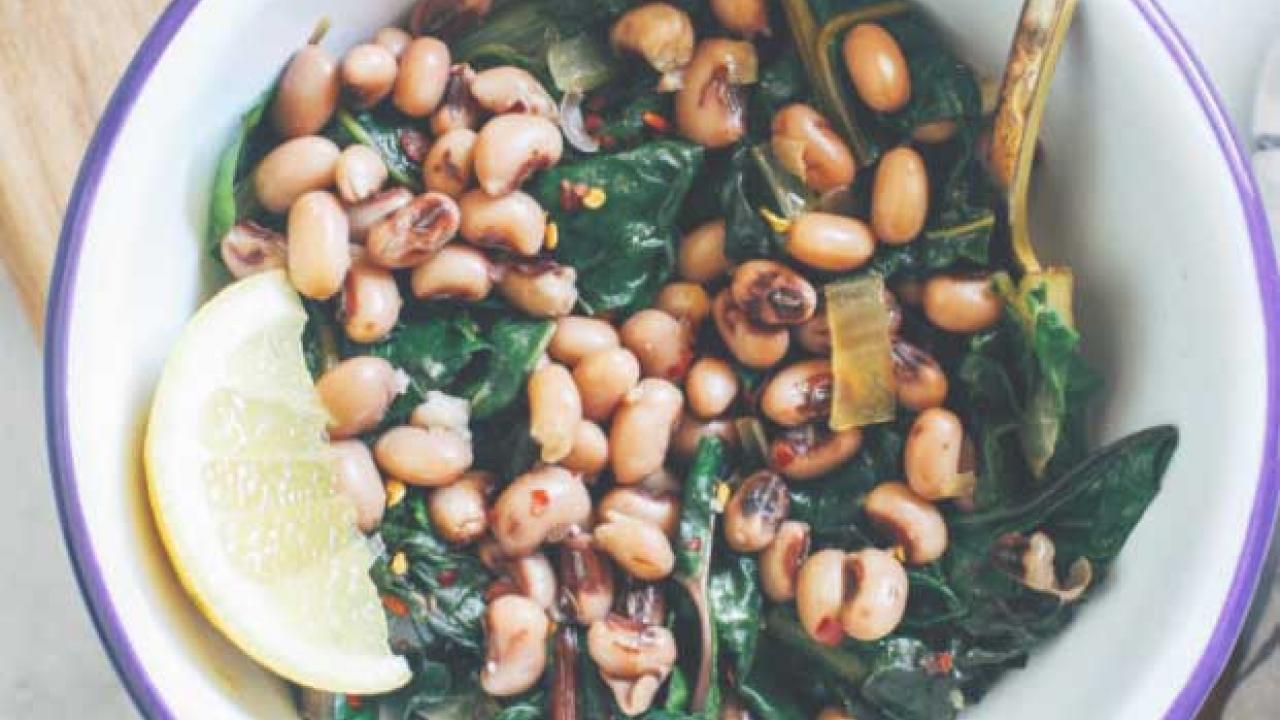 This fun and easy recipe is sure to go over well any time of day and any day of the year, but especially on New Year's when black eyed peas and greens are traditionally eaten in the South for luck and prosperity. It is packed with flavor and an excellent source of protein, fiber, vitamin C, vitamin A, and Iron while being low in saturated fat.
Ingredients
2 tablespoons avocado oil
1 yellow onion finely chopped
3 garlic cloves minced
2 bundles of greens, stem removed and chopped (collard greens, swiss chard, kale, etc.)
½-1 cup vegetable broth 
2 15-ounce cans black eyed peas drained and rinsed
juice of 1/2 lemon
¼ teaspoon crushed red pepper
salt & pepper to taste
Directions
In a large skillet, warm the oil over medium heat. Add the onion and cook for about 3 minutes, until translucent. Add the garlic and cook for an additional 2 minutes, until fragrant.
To the skillet, add the greens and 1/2 cup vegetable broth. Cover with a lid and cook until greens start to wilt. The time will vary depending on the variety of greens you choose. Chard cooks in just a few minutes while kale takes a little longer and collards take the longest. Keep an eye on them as they cook, stirring intermittently and adding more broth, if needed.
Once the greens are cooked, add the cooked black eyed peas. Stir and cook until heated through. Squeeze in the fresh lemon juice and sprinkle with crushed red pepper. Serve warm with salt & pepper (to taste) and enjoy!
Yields 4 servings.
Recipe from https://www.makingthymeforhealth.com
Nutritional Information per serving: Calories 244; Total Fat 9g; Saturated Fat 1g; Carbohydrate 33g; Fiber 9g; Protein 12g; Sodium 797mg