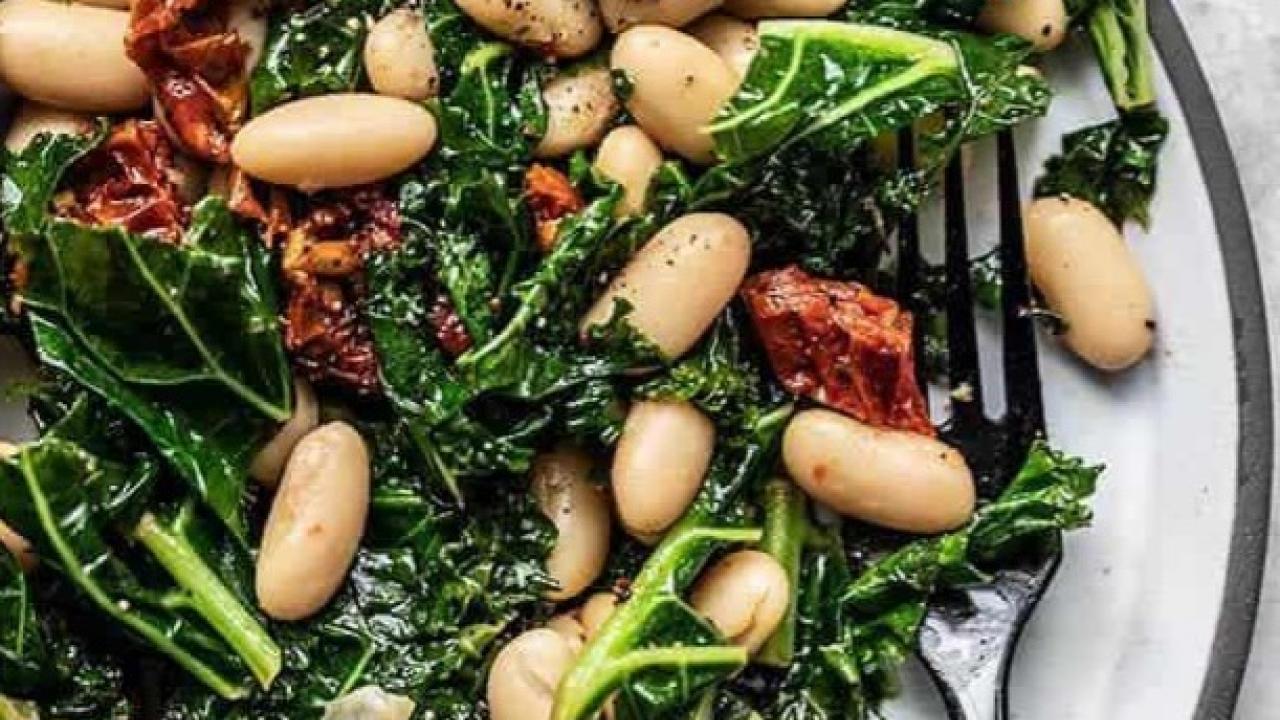 This flavorful make ahead skillet meal is great for meal prep.  It holds up well in the fridge for up to four days and can be warmed up quickly. Each serving provides an excellent source of fiber, vitamin A and vitamin C. This meal is also a good source of calcium, iron, and protein to keep you full  and satisfied throughout the day.
Ingredients
2 - 15 oz. cans cannellini beans, drained and rinsed
1/2 7oz. jar sun dried tomatoes in oil 
1 Tbsp apple cider vinegar 
1/2 Tbsp dried basil 
1/4 tsp salt 
freshly cracked black pepper 
1 pinch crushed red pepper 
1 Tbsp olive oil 
2 cloves garlic, minced 
6 – 8 oz. fresh kale, chopped
Directions
Drain and rinse the white beans. Roughly chop the sun-dried tomatoes.
In a small bowl, combine 2 Tbsp of the oil from the jar of sun-dried tomatoes with the apple cider vinegar, basil, salt, pepper, and a pinch of red pepper flakes. Set the dressing aside.
Add the olive oil and minced garlic to a large skillet. Sauté the garlic over medium heat for one minute, or just until it begins to soften and becomes fragrant.
Add the chopped kale and 2 Tbsp water to the skillet. Stir and cook over medium heat until the kale has wilted. 
Add the drained beans and chopped sun dried tomatoes to the skillet with the kale. Continue to stir and cook until the beans are heated through.
Lastly, drizzle the dressing over the skillet and stir to combine, and add salt to taste. Serve warm.
Serves 4
Recipe from www.budgetbytes.com
Nutritional Information per serving: Calories 278; Total Fat 9g; Saturated Fat 1g; Carbohydrate 40g; Fiber 12g; Protein 13g; Sodium 284 mg.