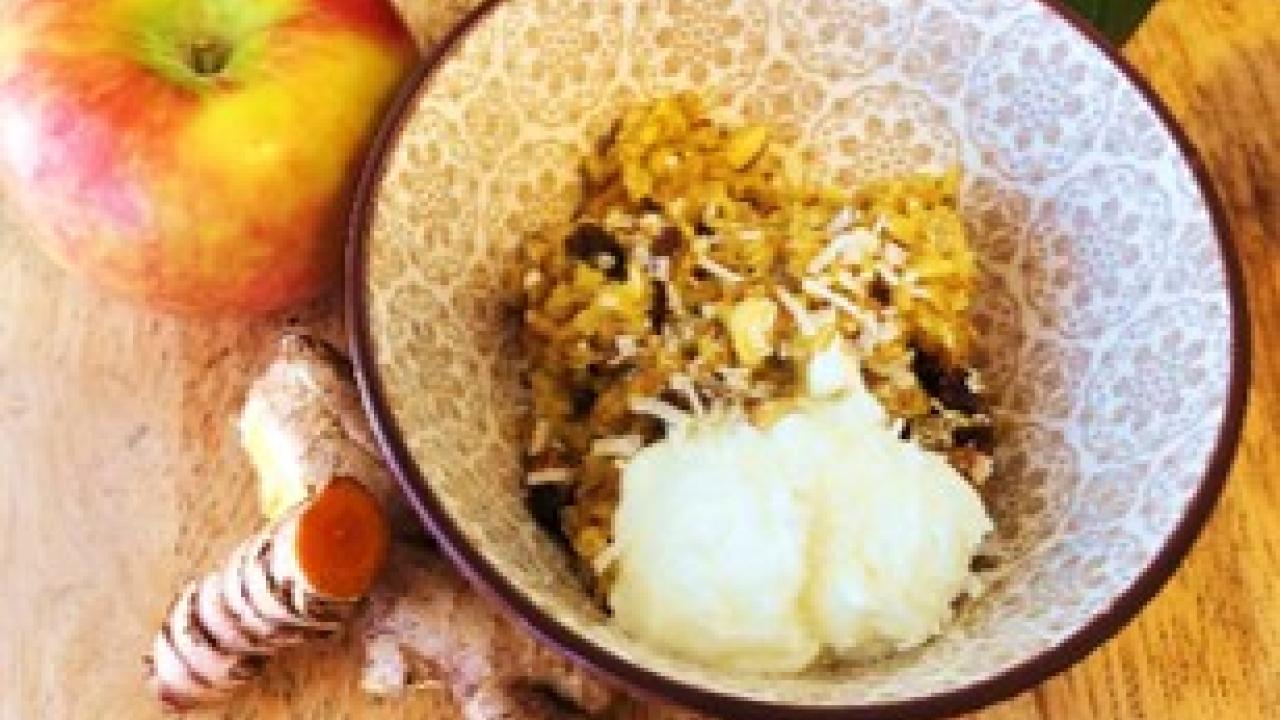 Ingredients:
1 1/3 cups cooked quinoa or farro
1 cup plant-based milk
Pinch of sea salt
2 tablespoons raisins
3 dates, pitted and chopped
1 teaspoon ginger root, freshly grated (can substitute with ground ginger)
1/2 teaspoon turmeric root, freshly grated (can substitute with ½ teaspoon ground turmeric)
1 cup apple, grated
2 tablespoons almonds, dry toasted and sliced
Plain Greek yogurt for serving (optional)
---
Directions:
In a small sauce pot over a medium flame, add the cooked grain, the plant-based milk, and a pinch of sea salt. Stir to mix. Add the raisins, dates, the grated ginger root, and the turmeric. Stir again. Bring to a boil, cover, and turn the heat down to low. Cook for 5-8 minutes stirring from time to time. For a thicker porridge, crack the lid.
Stir in the grated apple. Mix in well. Cover and cook 2-3 minutes more. Cover, turn off the heat and let sit for 2-3 minutes while you toast the nuts.
To dry toast the nuts: heat a small heavy frying pan over a medium flame. Add the nuts and cook shaking until they are a light golden color - about 2-3 minutes. As soon as they are pale gold, turn off the flame as there will be enough heat left to finish the toasting.
Serve the porridge in bowls sprinkled with nuts and a dollop of plain Greek yogurt if using.
Yields 2 servings
Recipe adapted from Cook for Your Life