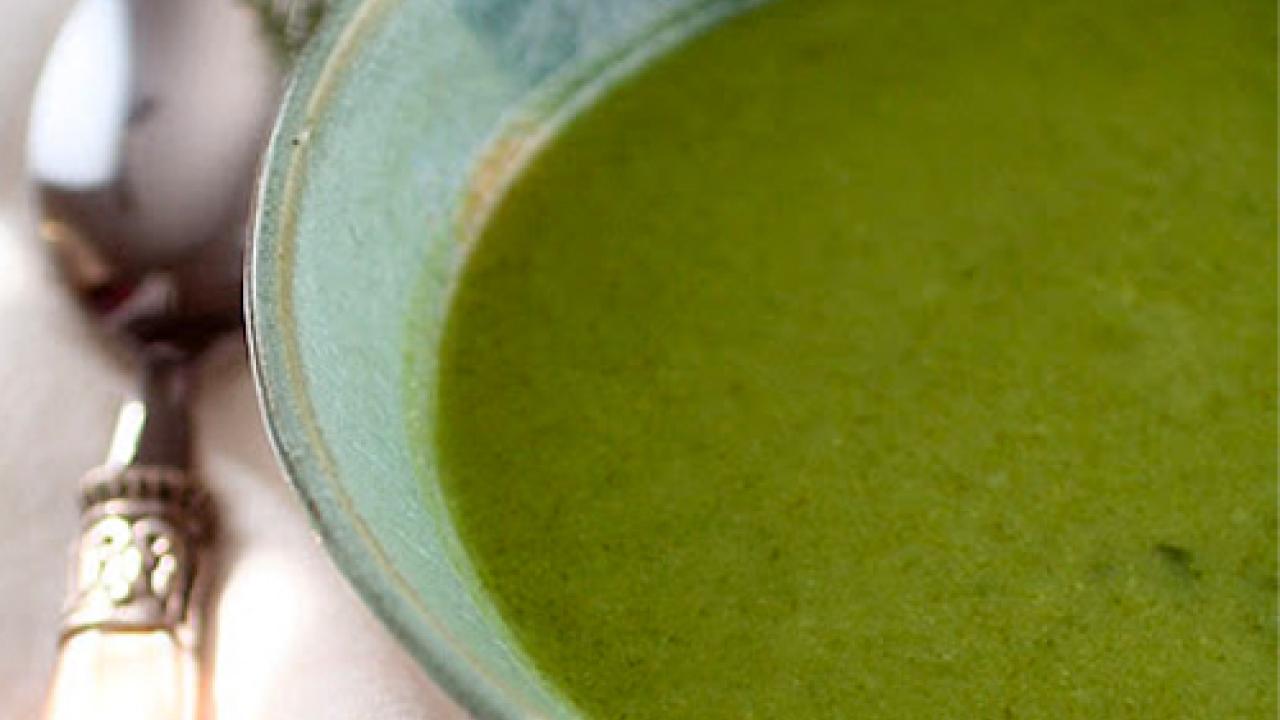 This soup is an easy and tasty way to get your greens in, especially for those having trouble chewing, swallowing, or digesting food.  The addition of lemon zest and juice provides an element of freshness to the dish. This dish can be made at the beginning of the week and reheated when desired. Greens like spinach are packed with carotenoids, antioxidants that protect our cells from damage that may promote cancer. 
Ingredients:
2 tablespoons olive oil
1 yellow onion, diced
1 Yukon Gold potato, peeled and diced
2 cloves garlic, minced or grated
Pinch of red pepper flakes
6 cups of homemade vegetable broth or 4 cups (32 ounce carton) prepared vegetable broth diluted with 2 cups water
5 cups greens (spinach, chard, kale or leftover sautéed greens), washed, roughly chopped or hand torn, stems removed
¼ cup parsley, roughly chopped
2 teaspoons lemon zest
1 tablespoon lemon juice
1/8 teaspoon Grade A dark maple syrup
Kosher salt
Directions:
Heat a soup pot over medium heat, then add oil.
Add the onion, potato and a pinch of salt and sauté until golden, about 5 minutes. 
Stir in garlic and red pepper flakes and sauté for about a minute. 
Pour in ½ cup of the broth and cook until the liquid is reduced by half.
Add the greens and another pinch of salt. Sauté for about 5 minutes.
Add remaining 5 ½ cups of broth and another ¼ teaspoon of salt.  Cover and bring to a boil.  Lower the heat and simmer for 3 to 5 minutes or until the greens turn bright green.
Turn off the heat and add the parsley, lemon zest, lemon juice and maple syrup to the pot. 
Add the soup mixture to the blender and puree in batches until very smooth.  Be careful not to fill the blender very full and cover the lid with a dish towel when blending to prevent any hot liquid shooting out as it expands. 
Taste and adjust flavors with a pinch of salt, squeeze of lemon juice or drop of maple syrup as needed. 
Garnish with a drizzle of olive oil and serve.   
Yields 6 servings.
Recipe from The Power of Yum by Rebecca Katz and Jen Yassis
Nutritional Information per Serving: Calories 97; Total Fat 5g; Saturated Fat 0.7g; Carbohydrate 13g; Fiber 1g; Protein 2g; Sodium 676mg (nutritional information calculation does not include additional salt)