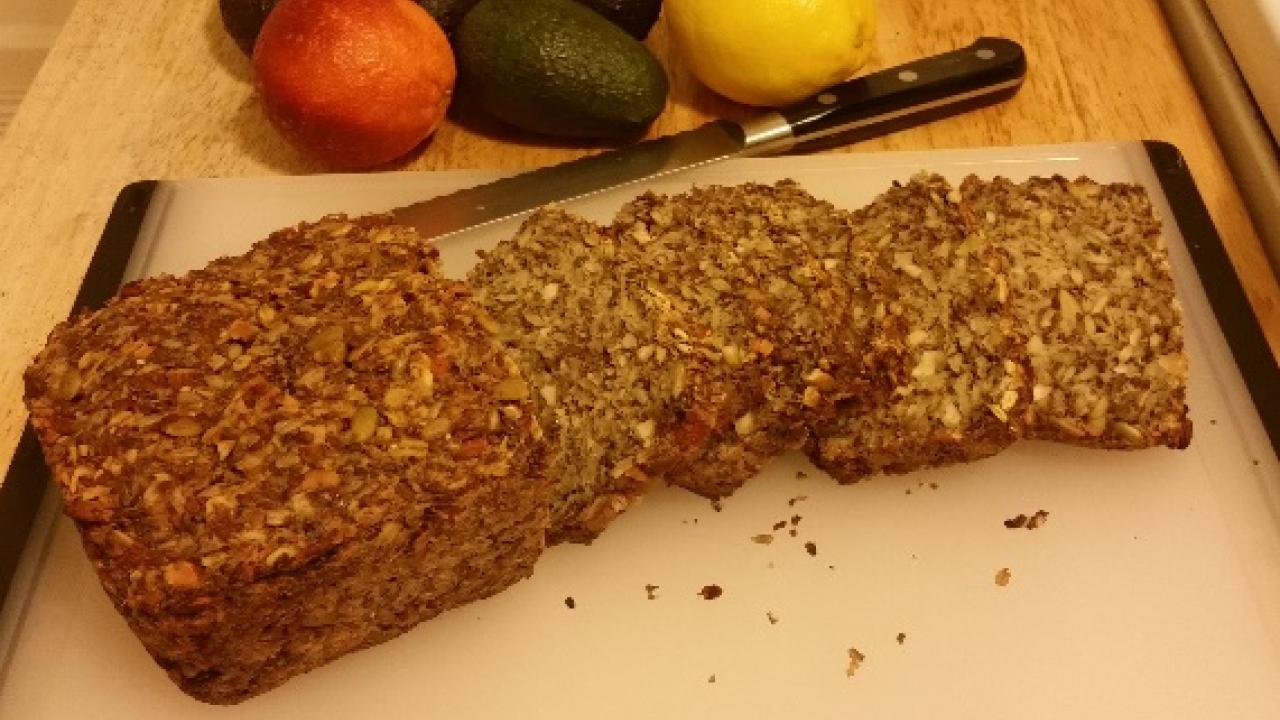 This delicious bread is packed with nuts and seeds that provide fiber and protein. Fiber is important for digestive health and can help alleviate constipation. Prepare this bread at the beginning of the week and enjoy a slice whenever you desire!
Ingredients
2 ¼ cups old fashioned rolled oats
1 cup sunflower seeds, toasted
½ cup pumpkin seeds, toasted
¾ cups almonds, toasted and coarsely chopped
¾ cup flax seeds
1/3 cup psyllium seed husks
3 tablespoons chia seeds
2 teaspoons fine sea salt
2 tablespoons maple syrup
¼ cup olive oil
2 ½ cups room temperature water
Directions
Lightly grease an 8- or 9 x 4-inch loaf pan.
Put the dry ingredients into a large bowl and mix well.
Add the wet ingredients and use your hands or a sturdy spoon to mix the ingredients thoroughly. Be aggressive here, smashing everything together well.
Transfer the mixture to the bread pan, patting it firmly into the pan and smoothing the top so it's even.
Cover the pan with plastic wrap and refrigerate for at least 2 hours, up to overnight.
When ready to bake, pull the pan from the fridge and remove the plastic wrap. Put a rack in the center of the oven and preheat to 400 degrees.
When the oven is hot, bake the bread until firm and just beginning to brown around the edges (about 1 hour).
Let cool for at least 2 hours. Don't rush it; this bread is quite dense
Cut into thin (1/3-inch or so) slices and toast well.
Wrap and store in the fridge, where it will keep for about a week, or wrap and store in the freezer.
Yields 15-16 slices
Recipe from Mom's Kitchen Handbook
Nutritional Information per Serving: Calories 212; Total Fat 14g; Saturated Fat 2g; Carbohydrate 17g; Fiber 6g; Protein 6g; Sodium 298mg (nutritional information does not include optional ingredients)