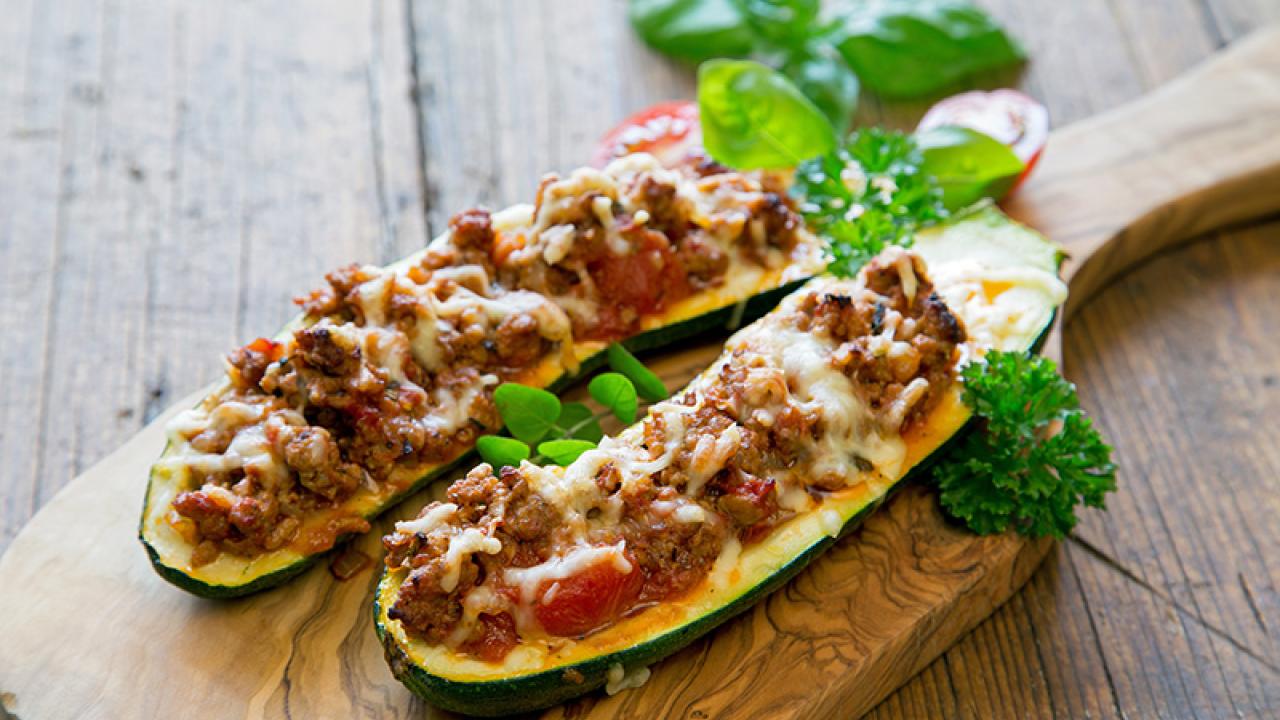 This meal is delicious, fun to make, and packed full of protein which helps sustain energy levels throughout the day. Mushrooms are high in minerals like potassium and phosphorus. The tomatoes provide vitamin C and carotenoids which both act as antioxidants, compounds that protect our cells from damage.
Ingredients
4 small to medium or 2 large zucchini  
1lb lean ground turkey
2 shallots, chopped
8 oz crimini mushrooms, chopped
2+ T olive oil
1 T dried Herbs de Provence
1/2 tsp sea salt
1/4 tsp freshly ground black pepper
2 large heirloom tomatoes, chopped
(optional) freshly grated parmesan
Directions
Pre-heat the oven to 390 F.
Sauté shallots in 1 T olive oil until soft and transparent.
Add ground turkey, mushrooms, Herbs de Provence, salt and pepper.
Cook until turkey is browned and mushrooms are soft; about 5-8 minutes.
Cut the zucchini in half and scoop out the soft flesh in the middle of each side.
Place on baking sheet lined with parchment paper.  Drizzle about 1 T olive oil over both sides and run into the flesh.
Fill the middle of the zucchini with the turkey mixture. Top with the chopped tomato and cheese (if using).
Bake in oven for about 20 minutes; until flesh is soft and top is browned.
Serve and enjoy!
Makes 4 servings.
Recipe from The Rustic Dietitian
Nutritional Information per Serving: Calories 300; Total Fat 17g; Saturated Fat 4g; Carbohydrate 14g; Fiber 4g; Protein 26g; Sodium 398mg (nutritional information does not include optional ingredients)