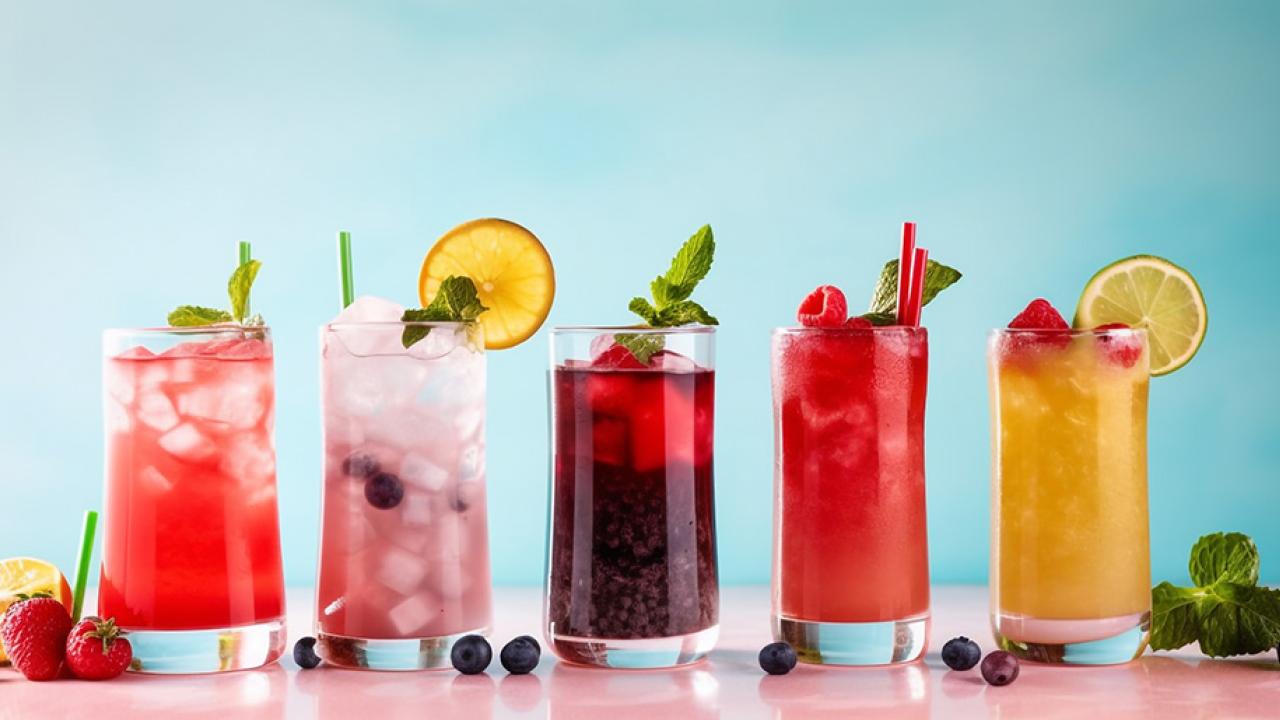 These delicious mocktails are perfect for a warm day. Enjoy them with dinner or by the pool with friends. All of the mocktails are simple to make and only include a few inexpensive ingredients.
---
Piña Kaleada
Image

Ingredients
½ cup coconut milk + ½ cup water
1 ¼ cups cubed fresh pineapple
1 cup baby kale
2 ice cubes½ frozen banana, sliced (optional, if your pineapple isn't very sweet)
Directions
Place all ingredients in a high-speed blender and blend until smooth. Pour into two glasses.
Yields 2 servings. Recipe from Spicebox Kitchen by Linda Shiue, MD
Nutritional Information per Serving: Calories 111; Total Fat 1.4g; Saturated Fat 1.1g; Carbohydrate 26g; Fiber 3.3g; Protein 2g; Sodium 12mg 
---
Pomegranate Sparklers
Image

Ingredients
1 cup pomegranate juice
1 liter sparkling water
1 lemon, halved
Ice
Directions
Divide pomegranate juice among six glasses
Fill glasses with sparking water
Juice half the lemon and divide equally among glasses
 Add ice cubes if desired
Slice the remaining lemon half into 6 rounds and garnish each glass with a lemon round Option: Prepare the drink in a pitcher and serve as needed
Yields 6 servings. Recipe from Simplebites.net
Nutritional Information per Serving: Calories 25; Total Fat 0.2g; Saturated Fat 0g; Carbohydrate 6.4g; Fiber 0.3g; Protein 0.2g; Sodium 4mg
---
Grapefruit Paloma Mocktail
Image

Ingredients
2 oz grapefruit juice
1 oz fresh lime juice
1-2 teaspoons maple syrup to taste
Sparkling water
Ice 
Sliced limes
Directions
Add the grapefruit juice, lime juice, and maple syrup to a glass and stir until well combined.
Fill the glass with ice.
Top of the glass with sparkling water, stir to combine, and serve with a slice of lime.
Yields 1 serving. Recipe from allthehealthythings.com
Nutritional Information per Serving: Calories 49; Total Fat 01g; Saturated Fat 0g; Carbohydrate 13g; Fiber 0.5g; Protein 0.4g; Sodium 2mg