Eligible patients Highlights Clinical Trials Refer a Patient Locations

The UCSF Helen Diller Family Comprehensive Cancer Center Melanoma Program is a specialty service that manages all stages of melanoma, from diagnosis of early lesions to therapy for late-stage disease. This program offers a multidisciplinary approach to the diagnosis and management of melanoma. The cancer center has been designated a comprehensive cancer center by the National Cancer Institute since 1999.
Experts here are pioneers in translating transformative research into improved cancer treatment. Patients are seen by the appropriate specialists (dermatologists, melanoma surgeons, and medical oncologists) depending on the stage of their melanoma. When indicated, a multidisciplinary tumor board reviews the case and makes specific treatment recommendations.
Faculty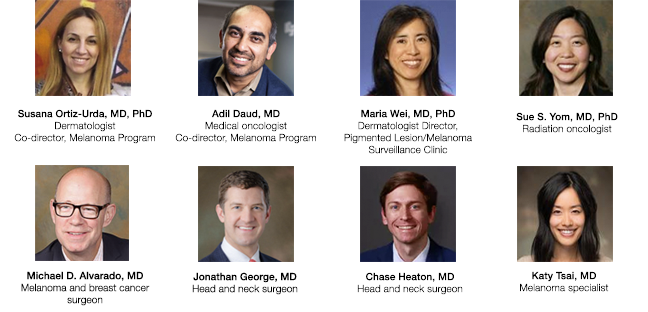 Patients treated
All melanoma patients and those at high risk for the development of melanoma are suitable for referral to the cancer center's melanoma program. Newly diagnosed patients and those who have suffered a recurrence of melanoma receive:
A comprehensive evaluation, including a review of medical history and a physical exam.
A review of pathological material by standard and advanced techniques including mutation analysis.
Recommendations for an individualized plan of treatment and follow-up.
Those at risk of developing melanoma – such as people with a family history of melanoma, those with numerous moles/atypical moles, or those with a genetic mutation carrying a risk for melanoma – receive a complete evaluation including:
A complete skin examination.
An assessment of suspicious pigmented lesions including dermoscopy.
Recommendation for biopsies when appropriate.
Digital Dermoscopic photography, if indicated, for follow-up.
Education regarding how to monitor moles and recommendations about sun protection.
Highlights
We provide specialized evaluation of the histological material from the patient's primary melanoma. This is instrumental in determining the risk of recurrence and is fully integrated into our recommendations for treatment.
Data from thousands of melanoma cases have been added to the center's database since 1971.
Our extensive experience includes expertise with uncommon/complicated presentations of melanoma.
The cancer center is a member of the National Comprehensive Cancer Network which develops national guidelines for cancer diagnoses and treatment.
The melanoma program works closely with the UCSF Dermatologic Surgery and Laser Center specializing in treating the full spectrum of skin diseases and cancers.
Our melanoma tumor board consists of a team of melanoma experts who work together and meet weekly to discuss complex cases to offer the best recommendations to patients.
Tumor mutation testing to determine distinct genetic mutations and personalized treatments to target these mutations (BRAF/NRAS/KIT/GNAQ/GNA11 are currently offered and it is anticipated that several others will be added in the near future).
The cancer risk program features counselors who identify patients likely to harbor hereditary mutations which could predispose to developing melanoma.
Patient support: active support groups for patient and families, on-site dietitian for nutritional consultations, on-site social workers, a psychiatrist and psychologist, a symptom management service to help patients cope with side effects and symptoms, and a cancer resource center providing patients and their loved ones with information, emotional support and community resources.
Volume
More than 600 new patients are seen in the program annually.
Clinical trials
Several active clinical trials are ongoing at any given time. For a complete list of cancer clinical trials at UCSF including melanoma trials, visit: www.cancer.ucsf.edu/trials.
How to refer a patient
Call (415) 353-9900 and book a new patient appointment.
Fax records to (415) 885-3802 or email to [email protected]
Locations
For patients with melanoma (Dermatology):
1600 Divisadero Street, 3rd floor, San Francisco, CA 94115
Phone: (415) 353-9900 • Fax: (415) 353-7893
Hours: Monday - Friday, 8 am - 5 pm
For patients with metastatic melanoma (Oncology):
1600 Divisadero St., Fourth floor, San Francisco, CA 94115
Phone: (415) 353-9900 • Fax: (415) 885-3802
Hours: Monday – Friday, 8 a.m. – 5 p.m.

Maps and directions: www.ucsfhealth.org/pathway
For additional information on Melanoma symptoms and treatment visit