Research Program | Publications | Support | Contact Info
Contact Info:
Ortiz Lab
2340 Sutter Street, N461
San Francisco, CA 94115
Dr. Susana Ortiz, MD, PhD, MBA
[email protected]
(415) 353-9900 (Clinic appointment)
Ernesto Llamado, Lab Operations
[email protected]
(415) 514-9769 (Office)
(415) 476-8733 (Fax)
---
Clinic Info:
How to get an appointment:
For Cutaneous melanoma, call (415) 353-9900 (Call Center) or (415) 353-7817 (Aisling Oflynn) and book a new patient appointment. If you have access problems to our system via phone, email Aisling Oflynn: [email protected].
For Metastatic melanoma, call (415) 353-9900 (Call Center). Any problems please call or email directly our assistants: Sarah Rankin 415 353 9922 ([email protected]) or Emily Mooney: 415 353-7022 ([email protected])
For faxing records, our fax number is (415) 353-7893
If you don't hear from us within 24 hours, email the doctors directly:
Dr. Susana Ortiz: [email protected], (650) 224-8265 or Dr. Adil Daud: [email protected]

Related links:
News:
Melanoma Research Discretionary Fund
Unrestricted gifts of any size allow Dr. Ortiz-Urda to explore novel projects.
Melanoma Postdoctoral Training Program: $60,000 - $1M. The purpose of a postdoctoral fellowship is to conduct research in melanoma genetics and epigenetics. Postdoctoral fellows are scientists dedicated to perform basic and translational research in the lab.
Endowed Chair: $1M
Among UCSF's highest faculty honors, endowed chairs enable the University to make permanent, substantial commitment to Dr. Ortiz-Urda and her research. Reserved for leaders in their fields, endowed chairs signify UCSF's belief in a faculty member's past contributions and future promise.
Donate:
Click to donate online
For more information on supporting Melanoma at UCSF, please contact Darrell Young at [email protected] or 415/502-8389.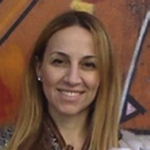 Susana Ortiz-Urda, MD, PhD, MBA [ Full Biosketch ]
Dr. Susana Ortiz-Urda, MD, PhD, MBA, co-director of the UCSF Melanoma Center, treats patients with early and advanced melanoma. Her lab has a broad expertise in human models of epithelial neoplasia and melanoma. She studies in depth cancer signaling to identify novel transcripts, their functions and the factors that promote resistance to drugs and/or cancer progression via transcriptome (RNA-Seq) to capture the implicated coding and non-coding elements in this process. These findings might serve as key biomarkers and/or new targets for therapeutics in melanoma.
Dr. Ortiz-Urda earned a medical degree and doctorate at the University of Vienna in Austria. She completed a residency in dermatology and a postdoctoral fellowship in epithelial biology, both at Stanford University, followed by a cutaneous oncology fellowship in dermatology at UCSF and an MBA at NYU. She is a member of the American Academy of Dermatology, Austrian Society of Dermatology and Venerology, and Dermatology Foundation. Dr. Ortiz-Urda has received several awards, including the Kardinal-Innitzer Award for Outstanding Science in Dermatology and the Unilever Award from the Austrian Society for Dermatology and Venerology. She is an assistant professor of dermatology at UCSF.
Research Program
The Ortiz lab is interested in the study of the functions of promoter and intronic sequences of melanoma related genes. Our lab studies the mechanisms of cancer progression and the resistance mechanisms to drugs. In addition, Ortiz's lab uses novel nanotechnology approaches to detect mutations and to deliver specific drugs to the cells of interest.
Cancer progression models
To study cancer progression, the Ortiz lab uses epithelial tissue and organotypic constructs as a model system. The latter encompass human skin regenerated on immune-deficient mice. Grafts can express different combination of genes allowing this the elucidation of factors that stimulate tumor progression. Furthermore, the Ortiz lab uses laser micro-dissection to study single cell genetics.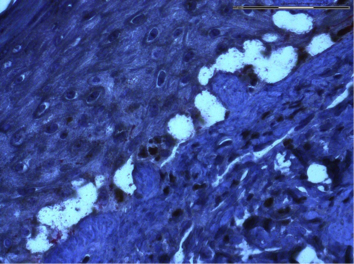 Integration of genomic datasets and biomarker discovery
In order to elucidate mechanisms of resistance to targeted therapeutics the Ortiz lab analyzes resistance melanoma cell lines at the level of genome and transcriptome.
The ability to characterize tumors by genome analysis represent a key step in the development of personalized cancer medicine. This analysis has revealed transcriptomic signatures reflecting key oncogenic pathways associated with tumor progression providing high quality material to explore the complexity and heterogeneity of drug resistance. This technology is crucial to identify predictive biomarkers.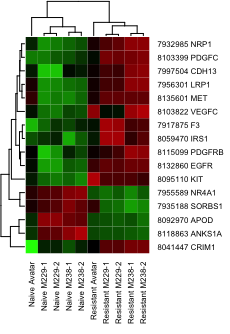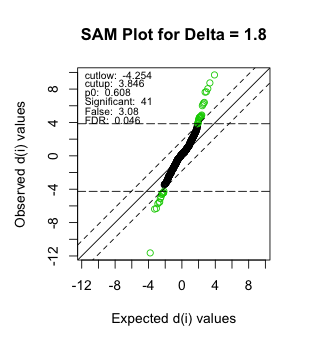 SAM analysis identifies receptor tyrosine kinase(RTK) pathway genes related to PLX resistance.
Molecular Therapeutics
Nano particles
A new technology relying on gold nanoparticles (GoldNPs) modified with distinc molecular beacons enables to detect single point mutations. Moreover GoldNPs are modified with oligonucleotides and aptamers resulting in molecules that can target specifically tumor target cells with minimal toxicity.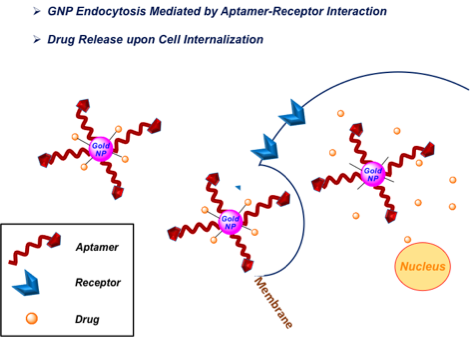 ---
Publications
Selected Peer Reviewed Publications
Poor melanoma outcomes and survival in Asian Americans and Pacific Islanders. J Am Acad Dermatol. 2020 Aug 26. Zheng YJ, Ho C, Lazar A, Ortiz-Urda S. PMID: 32860918.

Combined Inhibition of MEK and Plk1 Has Synergistic Antitumor Activity in NRAS Mutant Melanoma. J Invest Dermatol. 2015 Oct; 135(10):2475-2483. Posch C, Cholewa BD, Vujic I, Sanlorenzo M, Ma J, Kim ST, Kleffel S, Schatton T, Rappersberger K, Gutteridge R, Ahmad N, Ortiz/Urda S. PMID: 26016894.

Correction: Cost-Effectiveness Of Treatment Strategies for BRAF-Mutated Metastatic Melanoma. PLoS One. 2015; 10(4):e0126988. Curl P, Vujic I, van 't Veer LJ, Ortiz-Urda S, Kahn JG. PMID: 25893993.
The risk of melanoma in pilots and cabin crew: UV measurements in flying airplanes. JAMA Dermatol. 2015 Apr; 151(4):450-2. Sanlorenzo M, Vujic I, Posch C, Cleaver JE, Quaglino P, Ortiz-Urda S. PMID: 25517516.
The combination of axitinib followed by paclitaxel/carboplatin yields extended survival in advanced BRAF wild-type melanoma: results of a clinical/correlative prospective phase II clinical trial. Br J Cancer. 2015 Apr 14; 112(8):1326-31. Algazi AP, Cha E, Ortiz-Urda SM, McCalmont T, Bastian BC, Hwang J, Pampaloni MH, Behr S, Chong K, Cortez B, Quiroz A, Coakley F, Liu S, Daud AI. PMID: 25867272.
Detection of GNAQ mutations and reduction of cell viability in uveal melanoma cells with functionalized gold nanoparticles. Biomed Microdevices. 2015 Feb; 17(1):15. Posch C, Latorre A, Crosby MB, Celli A, Latorre A, Vujic I, Sanlorenzo M, Green GA, Weier J, Zekhtser M, Ma J, Monico G, Char DH, Jusufbegovic D, Rappersberger K, Somoza Á, Ortiz-Urda S. PMID: 25653058.

Metformin and trametinib have synergistic effects on cell viability and tumor growth in NRAS mutant cancer. Oncotarget. 2015 Jan 20; 6(2):969-78. PMID: 25504439.

The risk of melanoma in airline pilots and cabin crew: a meta-analysis. JAMA Dermatol. 2015 Jan; 151(1):51-8. PMID: 25188246.

Comparative profile of cutaneous adverse events: BRAF/MEK inhibitor combination therapy versus BRAF monotherapy in melanoma. J Am Acad Dermatol. 2014 Dec; 71(6):1102-1109.e1. PMID: 25440439.

Mutant NRASQ61 shares signaling similarities across various cancer types--potential implications for future therapies. Oncotarget. 2014 Sep 15; 5(17):7936-44. Vujic I, Posch C, Sanlorenzo M, Yen AJ, Tsumura A, Kwong A, Feichtenschlager V, Lai K, Arneson DV, Rappersberger K, Ortiz-Urda SM. PMID: 25277205.

Cost-effectiveness of treatment strategies for BRAF-mutated metastatic melanoma. PLoS One. 2014; 9(9):e107255. PMID: 25198196.

Merkel cell carcinoma: mitoses, expression of Ki-67 and bcl-2 correlate with disease progression. J Eur Acad Dermatol Venereol. 2015 Mar; 29(3):542-8. PMID: 25088273.

DNA and aptamer stabilized gold nanoparticles for targeted delivery of anticancer therapeutics. Nanoscale. 2014 Jul 07; 6(13):7436-42. PMID: 24882040.

Single-point mutation detection in RNA extracts using gold nanoparticles modified with hydrophobic molecular beacon-like structures. Chem Commun (Camb). 2014 Mar 21; 50(23):3018-20. PMID: 24496380.

Melanoma immunotherapy. . 2014 Jun 01; 15(6):665-74. PMID: 24651672.

Mycoplasma pneumoniae-associated mucositis--case report and systematic review of literature. J Eur Acad Dermatol Venereol. 2015 Mar; 29(3):595-8. PMID: 24665876.

Low-dose inhalation of interleukin-2 bio-chemotherapy for the treatment of pulmonary metastases in melanoma patients. Br J Cancer. 2014 Mar 18; 110(6):1427-32. PMID: 24518593.

NRAS mutant melanoma--undrugable? Oncotarget. 2013 Apr; 4(4):494-5. PMID: 23660168.

Combined targeting of MEK and PI3K/mTOR effector pathways is necessary to effectively inhibit NRAS mutant melanoma in vitro and in vivo. Proc Natl Acad Sci U S A. 2013 Mar 05; 110(10):4015-20. PMID: 23431193.

Cutting edge in medical management of cutaneous oncology. Semin Cutan Med Surg. 2012 Jun; 31(2):140-9. PMID: 22640435.
Books and Chapters
Abnormal Pigmentation. Posch C, Ortiz-Urda S. In: GEMSoft [electronic media]. Lin M, Chin RL (eds). GEMSoft (General Emergency Medicine Software).Queensland, Australia: Pemsoft Pty Ltd. Accepted for publication 2013
Drug reactions. Posch C, Ortiz-Urda S. In: GEMSoft [electronic media]. Lin M, Chin RL (eds). GEMSoft (General Emergency Medicine Software).Queensland, Australia: Pemsoft Pty Ltd. Accepted for publication, 2013.
Patents
U.S. provisional patent application, serial no. 61/933,881 "Detection and Treatment of GNAQ mutant uveal melanoma cells with gold nanoparticles."
European patent application, serial no. EP14382033.0 "Nanoparticulas Metalicas Funcionalizadas y Usos de Las Mismas Para La Deteccion de Acidos Nucleicos."