Art for Recovery, conceived by Ernest Rosenbaum, MD, in l988, began with a seed of an idea and has grown into a nationally acclaimed program.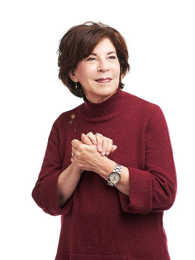 Letter from the Founder, Cynthia Perlis
There is deep concern in our country regarding the state of healthcare. There is deep concern regarding the importance of the healing arts. There is a void in many settings where there is no time to nurture the spirit inside the body that is ill. So often patients have told me they are disconnected from their body, that their doctors are not speaking to them in words they can understand, that their entire sense of being has changed due to illness. And, mostly, what people want is for someone to pay attention to them, to really listen and to be heard. People also want to feel connected to a community that fully understands.
My greatest hope for Art for Recovery has been to enable people coping with life-threatening illnesses to express their creative spirit at a time when so much is changing in their lives. Listening to their stories and helping patients to express their feelings through the expressive arts gives them an opportunity to say, "This is how it feels for me." Art for Recovery is dedicated to responding to the spirit inside the body that is ill, enabling people to express what they are feeling through their creative spirit. Drawing, painting, collage-making, journal-making, and experimenting with found materials, our writing workshops and music, all allow our patients to become reacquainted with their own creativity - for many that is something that has long been forgotten. Art for Recovery teaches that it is the process - the journey that is important, not the final result.
Art for Recovery has generated thousands of pieces of art work that are a history of our time - teaching and telling about anger, pain, fear, hope and the possibility of a future. Art for Recovery has become an umbrella for many special projects: the award-winning Breast Cancer Quilts Project; our Music Program, the Firefly Project (an exchange of letters and art works between high-school and medical students and adults coping with cancer and AIDS); Art making workshops; our writing workshops; our ongoing Open Art Studio groups and participation in studies being held at UCSF Medical Center. Patient artwork and Quilts have been exhibited in hospital units, civic and corporate buildings, pharmaceutical companies across the country and renowned medical centers such as the National Institutes of Health. And we have been blessed to have a hospital administration and medical staff that validates, supports and encourages this program as it continues to thrive.
As healthcare continues to undergo change, the needs of the spirit and the mind and the body must be addressed; it is no longer enough to heal the body alone. As we continue to develop programs like Art for Recovery, and as we continue to explore the possibilities of the mind-body connection, our patients will continue to be our teachers. We must simply pay attention.
Cynthia D. Perlis
Director, Art for Recovery