The Bakar Precision Cancer Medicine Building (PCMB) at UCSF Mission Bay will unify outstanding researchers and clinicians to deliver novel, personalized treatments to cancer patients. Construction will commence in 2017, and the facility will open to patients in 2019.
---
Groundbreaking for the PCMB
April 14, 2017

Click below for a closer look at the latest renderings:
Groundbreaking for the Bakar Precision Cancer Medicine Building took place Friday, April 14, with Chancellor Sam Hawgood, School of Medicine Dean Talmadge King, and HDFCCC President Alan Ashworth donning hard-hats and shovels to note the official start of construction.
A small gathering of UCSF staff, physicians, scientists, and administrators joined philanthropists and members of the construction and design teams to commemorate the event.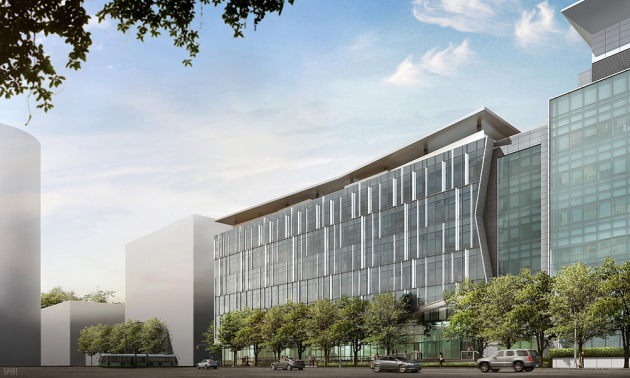 "The PCMB represents an unprecedented advance for people with cancer – inspired by two ideals. Bring the latest and most personalized treatments to patients quicker than ever before and ensure our patients are front and center in everything we do."
Alan Ashworth, PhD, FRS, president of the Helen Diller Family Comprehensive Cancer Center (HDFCCC) and senior vice president for cancer services at UCSF Health.
---
Patient-Centered Design Concept
Based on projected patient volume and regional population growth through 2030, the future Precision Cancer Medicine Building will include:
120 exam rooms to support physician practice clinics
45 infusion bays with private spaces and social area
3 radiation oncology rooms and an MRI simulator
imaging and diagnostics
resource center and support services
lab services
Architect and Design Process
We have selected international architecture firm Stantec Inc. to design the state-of-the-art PCMB that will integrate research and world-class patient care on the UCSF Mission Bay campus. Stantec, which was selected for its extensive experience designing academic medical- and cancer centers, joins California-based health care general contractor, Rudolph and Sletten, to form the design-build team for this new, adult outpatient cancer center.
> Read more about the architect and design process.
Location at UCSF Mission Bay
Located along 16th Street between 3rd and 4th Streets, adjacent and connected to the UCSF Medical Center at Mission Bay, the new facility will consolidate UCSF's current solid tumor practices at Mount Zion and Mission Bay into one location.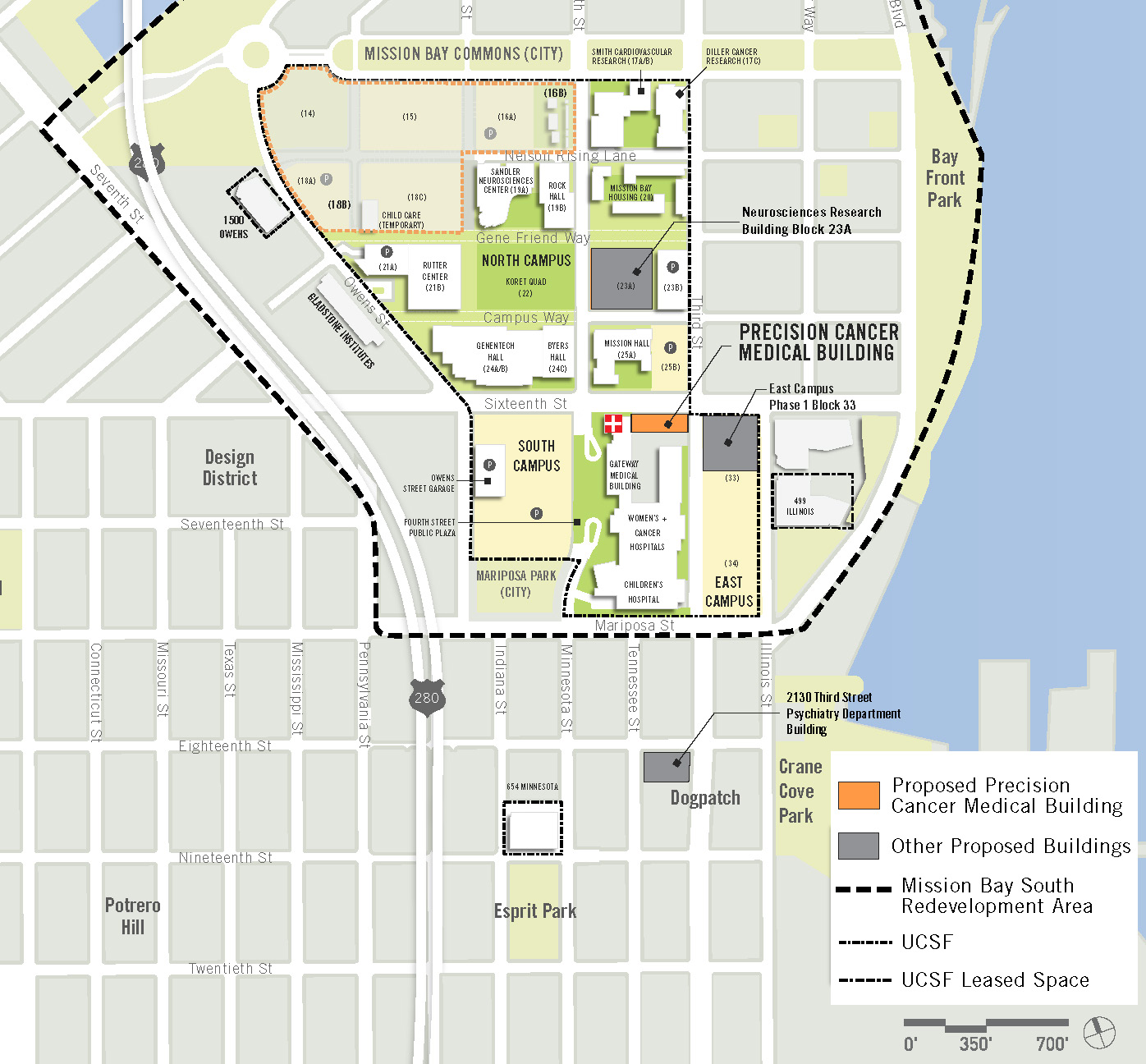 ---
Learn more about the Bakar Precision Cancer Medicine Building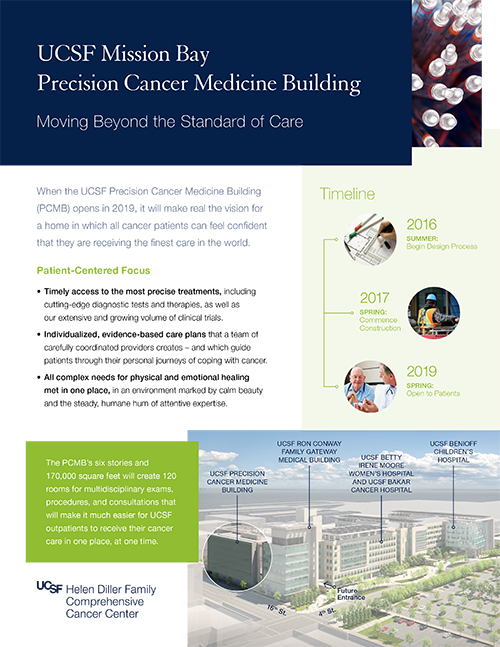 > Download a brochure about the PCMB
Have questions or ideas about this project? Email your feedback to [email protected].

For information about making a gift and naming opportunities within the building, please contact Melanie Ranen, Director of Development, at [email protected] or (415) 476-5079.

Perspectives on the PCMB: September 2018

Video by Emily Phillips
---
PCMB Progress: October 2018
PCMB Progress: July 2018

Video by Emily Phillips
---
Time Lapse of the PCMB: May 26, 2017 - October 4, 2018
Time Lapse of the PCMB: May 26, 2017 - April 27, 2018
---
Time Lapse of the PCMB: May 26, 2017 - April 27, 2018
---
Time Lapse of the PCMB: May 26, 2017 - Jan 4, 2018
---
Time Lapse of the PCMB: May-October 2017
In this video you will see:
Completion of 246 Auger Cast Piles for foundation
The underground utilities trenches being created and completed
Tower Crane installation
Concrete foundation 90% poured
The Linear Accelerator's (LINAC) concrete 90% completed
Upcoming:
· Structural steel installation
Time Lapse of the PCMB: May-August 2017
In this video you will see:
Completion of 246 Auger Cast Piles for foundation
The underground utilities trenches being created
The elevator base started (lower left corner)
Tower Crane installation
Linear Accelerator (LINAC) mat slabs poured
Foundation partially poured
Time Lapse of the PCMB: May-July 2017
In this video you will see:
Completion of 246 Auger Cast Piles for foundation
The underground utilities trenches being created
The base of the Tower Crane (upper middle)
The elevator base started (lower left corner)
Start of rebar and concrete form work for foundation