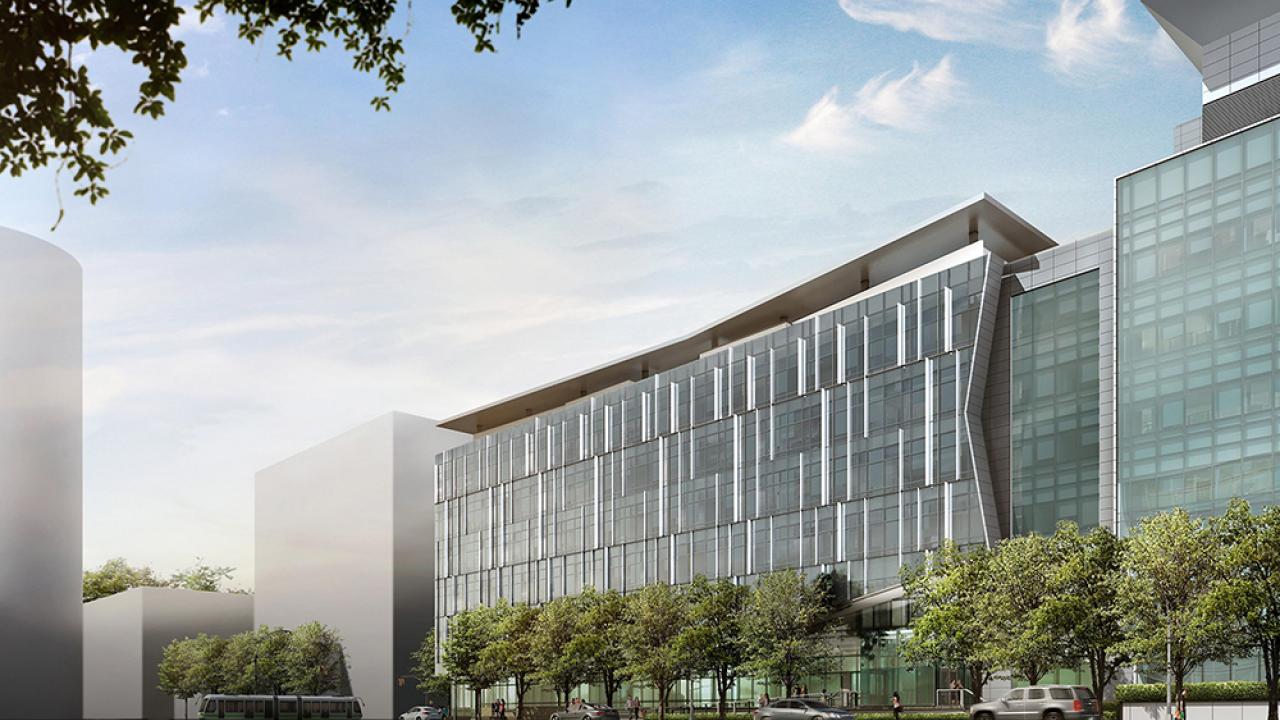 When the Precision Cancer Medicine Building (PCMB) opens in early 2019 in Mission Bay, it will serve as the new heart of outpatient cancer care at UCSF and will be a place in which patients and their loved ones can trust they are receiving the finest care in the world.
With its combination of the very latest in treatment protocols, patient-centered compassionate care, and technology, the PCMB will have no equal in the San Francisco Bay area.
"The PCMB represents an unprecedented advance for people with cancer – inspired by two ideals," says Alan Ashworth, PhD, FRS, president of the Helen Diller Family Comprehensive Cancer Center (HDFCCC) and senior vice president for cancer services at UCSF Health. "Bring the latest and most personalized treatments to patients quicker than ever before and ensure our patients are front and center in everything we do."
"The PCMB represents an unprecedented advance for people with cancer – inspired by two ideals. Bring the latest and most personalized treatments to patients quicker than ever before and ensure our patients are front and center in everything we do."
Consistently ranked among the top ten centers in the country and California for cancer care, UCSF clinicians and scientists are known for helping set the standard for precision cancer medicine.  Precision medicine is care designed to optimize the therapeutic benefit for a particular group of patients, often based on their genetic or molecular information. Now, this work will take place in a facility built from the ground up with patient and physician concerns as foundational principals.
In 2015, the opening of UCSF Bakar Cancer Hospital at Mission Bay jump-started a new era of collaborations among clinicians, researchers at the HDFCCC Research Building, and Mission Bay's burgeoning biotech hub. The PCMB – situated within steps of Bakar Hospital and the Research Building – will significantly accelerate and enhance these collaborations. Patients and families will reap the benefits.
"Having so many world-class cancer experts working side by side in one unit represents a rare opportunity to deliver on the promise of precision medicine in a deeply humanistic way," says HDFCCC Deputy Director Eric Small, MD, FASCO.
The Patient Experience: Convenience, Warmth and Light
The PCMB's six stories and 179,650 square feet will include 120 room for exams, procedures, and consultations, 62 infusion bays, and 19 imaging modalities. Radiation oncology and game-changing advances in cancer treatment – such as immunotherapy, Phase I clinical trials, and genetic sequencing – will all be readily accessible.
So will psycho-oncologists, genetic counselors, symptom management clinicians, social workers, chaplains, financial navigators and nutritionists. Infusion bays filled with natural light will share floors with physician practices, making it easier for a physician to stop by if a patient has a question. Central hubs will facilitate clinical collaborations.   
Patients who come for cancer treatment often have multiple appointments on the same day and must check in at multiple locations. At the PCMB, centralized registration and a real-time location system will enable patients to check in just once and move around the campus without fear of missing an appointment.
When patients enter the lobby, they will find a friendly first stop that includes UCSF Osher Center for Integrative Medicine classes, support group information, a shop, and the Patient and Family Cancer Support Center. Pop-up services, such as Art for Recovery and quick educational talks on nutrition and exercise for cancer patients, will often be available in convenient locations throughout the day.
"This is a truly patient-centered, concierge approach," says Laurel Bray-Hanin, interim vice-president and chief operating officer of the HDFCCC. "It reflects what our patients expect from the experience of ongoing cancer care."
A Beautiful Building That Conveys Meaning
Then there's the exterior, which expresses the building's ideals through a series of striking, innovative design features. "We've translated the concepts of precision and patient-centeredness into four design principals," says architect Arturo Vasquez, of Stantec Architecture, Inc.
1. Precision: The building fuses the concepts of precision and warmth by bringing together glass and metal in a fluid coupling. Windows and walls create angles that guide the eye and provide passersby with an intuitive sense of how the building operates. Some areas draw their inspiration from the precise beauty of DNA sequencing.
2. Transparency: People can see in and out easily, demystifying the building and humanizing cancer treatment. The building also clearly acknowledges the look and feel of other Mission Bay buildings, while also matching the appearance to a new generation of care.
3. Unity: By patients, families, staff and clinicians, the building brings everyone together around the patient experience. The sense of unity extends to the way the PCMB completes the sequence of movement across Mission Bay clinical areas, as well as its ease of access, whether through the main entrance on the Gateway side, or the16th street entrance for those arriving on public transit.
4. Community: The building invites the surrounding community to understand and value cancer patients. There are landscaped areas that invite strolling, sitting, and contemplation. Whereas most health care buildings run up against the property line, "We've created a subtle, angling wall that creates a more generous public domain, with an overhang to provide shelter at some locations," says Rory Picklyk, vice president at Stantec. The building will be framed at night with LED lighting, the colors changing regularly to reflect cancer awareness months, local sports teams, or holidays.
An Inclusive Process
Transforming ideas from the drawing board into elements that enhance treatment and healing was a thoughtful and democratic process, with Ashworth's two core principals as touchstones:  cutting-edge therapies and patient-centered care.
"Large groups of patients, families, clinicians, staff members, architects, clinical planners and community members met regularly for more than a year to explore what patients valued, how people wanted to work together, and how we could use this building to physically demonstrate this precise, patient-centered approach," says J. Stuart Eckblad, vice president of major capital projects, Integrated Center for Design & Construction at UCSF Health. "We are an integrated team, building a vision together." 
The University of California Board Of Regents approved the project in March. Construction is scheduled to begin in June, 2017.  In planning for future demand, the PCMB was designed to meet projected patient volume and population growth through 2030.
"It's been extraordinary to see this building take shape," says Ashworth. "But it will be considerably more gratifying to see its impact on the lives of our patients and their families."