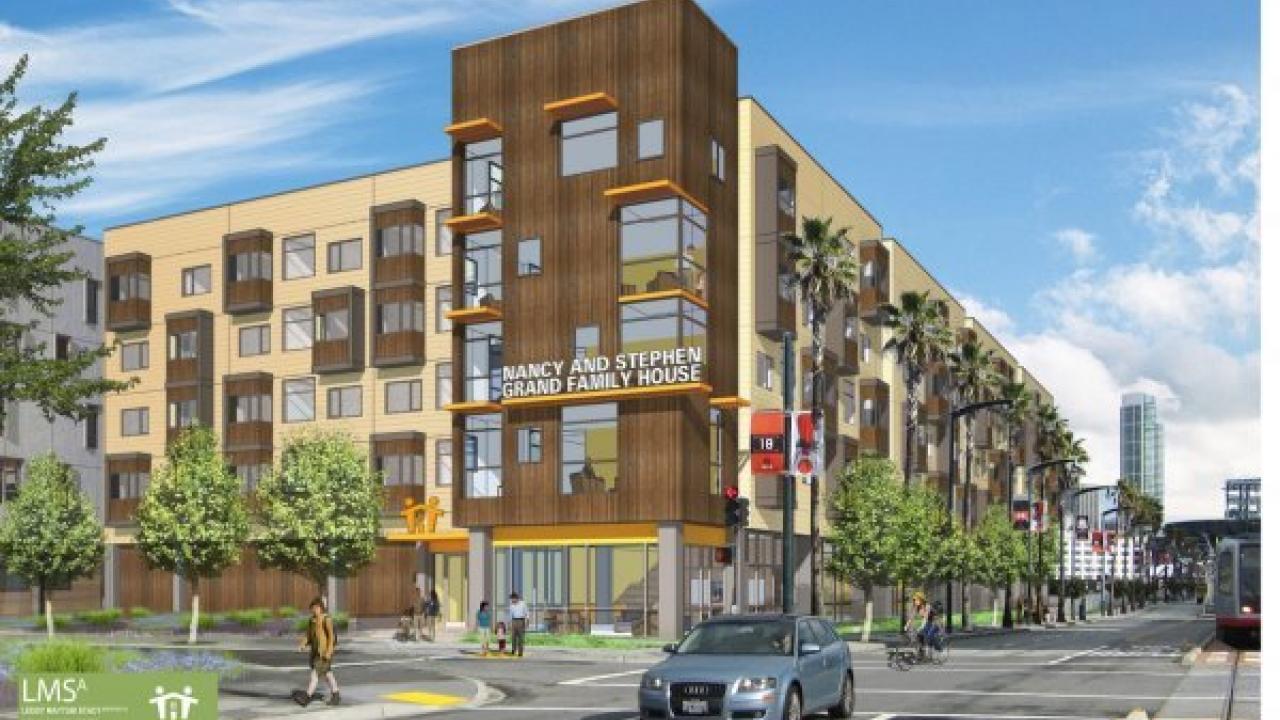 For three decades, Family House has offered a supportive home base for families whose children are being treated for cancer and other life-threatening illnesses at UCSF Benioff Children's Hospital.
Now, as the children's hospital prepares for its move to a new home at Mission Bay, Family House also is gearing up to relocate to a new facility down the street from the new hospital – one that will more than double its occupancy and offer a long list of special amenities.
The current Family House facility near the Parnassus campus
has a maximum occupancy of 107 guests. The planned new
facility at Mission Bay will more than double the occupancy.
Photo by Nicole Croom
"We are ecstatic Family House is expanding their capacity so that all families will have a place to stay while being treated at UCSF Benioff Children's Hospital," said Kimberly Scurr, the hospital's executive director who also serves on Family House's Advisory Board of Directors. "Although the hospital's new facilities will have larger family space in the rooms, it cannot replace the homelike atmosphere that so many need during a time of crisis."
The Nancy and Stephen Grand Family House at Mission Bay will open within a year following the February 1, 2015, grand opening of the new 289-bed UCSF Benioff Children's Hospital. The 92,000-square-foot facility will include 80 bedrooms, each with an en suite bathroom, with a total occupancy of 250 people each night.
The San Francisco-based nonprofit currently offers free, temporary housing for more than 2,000 families each year, operating out of two apartment-style buildings located near the UCSF Parnassus campus. The two buildings combined offer 34 bedrooms and 12 bathrooms, with a maximum occupancy of 107 guests.
"Our goal is to maintain the homelike atmosphere of our existing facilities while expanding capacity so we never have to say 'no' to any family needing our services," said Alexandra Morgan, executive director of Family House. "It's not about the interior color palette of the new space, but it has everything to do with having a generous spirit and a sense of caring for others who have to walk a difficult path."
A Comforting Place in Time of Crisis
Santa Cruz resident and father Rob Stuart learned the value of Family House firsthand when his son Jordan was diagnosed with a brain tumor in 1991.
With two other preschool-aged children, Stuart knew it would be impossible to constantly travel back and forth between Santa Cruz and San Francisco.
Jordan Stuart's family stayed at Family House for 13 months
while he underwent brain cancer treatment in 1991. Although
Jordan ultimately lost his battle with cancer, his father Rob
Stuart has remained active with Family House, saying it "gave
us a sense of normalcy, love and human connection in the
midst of a very chaotic time." Photo courtesy of Stuart family.
After being introduced to Family House through a UCSF social worker, he and his family ended up living there for most of the next 13 months while Jordan underwent multiple surgeries, chemotherapy and radiation. Just as many other families have done over the years, the Stuarts celebrated birthdays and Christmas at Family House during their stay.
Read more at UCSF.edu