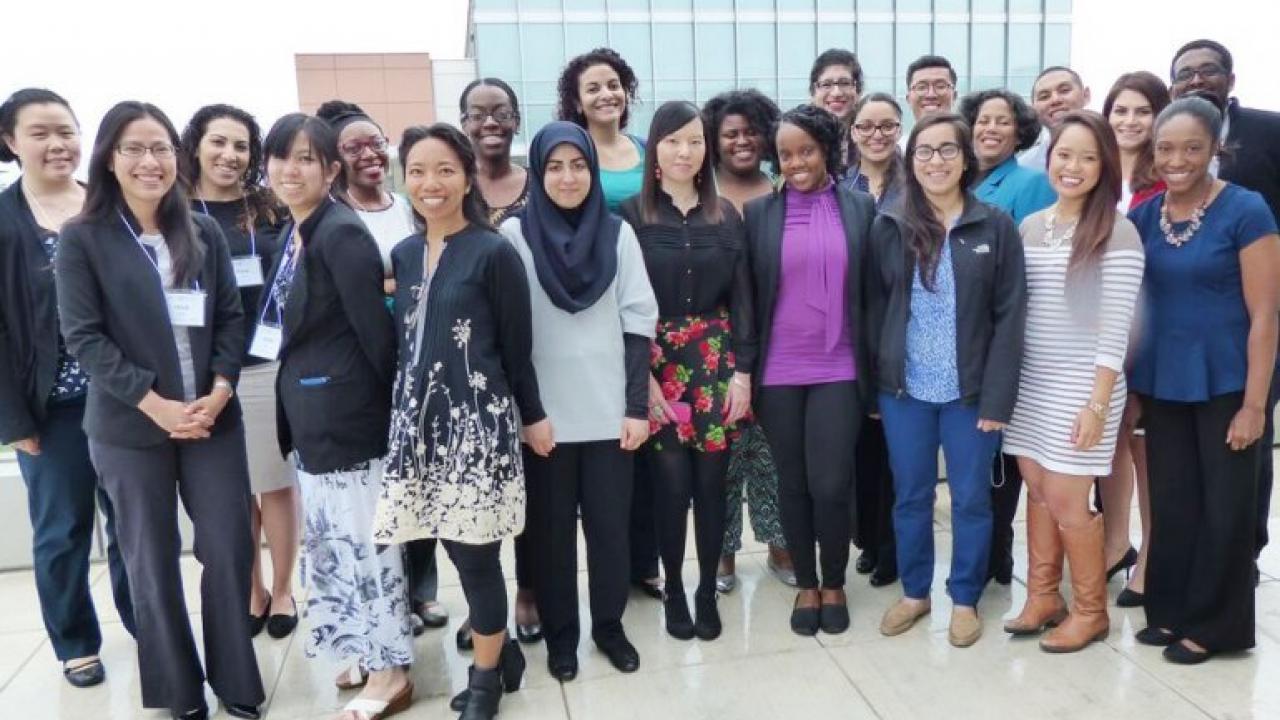 Over the last decade, better treatment and prevention efforts have helped reduce the incidence of cancer by 0.9 percent each year – yet the rate of progress hasn't been the same for certain racial and ethnic minorities.
Luis Rodriguez (center) participates in a group activity at the Minority Training Program in Cancer Control Research Summer Institute, one of the nation's longest-running programs to encourage people of color to pursue PhDs in cancer disparities research. Photo by Rena Pasick
From genetic differences to unique social or economic circumstances, many factors add to these discrepancies. Populations of color are more likely to experience discrimination in health care and are disproportionately represented among the poor and those of low health literacy. As a result, they have few resources for prevention and early detection, and limited access to high quality cancer care.
Rena Pasick, DrPH Photo by Susan Merrell
According to Rena Pasick, DrPH, these problems are exacerbated by the lack of "insider" minority researchers who innately understand the communities that suffer from cancer disparities and who have dedicated themselves to health equity.
"We have made almost no progress in addressing cancer disparities in the last 40 years," said Pasick, a professor of Medicine at the UCSF Helen Diller Family Comprehensive Cancer Center. "I believe one of the key elements to solving the problem is that the leaders in the field need to truly represent the community's diversity."
A Pioneer in Cancer Disparity Education
At first glance, Pasick may seem an unlikely poster child for diversity. But here at UCSF, she leads one of the nation's longest running programs to encourage master's level public health minority students to continue on to doctoral degrees and cancer disparities research careers, enhancing their potential to lead lasting changes.
Pasick has researched cancer disparities since the 1980s, and was struck early on by the lack of diversity in the research community itself.
"At professional meetings and in the field, most people looked like me," Pasick recalls. "There I was, working in all these communities of color, and it was clear to me that there was a big difference between what I could offer and the role of investigators who were themselves from those communities."
To address the issue, she founded the Minority Training Program in Cancer Control Research (MTPCCR) in 1998. The MTPCCR program, which has received continuous funding from the National Cancer Institute (NCI) since its inception, aims to encourage minority master's students and professionals to pursue doctoral degrees and research careers focused on cancer control.
The program offers a five-day summer institute, summer internships, and scholarships to defray the cost of graduate school applications. But to most of its alumni, the biggest benefits come from simply realizing they play valuable roles in a research community where they still are, well, a minority.
Fitting Into the Research World
From left to right: Phillip Gardiner, Mijiza Sanchez, Janice Tsoh and Monica Allen at 2015 MTPCCR doctoral retreat. Photo by Rena Pasick
For many, it's the first time these students encounter researchers who come from similar backgrounds as themselves. For example, Mijiza Sanchez, MPA, Ed.D, was the first in her family to attend college. The child of immigrant parents, Sanchez had toyed with the idea of research, but didn't see a path forward until she attended the MTPCCR summer program.
"I'd always wanted to pursue a doctorate but I didn't quite know exactly where I wanted to focus my research and how I would apply it," Sanchez recalled. "The program was really instrumental in providing me the mentorship and tools to go about applying, or to even think that I could actually do it. I was able to see other people who looked like me, people rooting for me and who wanted me to succeed."
Sanchez's doctoral research focused on how Latino/as and other under-represented minorities fare in health science careers. Now working as the Assistant Dean, Office of Medical Student Affairs, at Stanford University, Sanchez returns to MTPCCR's summer institute each year to mentor new students facing the choices she once did.
To Luis Rodriguez, MPH, RD, a story like Sanchez's resonates. Rodriguez moved to Salinas, Calif., from Mexico with his parents, who are migrant farmworkers.
"I was always interested in health equity, particularly in how food and nutrition play a role in chronic disease and in cancer," he recalled. After working as a pediatric clinical dietitian at UCSF for more than five years, he attended the MTPCCR summer program in 2014. Now, he's poised to begin the PhD program in Epidemiology and Translational Sciences at UCSF this fall.
To Rodriguez, being a member of the community he seeks to serve increases the likelihood of success, improving population health.
"I have lived through the same issues that many of them have, and I'm capable of understanding better than individuals who might be looking at the problem through a different lens," he said.
Gaining Ground
Pasick's efforts are showing results. Among alumni from the two California programs, 95 have now graduated with their PhDs and another 91 are current doctoral students. Graduates who participated in the program years ago are pushing the boundaries in their fields.
Nynikka Palmer with Rena Pasick after Pasick received the 2014 Women Health Care Executives Woman of the Year award. Photo by Chloe Jackman Photography
Nynikka Palmer, MPH, DrPH, who attended the MTPCCR summer institute in 2001, is now an assistant professor in the department of medicine at San Francisco General Hospital, where she researches patient-provider communication and quality of care among African American men with prostate cancer in low-income communities.
"Being a minority researcher is an integral element of doing health care disparities research to me," said Palmer. "All too often, we see researchers working in communities where there's just not that level of trust, and a fear of being taken advantage of by researchers. I engage with and ensure I'm part of the community – rather than just going in to gather data."
In addition to these individual success stories, MTPCCR has been successfully funded by NCI grants until 2018, which will be the program's 20th year. In 2001, Dr. Pasick partnered with the UCLA School of Public Healthto add a second MTPCCR site there, and in 2010 the program was replicated at the University of Texas Health Science Center, where the focus is on Latino students and professionals.
Read more at UCSF.edu