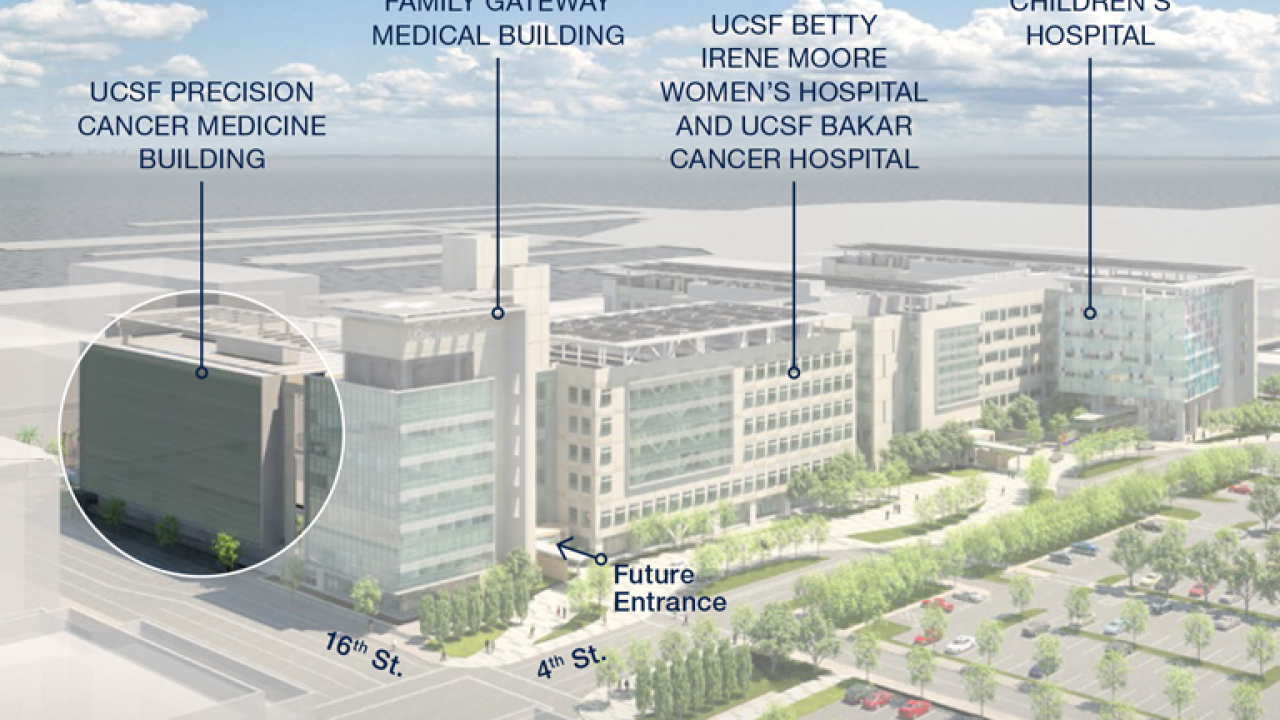 UC San Francisco has selected international architecture firm Stantec Inc. to design its new, state-of-the-art Precision Cancer Medicine Building (PCMB) to integrate research and world-class patient care on the UCSF Mission Bay campus.
Stantec, which was selected for its extensive experience designing academic medical- and cancer centers, joins California-based health care general contractor, Rudolph and Sletten, to form the design-build team for this new, adult outpatient cancer center.
"This new building will transform the way we provide cancer care to our patients," said Alan Ashworth, PhD, FRS, president of the UCSF Helen Diller Family Comprehensive Cancer Center. "Today, patients frequently have to travel to multiple sites to receive their care, from radiation to lab tests to infusions. The new building will provide a seamless patient experience at a time when people need our help the most, and enable us to better collaborate on improving the care they receive."
Located along 16th Street between 3rd and 4th Streets, adjacent and connected to the UCSF Medical Center at Mission Bay, the new facility will consolidate UCSF's current solid tumor practices at Mount Zion and Mission Bay into one location. Bringing these practices together at Mission Bay, which is already a robust site for cancer research, will integrate research and clinical care and encourage collaboration between researchers and medical teams. In addition to clinic space for most cancers, PCMB will house chemotherapy infusion, radiology, pathology, radiation oncology, blood draw, a patient resource center, and support services.
The building will be a key outpatient facility for UCSF's extensive cancer enterprise, which has been at the forefront of cancer research for more than 50 years. Its contributions include the Nobel Prize-winning discovery of cancer-causing oncogenes by J. Michael Bishop and Harold Varmus, whose work opened new doors for exploring genetic abnormalities that cause cancer and formed the basis for some of the most important cancer research happening today. UCSF's leadership in large-scale population studies and clinical research translates into new forms of cancer treatment, as well as innovations in diagnoses and improved patient outcomes.
Designed by Collaboration
Rudolph and Sletten and Stantec will partner with faculty, staff, administrators and patients to incorporate major themes of patient centered care, innovation and teaching, and operational efficiencies into the building design.
"The design process is intentionally a collaborative one," Ashworth said. "By including faculty, staff and patients in setting the building layout, we can streamline and integrate the patient experience into the very blueprints of the building."
The collaborative nature of the PCMB Project is not limited to the design process. In addition to co-locating all members of the project team in the Integrated Center for Design & Construction at Mission Bay, UCSF holds a single contract with Rudolph and Sletten and Stantec. This single-contract approach, known as Design Build project delivery, aligns incentives around Integrated Project Delivery (IPD) techniques to successfully manage both schedule and budget for the project.
"The Design Build project delivery evolved out of our experiences with the UCSF Mission Bay Hospitals Project," explained Stuart Eckblad, vice president of Major Construction Projects. "This focus on collaboration and innovation will see that the Precision Cancer Medicine project shares in the success of the Mission Bay Hospitals Project."
A $1.6 billion hospital, outpatient, and energy center facility, the UCSF Mission Bay Hospitals Project was awarded Engineering News Record Best National Health Care project in 2015.
Construction of PCMB, which has a fundraising goal of $100 million, is scheduled to begin in spring 2017, with the building open for patients in spring 2019.
For more information, please visit our website or download a brochure about the project.