When San Francisco's new flavored tobacco ordinance goes into effect next spring, it will be the strongest law in the country limiting the sale of flavored and menthol tobacco products. While other cities have passed laws reducing access to flavored vaping liquids and flavored tobacco, San Francisco is the first in the country to ban sales outright.
For all the controversy and tobacco-industry opposition laws like this invite, this particular ordinance was drafted, refined, and passed in less than six months. That's because it had a committed sponsor in San Francisco Supervisor Malia Cohen and was supported by more than 15 years' worth of research and national advocacy work by UCSF's Valerie Yerger, ND, associate professor of health policy, who led the effort in getting the law passed.
"When we found our champion in Supervisor Cohen, we went hard and fast. I pushed for the most aggressive legislation possible," Yerger said, adding Supervisor Cohen's staffer Brittni Chicuata played a leading role, fueled by her background in public health and past experience in tobacco control advocacy.
"I anticipate a very ugly battle ahead, because the stakes are so high with how much money menthol products bring to the tobacco industry. But now we have a law that might make it easier for other cities to do the same. This issue is now on the radar of the American Cancer Society Cancer Action Network, American Heart Association, American Lung Association, Americans for Non-Smokers' Rights, Campaign for Tobacco-Free Kids, and the Truth Initiative."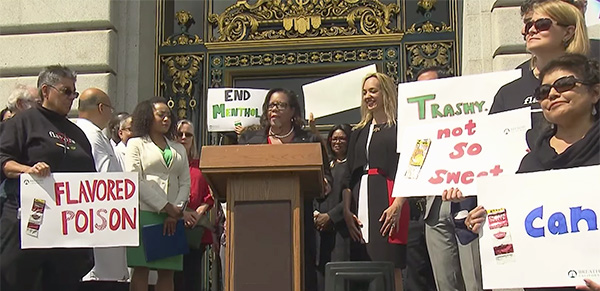 Big Tobacco Tactics Fall Flat
The industry, especially RJ Reynolds Tobacco Company, is clearly worried that this law could lead to more local flavor bans (just as the San Francisco smoke free law did back in the 1980s). In other jurisdictions considering similar laws, Reynolds American, Inc. (the parent company of RJ Reynolds Tobacco) flew in lobbyists and paid well-known figures like Reverend Al Sharpton to testify against a flavor ban. It also ran radio ads claiming the law would "expand the profitable underground market" of menthol cigarettes, which are popular among African American smokers, Yerger said.
Stanton Glantz, PhD, director of the UCSF Center for Tobacco Control Education and Research, said that while courageous and well-informed legislators are key to wins like this, so is all the work done by public health leaders like Yerger and fellow public policy experts like Phil Gardiner, DrPH, and Carol McGruder, co-chairs of the African American Tobacco Control Leadership Council and members of the SF-CAN Menthol Team.
For almost a decade, the three have been crisscrossing the country working with local tobacco control advocates and community leaders to counter the tobacco industry's longstanding efforts to co-opt African American leadership organizations. Increasingly, industry efforts are failing, and major black organizations like Delta Sigma Theta Sorority, Inc. and the National Association for the Advancement of Colored People (NAACP) now support local menthol bans, Glantz added.

Other community partners such as the SFCAN Initiative, the San Francisco Tobacco-free Coalition, and Breathe California helped to educate and engage the public on the need to prohibit sales of flavored tobacco products, as did health and policy advocates from the City of Oakland where a similar law that exempts adult-only tobacco shops has been proposed.

San Francisco's flavored tobacco law and others like it are examples of how the real leadership in fighting big tobacco stems from the community level. Yerger said that while menthol is a key piece in the fight against tobacco, it still is not on the radar of most tobacco control programs.
"It's about all of us and making sure we're not isolated in this work," she said. "If we don't get this menthol piece handled, we can't get to our endgame."

SF CAN Engages with San Francisco Communities
by Valerie Yerger, ND
Studies conducted separately by the U.S. Food and Drug Administration and its Tobacco Products Scientific Advisory Committee found that the removal of menthol from the marketplace would benefit public health. Through the SF CAN Menthol Task Force, a partnership of UCSF researchers, the City of San Francisco, and community advocates is working together to educate San Franciscans about the seductiveness and harms of flavored tobacco products.
Regulating these products makes good public health sense and would be a major step forward in the fight against cancer. Engaging those San Francisco communities most disproportionately affected by menthol and other flavored tobacco products is vital to the development and implementation of meaningful policy that is successfully sustained.
Why is Menthol and Other Flavored Tobacco Products an Issue?
Menthol and other flavors make it easier to start smoking. Flavors also make tobacco products taste good,(1-3) which is very appealing to new and inexperienced smokers.(3)
The cooling and anesthetic effects of menthol mask the harshness associated with cigarette smoke, allow deeper inhalation,(4) and make tobacco toxins go down easier.(5)
Flavors, especially menthol, make it harder to quit.(6, 7)
Menthol actually makes cigarettes more addictive than those cigarettes sold as non-menthol.(7)
Though many smokers may think flavors make tobacco and smoking safer, menthol cigarettes and other flavored tobacco products present the same disease risk as nonmenthol cigarettes.(8)
Menthol is also a Social Injustice It is by design, not accident, that menthol and other flavored tobacco products are disproportionately used by African Americans and other communities of color, as well as female, younger, and lesbian, gay, bisexual, or transgender (LGBT) smokers. All of these groups have been strategically targeted by tobacco industry to entice them to use menthol cigarettes.(9, 10)
Menthol cigarettes are predatorily marketed in marginalized communities, where one will find more advertisements and cheaper menthol cigarettes than in higher income neighborhoods.(11)
---
Who Uses Menthol and Flavored Tobacco Products in California?
71.5% of Black, 51% of American Indian, 35% of Hispanic, 23% of Asian, and 18.5% of White adult smokers say that they usually smoke menthol cigarettes.(12)
48% of high school cigarette smokers say they normally smoke menthol flavored cigarettes.(13)
53% of lesbian, gay, and bisexual (LGB) adults who smoke usually smoke menthol cigarettes (compared to only 27% of straight adult smokers).(12)
---
More Young People Use Flavored Products
Most teens who use tobacco start with a flavored product.(14)
54% of people between the ages of 18-24 who use other-tobacco products (OTP), report using a flavored OTP in the past month compared to 15% of 25-44 year old OTP users, 5% of 45-64 year old OTP users, and 1.7% of OTP users over 65 years of age.(12)
38% of e-cigarette users between the ages of 18-24 have smoked a flavored e-cigarette in the past month compared to 17% of 25-44 year old e-cigarette smokers, 5% of 45-64 year old e-cigarette smokers, and 1.5% of e-cigarette smokers over 65.(12)
The Research:
1. King BA, Dube SR, Tynan MA. Flavored cigar smoking among U.S. adults: Findings from the 2009-2010 National Adult Tobacco Survey. Nicotine Tob Res. 2013;15(2):608-14.
2. King BA, Tynan MA, Dube SR, Arrazola R. Flavored-little-cigar and flavored-cigarette use among U.S. middle and high school students. The Journal of Adolescent Health: Official publication of the Society for Adolescent Medicine. 2014;54(1):40-6.
3. Kreslake JM, Wayne GF, Alpert HR, Koh HK, Connolly GN. Tobacco industry control of menthol in cigarettes and targeting of adolescents and young adults. Am J Public Health. 2008;98(9):1685-92.
4. Yerger VB. Menthol's potential effects on nicotine dependence: A tobacco industry perspective. Tob Control. 2011;20 Suppl 2:ii29-36.
5. Yerger VB, McCandless PM. Menthol sensory qualities and smoking topography: A review of tobacco industry documents. Tob Control. 2011;20 Suppl 2:ii37-43.
6. Delnevo CD, Gundersen DA, Hrywna M, Echeverria SE, Steinberg MB. Smoking cessation prevalence among U.S. smokers of menthol versus non-menthol cigarettes. Am J Prev Med. 2011;41(4):357-65.
7. Food and Drug Administration. Preliminary scientific evaluation of the possible public health effects of menthol versus nonmenthol cigarettes. Silver Springs, MD: Food and Drug Administration: July 23, 2013.
8. Food and Drug Administration. Fact Sheet: Flavored Tobacco Products. 2011.
9. Fallin A, Goodin AJ, King BA. Menthol Cigarette Smoking among Lesbian, Gay, Bisexual, and Transgender Adults. Am J Prev Med. 2015;48(1):93-7.
10. Yerger VB, Przewoznik J, Malone RE. Racialized geography, corporate activity, and health disparities: Tobacco industry targeting of inner cities. J Health Care Poor Underserved. 2007;18(4 Suppl):10-38.
11. Henriksen L, Schleicher NC, Dauphinee AL, Fortmann SP. Targeted advertising, promotion, and price for menthol cigarettes in California high school neighborhoods. Nicotine Tob Res. 2012;14(1):116-21.
12. California Behavioral Risk Factor Surveilance System (BRFSS) 2012-2014 data; Age range: 18 years and older.
13. California Department of Public Health, California Tobacco Control Program, California Student Tobacco Survey (CSTS) 2011-2012.
14. Ambrose BK, Day HR, Rostron B, Conway KP, Borek N, Hyland A, et al. Flavored Tobacco Product Use Among US Youth Aged 12-17 Years, 2013-2014. JAMA. 2015;314(17):1871-3.
Read more at cancer.ucsf.edu