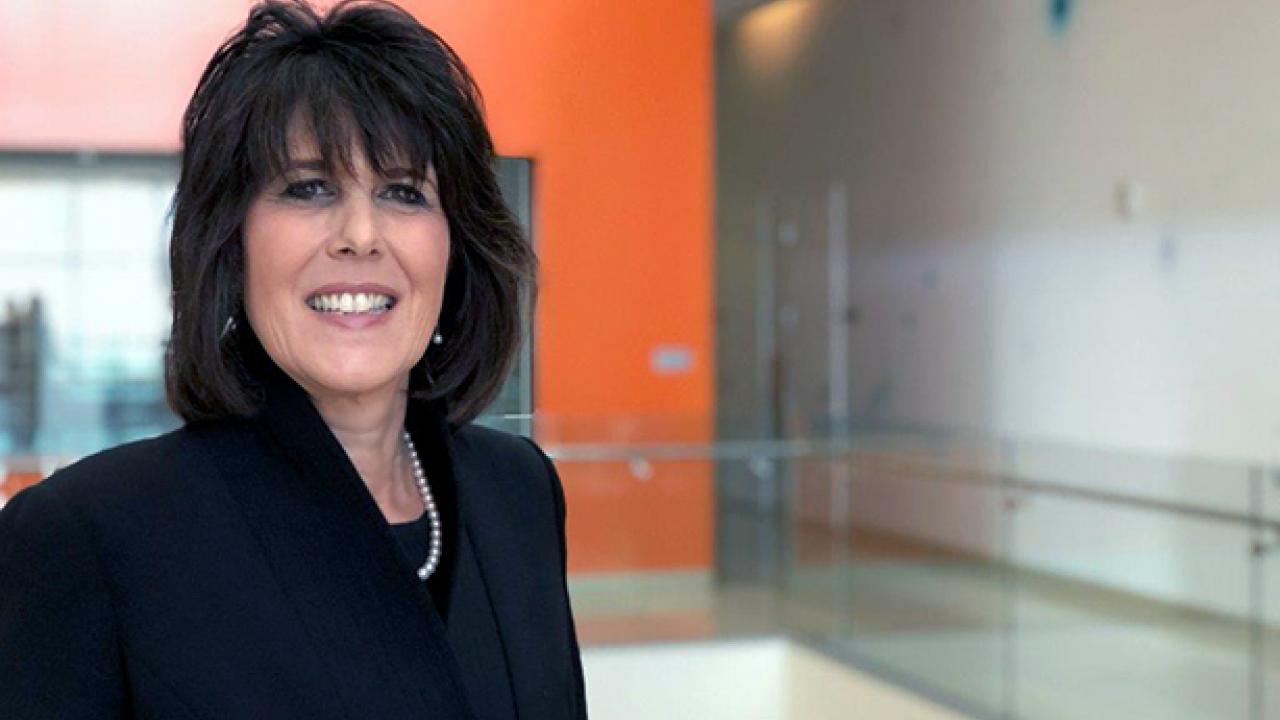 In April, Laura Crocitto, MD, MHA, joined UCSF as the first Vice President and Chief Medical Officer for Cancer Services. An experienced urologic oncologist and physician executive, she will work in a dyad with Laurel Bray-Hanin, Vice President and COO for Adult Cancer Services, and lead on a number of fronts. These include quality and safety measures, better integration of disease site teams, common care delivery practices, aligning quality metrics with performance, and developing strategies for a growing regional network. Dr. Crocitto joins the HDFCCC leadership team during a time of growth – and ahead of next year's opening of the Precision Cancer Medicine Building. Below, she talks about her new role and the challenges she sees ahead.
1.

With 20 years in progressive leadership roles with City of Hope, what made you decide to come to UCSF?
I came to UCSF for three reasons: The first is for the people. Not only are there bright and talented people working here, but the culture is unique in that it is one of collaboration and collegiality. Second, I see UCSF as wanting to be the leader in cancer care delivery, and this is something I am passionate about. Finally, I was drawn by the UCSF mission of serving those in their community. These things together are what drew me here.  
2.

Do you see your role as more about creating new standards and processes or helping existing ones evolve? 
I think it will be a combination of both. There are a lot of great processes and standards already in place that we can build on and expand across the services. Also, I imagine there will be new processes and standards that will come up over time that we will implement.
3.

What are you most excited to take on in your new role?
I am excited to be looking at the big picture, and how to take the amazing research and clinical expertise that already exist here and find ways to more fully integrate them into a model in which we deliver  the newest techniques and therapies in a timely, cost efficient, coordinated, patient-centered manner.  
4.

In terms of change management, what might require significant rethinking about the way things have been done here?  
I think that healthcare in general, especially complex cancer care, is facing change across the board. We need to dream big and be nimble in this ever-changing healthcare environment to come up with a new model of care that really puts the patients at the center while also ensuring an engaged care-delivery team. These sometimes seem at odds with one another, but they don't have to be. We need to think collectively about how to design the care delivery model of the future while continuing to be the leader in cancer research.  
5.

In the evolution of formalized quality and safety standards for hospitals, what are the current trends? How does the UCSF cancer enterprise measure up?  
Quality metrics in healthcare, and in cancer more specifically, are in their infancy.  Most measures are process measures that use billing data or require unsustainable manual extraction. Many of the measures don't truly reflect the care delivered and are poorly defined. Consequently, they aren't useful for centers seeking to compare themselves with one another.   
We can and should be the leaders in determining what these quality measures will be going forward.  I was fortunate to work on developing a cancer-specific readmission measure that was piloted and accepted by CMS as a quality metric for PPS-exempt cancer centers. I would hope that with the new UC Cancer Consortium, this kind of work can continue and put UCSF at the front of defining what quality standards look like.
6.

UCSF is putting a great deal of energy into regionalization efforts for cancer. Can you talk about the right ways to go about that? What should UCSF be looking for in new partners?  
This is an exciting time for UCSF and one of growth and expansion.  I am not sure there is a single right way to go about this and think it is more about the right way for UCSF.  There are a lot of bright people working on developing the processes for engaging partners in care delivery and thinking about exactly what those partnerships should look like.  This is an area where we will need to be nimble and evolve as the healthcare environment changes.  Determining what quality care looks like and ensuring we deliver this same high level of care across the enterprise should be the goal.  
7.

Will you have a clinic and where? 
Yes, I love patient care and intend to spend about 10% of my time clinically. I will have a clinic in urology at Mission Bay once the credentialing process is completed.  
8.

What made you choose medicine?  Urologic oncology?  
I am not really sure why, but I knew I wanted to be a physician from a very young age. In middle school, my mother and I drafted my long-term strategic plan, and though it did not go exactly as planned (I never dreamed I would be a surgeon, let alone a urologist), I did successfully complete my ten-year plan. In medical school, I assumed I would be some sort of medicine physician, so I took my surgical rotation first to get it over with. Shockingly, loved every minute of it!  
I naively assumed this was because I loved medicine and being a doctor, but then I took my internal medicine rotation and cried for six weeks straight.  At that point, I knew I was going to be a surgeon but had no idea what that meant or how many options I had.  I was told to take a urology rotation with Dr. Donald Skinner because I would learn my surgical anatomy, and if I was good enough, end up with a great letter of recommendation for whatever specialty I chose.  Well, that rotation led to nine years of training under Dr. Skinner as a urology resident and urologic oncology fellow.  He was an amazing surgeon, chair, leader and teacher, and I was truly blessed to have had the opportunity to train under him.  Though I know he is a bit disappointed in me for not taking a more traditional path, I will always be grateful for what he taught me about being a leader, bedside manner, operative efficiencies, excellent quality, and about myself.  
9.

The opening of the Precision Cancer Medicine Building in Mission Bay is set for next year. What do you think it offers that is unique to patients?
This building will offer patients the chance to receive integrated, coordinated, personalized care where we can bring the bench to the bedside in a more expeditious and efficient fashion. There are a lot innovations in care occurring all over, but the challenge is getting these to the patients in a timely and appropriate manner. Most places do not have the ability to pull all these pieces together in one place, and this building is the beginning of doing that here at UCSF. Because of the foresight of the leaders here it is opening up at a time when this is still cutting-edge and ahead of most other cancer centers.   
10.

How do you like the Bay Area so far? 
I love the Bay area so far except for being a bit traumatized by the parking.  I think I am officially a resident now though since paying my first and hopefully last parking fine.  Who knew that they clean one side of the street one day, and the other another day?  
Seriously, it feels like coming home.  I am originally from Stockton and have friends and family in the area, so I am happy to be here and look forward to taking advantage of all that the city has to offer.  
11.

How do you like to spend your free time? 
Well, I really like to road bike though I am still getting up the courage to bike in the city. First, there are lots of steep hills. I just got a new bike with electronic shifting that I thought was supposed to do everything perfectly, but  I guess I need to read that manual again as I did not hit that hill exactly as I wanted. Going up would have been better than rolling backwards. And I love all the bike lanes and signs, but I am not sure I really trust my fellow drivers enough yet.
And then with the new marijuana law….  
I have four children, three older daughters who are basically out of the house, and a 13-year-old son at home with me, so I spend a lot of time going to Marvel movies.  I like musical theater, hiking, and traveling.  I recently returned from a trip to Africa to see my middle daughter who is there teaching.  And I highly recommend it to everyone.  If you want a tour guide let me know.