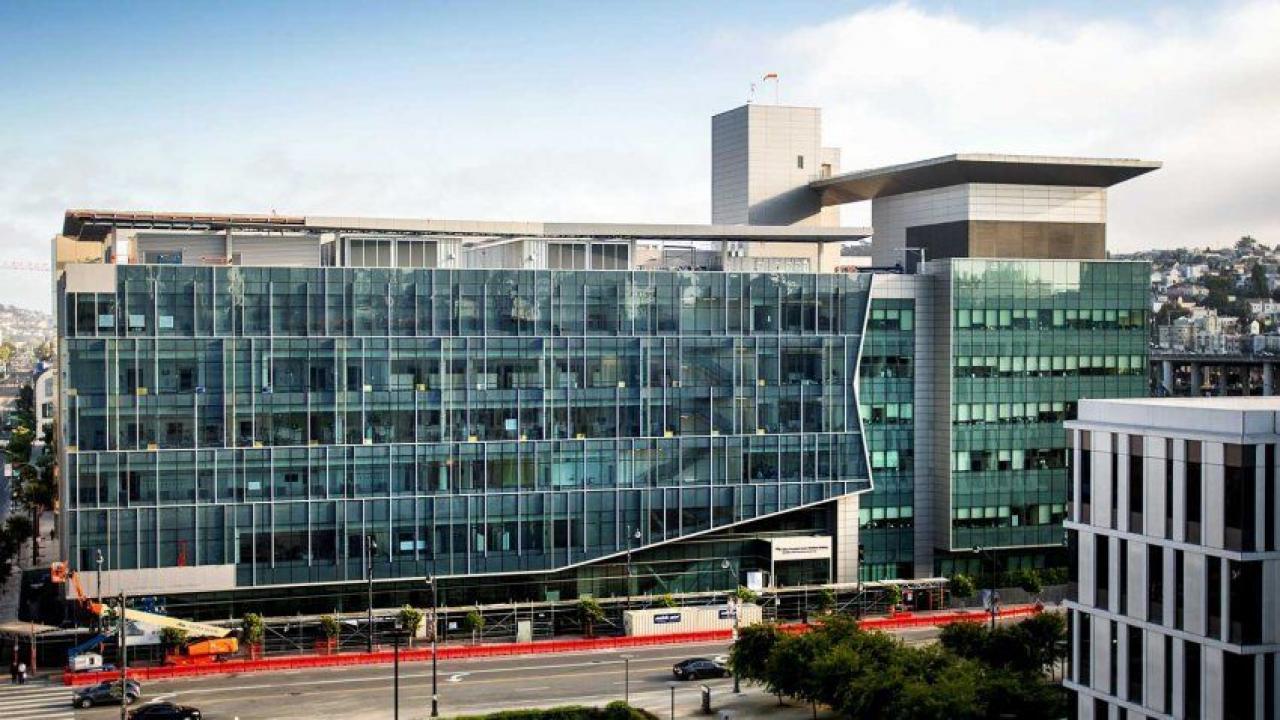 UC San Francisco is opening a pioneering cancer center devoted to providing adult patients with highly advanced treatments, including immunotherapy, genetic counseling, molecular profiling of tumors, fully integrated clinical trials, and advanced imaging.  
The UCSF Bakar Precision Cancer Medicine Building (PCMB) places patients and families at the center of a university commitment to deliver a new generation of precision medicine. This approach tailors individual care based on a detailed understanding of each person's genetic or molecular information – the "signatures" of each tumor that makes it unique -- and is designed to offer novel approaches and personalized treatment to patients.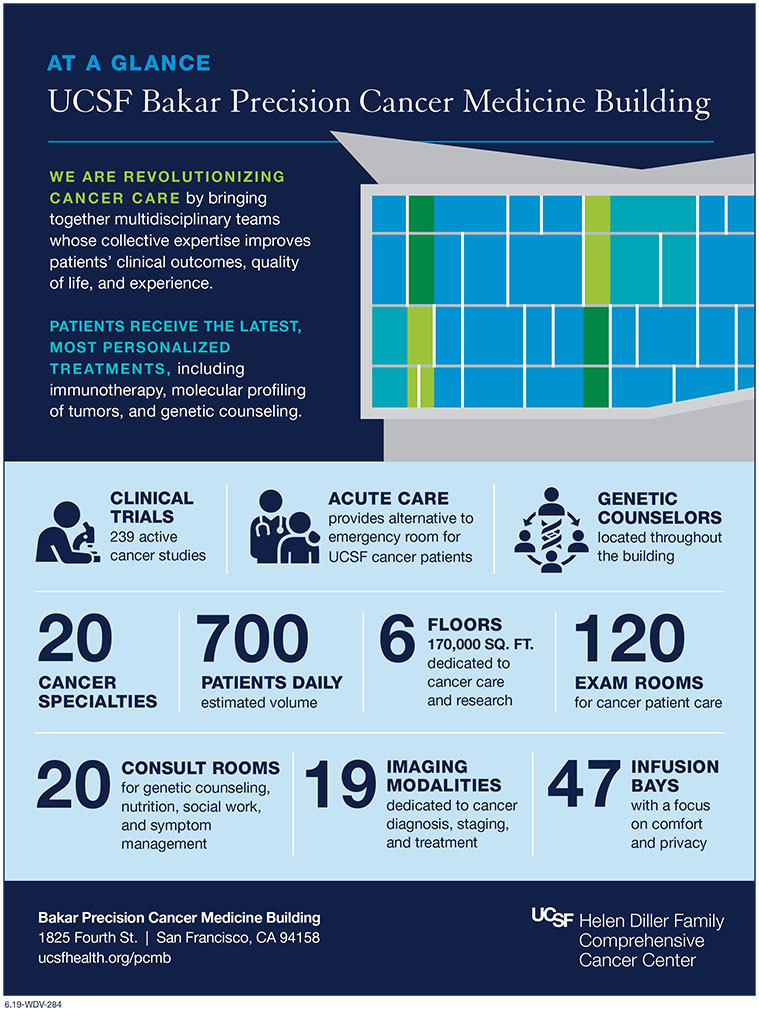 Serving as the heart of adult outpatient cancer care at UCSF Medical Center at Mission Bay, the new cancer center opens to patients June 24. Approximately 700 patients are expected each day when the building is fully open in the fall.    
The unique new center is part of the UCSF Helen Diller Family Comprehensive Cancer Center, the only National Cancer Institute-designated comprehensive cancer center in the San Francisco area, and of UCSF Medical Center, which is recognized as the best hospital for cancer care in California by U.S. News & World Report. Located steps away from a world-class cancer research center, the new building brings together top researchers, oncologists, surgeons and other clinicians – leaders in almost every form of cancer discovery and care – to foster new treatments and speed their delivery to patients.
Designed for warmth, comfort and easy navigation, the new center focuses on a range of cancer services.  These include world class medical care provided by surgical, medical and radiation oncologists who work with an expanded care team to support the whole patient and their family with specialized psychosocial support, cancer specific nutrition expertise, hereditary cancer care, and wellness programs such as exercise counseling.  
"The Precision Cancer Medicine Building represents an unprecedented advance for people affected by cancer," said Alan Ashworth, PhD, FRS, president of the UCSF Helen Diller Family Comprehensive Cancer Center. "It is inspired by two ideals: to bring the latest, cutting edge treatments to patients more rapidly than ever before, and to ensure that our patients are front and center in everything we do."
Located along 16th Street and connected to the Ron Conway Family Gateway Medical Building, the 170,000-square foot cancer hospital contains 120 rooms for exams and consultations, 47 infusion bays for chemotherapy, and 19 types of imaging services. In addition, there are 20 consultation rooms for supportive programs, such as genetic counseling, nutrition and dietary consultations, social work, psycho-oncology, complementary medicine and symptom management. PCMB also will have a patient resource center with rooms for support groups, exercise classes, physical therapy, financial counseling, and yoga. 
Read more at UCSF.edu