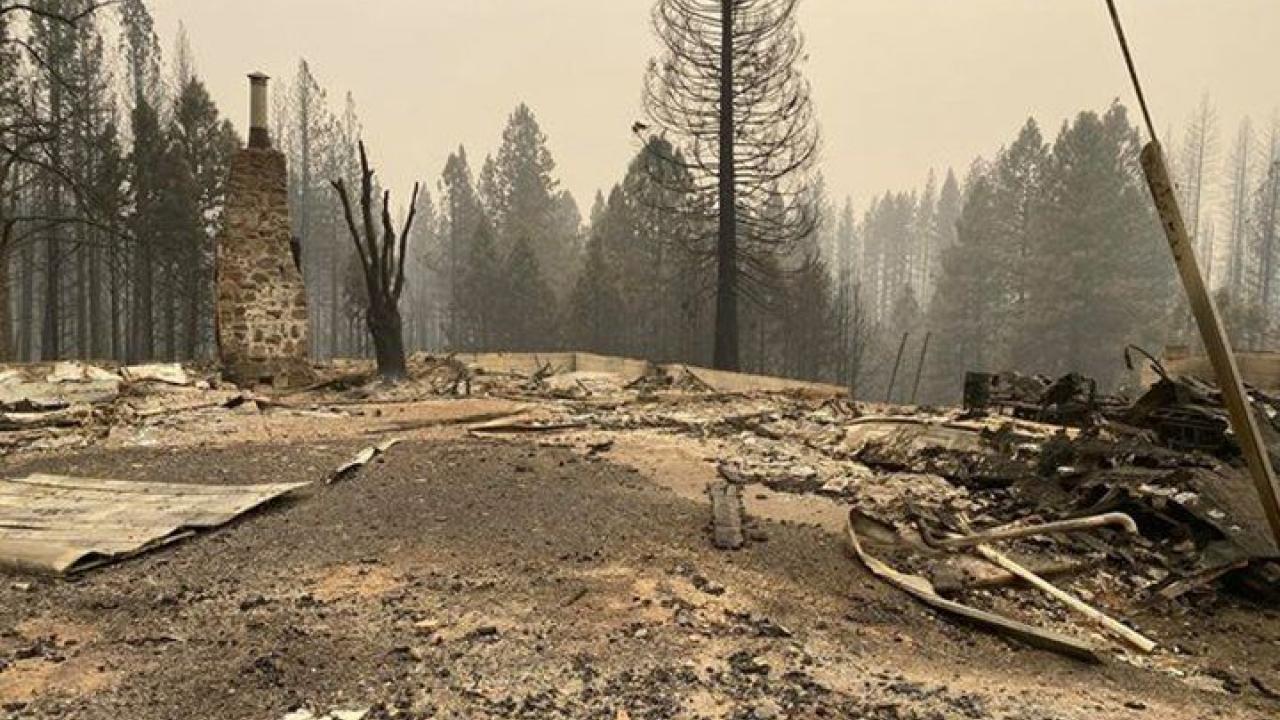 In September, the North Complex West Zone fire ripped through Butte County, killing 16 residents and decimating more than 2,000 structures. The structures destroyed in the blaze included almost all of the cabins, bathrooms and main buildings that make up Okizu – a 500-acre refuge for families of children with pediatric cancer.
The camp was founded in 1981, and it offered free annual and biannual weekend and weeklong retreats for families whose children had been treated at hospitals throughout Northern California. Participants had included patients in active cancer treatment; siblings who remember being back-burnered while distracted parents tended to a sick child; and children and parents whose sibling or child were among the 16 percent of pediatric patients who survived less than five years after diagnosis. There was a zipline, hiking trails, an archery range and amphitheater, and canoes for those participants who wanted to view paradise from a different perspective.
Before he died in 2017, Arthur Ablin, MD, the former chief of pediatric oncology at UC San Francisco and his wife Debbie, donated $1 million to pay off the mortgage of Camp Okizu that he had co-founded.
"When you invest in Camp Okizu, you receive incredible dividends," Ablin had once said, referring "not to the kind of dividends that are deposited in your bank account," but to the unique fellowship of volunteers and families who have created a welcoming oasis for those in the trenches and aftermath of childhood cancer.
Now, good Samaritans are organizing fundraising drives and digging into their own pockets to rebuild Camp Okizu – named after the Sioux word for unity – for the next generation of families that need its support.
A Club That No Parent Would Want to Join
For the Stewart family of East Bay, the loss of their "safe place" stoked the much deeper loss of their son and brother.
Okizu had kept us connected to Peter," said April Stewart of her son, a patient at UCSF Benioff Children's Hospitals, who died in October 2015 from a brain tumor at 8. "In everyday life, bereaved parents aren't usually encouraged to talk about their children who die, but at Okizu everyone wants to know the child that passed away and the child that survives," she said. 
"It's a club that no parent would ever want to be eligible for, but one that offers a lifeline to those experiencing the unspeakable torment of losing their child to a merciless disease," said her husband, Pete Stewart.
The Stewart family (from left) April, Anna, Peter and Pete. Peter died in October 2015 from a brain tumor at 8. Photo courtesy of the Stewart family
April recalled her first trip to Okizu's weekend retreat for bereaved families, six months after the loss of her son, a time when torrents of grief would attack without warning. April had wrestled with her feelings: she wanted to go – it would be good for her daughter, Anna, who had gone from being her brother's sidekick to the only child – and she hated that the family was going. She longed to say Peter's name and share his story and she dreaded exposing those raw and tortuous emotions that were kept tightly buttoned up from the outside world.
"And then we arrived and I burst into tears," she recalled.
But soon the family was welcomed and introduced to other families, all of them with stories that resonated: those troubling first symptoms, the diagnosis, "scanxiety," disease progression, the whispered referral to hospice, the final days. Together parents celebrated their children and mourned their children; they cried and laughed, and they left Okizu feeling a little less alone and even a little lighter, according to the Stewarts.
Read more at UCSF.edu