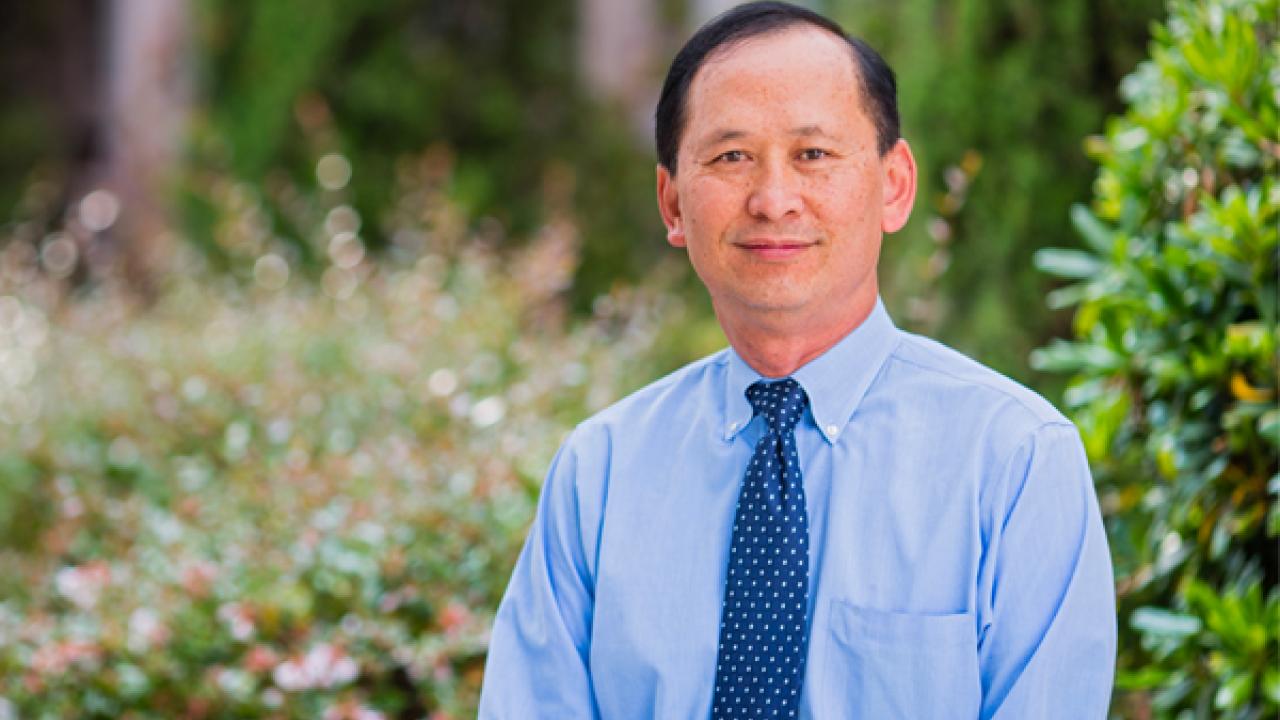 Fostering a diverse and equitable workforce poses enormous and complex challenges. It requires introspection and the hard work of culture change to undo the effects of long-term entrenched prejudice and status quo policies.
Universities like UCSF and their cancer centers are increasingly taking broader and deeper measures to grow and nurture diverse and equitable workforces.
Below, Tung Nguyen, MD, a physician, educator, and activist, talks about his new role as the HDFCCC's associate director for Diversity, Equity, and Inclusion and how a just workplace leads to better care and science.
---
Q. You recently accepted the role as the first associate director for Diversity, Equity, and Inclusions (DEI) for the Cancer Center. What prompted you to make time for this?
A. It was an honor to be asked to lead this important work. I'm at that stage of my career when I'm mostly interested in helping people to reach their maximum potential. I truly believe that a more diverse, equitable, and inclusive cancer center will not only improve the careers and lives of our diverse staff, trainees, and faculty but also will lead to better science, better health, and health equity for all of us, including our patients and communities. I also think that what we do in the cancer center can help to advance justice at UCSF and in our country.
"There is a saying 'we go faster alone but further together.' I think we go faster and further together. Stakeholder engagement is crucial but time consuming and there is an urgency to improve conditions immediately. I am optimistic that we can do both."
Q. The National Cancer Institute (NCI) wants its centers to play a stronger role in establishing and fostering diverse biomedical workforces (faculty and staff). Where do roles like AD for DEI come into play inside universities structured like ours?
A. It is daunting to work in DEI because we are trying to address centuries of sexism, racism, ableism, homophobia, and other systems of oppression. At the same time, we are not alone. There are already many efforts on DEI in the cancer center and at UCSF. I think having a central place to coordinate the cancer center's DEI work with UCSF's DEI work will be synergistic and mutually beneficial.
Q. You have a long track record at UCSF for leading DEI and anti-racism efforts, advocating on behalf of patients, faculty, and trainees who are underrepresented minorities (URM). In terms of this new role, what will you bring into the Cancer Center, and what could the Cancer Center export to UCSF at large as a result of our growing efforts?
A. By way of background, I am a primary care physician, an educator, and a community-engaged researcher. In these roles, I've learned both the power of working together toward common goals and the need to try out approaches with measurements for incremental changes. There is a saying "we go faster alone but further together." I think we go faster and further together. Stakeholder engagement is crucial but time consuming and there is an urgency to improve conditions immediately. I am optimistic that we can do both, and that the projects we try will help UCSF identify best practices to implement widely.
Q. How do you envision the Cancer Center's continuing efforts toward DEI complementing those established led by other areas within UCSF?
A. The goal is to make the efforts complementary and synergistic. The Office of Diversity and Outreach (ODO) has been leading the effort at UCSF, and we will engage the ODO as a stakeholder in the cancer center DEI work. The Office of Research had a task force on equity and anti-racism in research, which led to the creation of an office of Associate Vice Chancellor for Research Inclusion, Diversity, Equity and Anti-Racism (IDEA). I co-chaired the task force and will work closely with the AVCR-IDEA. I am also the core leader of the UCSF Clinical and Translational Sciences Institute (CTSI) Special Populations Core. The schools and departments also have diversity leaders that we will engage as well as the UCSF Health and Hospitals' Health Equity Council.
Q. Let's touch on UCSF's ability and efforts to attract, recruit, and retain a diverse workforce. This includes URMs and women. With regard to recruiting, what does UCSF do well? Not so well?
A. I do want to emphasize that equity and inclusion concerns apply to all groups regardless of "under-representation." The NIH has a formal definition of diversity and under-representation which includes Black or African Americans, Hispanic or Latino/Latinx Americans, American Indians or Alaska Natives, Native Hawaiian and other Pacific Islander Americans, people with disabilities, and those from disadvantaged backgrounds. This definition also highlights racial/ethnic minority women - and at more senior levels - all women. There is also room for local determination. So, at UCSF, some Asian Americans are under-represented at more senior levels, and some groups are under-represented overall. We also include LGBTQ+ populations. Both Asian and LGBTQ+ are included in President Biden's Executive Order on Diversity, Equity, Inclusion, and Accessibility (DEIA).
At UCSF, there is a conscious effort to ensure diversity in race/ethnicity and gender in faculty searches and search committees. We are making gains on gender (from 45% to 52% from 2015 to 2020) and URM, but the numbers remain low for Black or African Americans (from 2% to 3% from 2015 to 2020) and Hispanic or Latino/Latinx Americans (from 6% to 9%). For faculty recruitment, we do have some disadvantages in recruiting, namely the cost of living in the Bay Area and few tenured (salary-supported) positions, while the high caliber of science, diversity of the area, and the great research focus with diverse communities are pluses.
Staffing diversity has been better but flat over the last 5 years (69% women, 8% Black or African Americans, and 14% Hispanic or Latino/Latinx Americans). Diversifying our staff is a priority for me as it advances our goals as an anchor institution to improve the socio-economic status of our diverse communities and increases the diversity of our research participants.
Q. Let's address the same questions but for retention. What are your observations about the retention of diverse faculty here? Are there particular groups leaving at a greater rate?
A. I think retention of diverse faculty is a major concern. There have been prominent examples of Black and Latinx faculty departures. The good news is that they tend to leave for higher profile positions, such as Eliseo Perez-Stable going to be director at the National Institute on Minority Health and Health Disparities, but we must do better at retaining these faculty.
Q. Growing a diverse and equitable workforce includes having an environment in which students and trainees envision having careers UCSF rather than elsewhere. Much of that has to do with institutional culture and opportunity. How can the Cancer Center play a role fostering a nurturing, safe environment and career pathways of all kinds?
A. This is a complex and challenging question that we will work on with the cancer center's Office of Education and Training. It will require us to have more diverse trainees and faculty, but also culture change. We will need to do DEI training for all those responsible for trainees, but that is only the start. We will need to establish a culture in which we will not tolerate mistreatment, and one in which we all feel comfortable speaking out against it. To have accountability, we cannot leave it to only those affected.
Diversity, Equity, and Inclusion Resources
At the Helen Diller Family Comprehensive Cancer Center, we strive for belonging, dignity, and justice for our faculty, staff, students, patients, and extended community. View Diversity, Equity, and Inclusion Resources to help us achieve this goal.