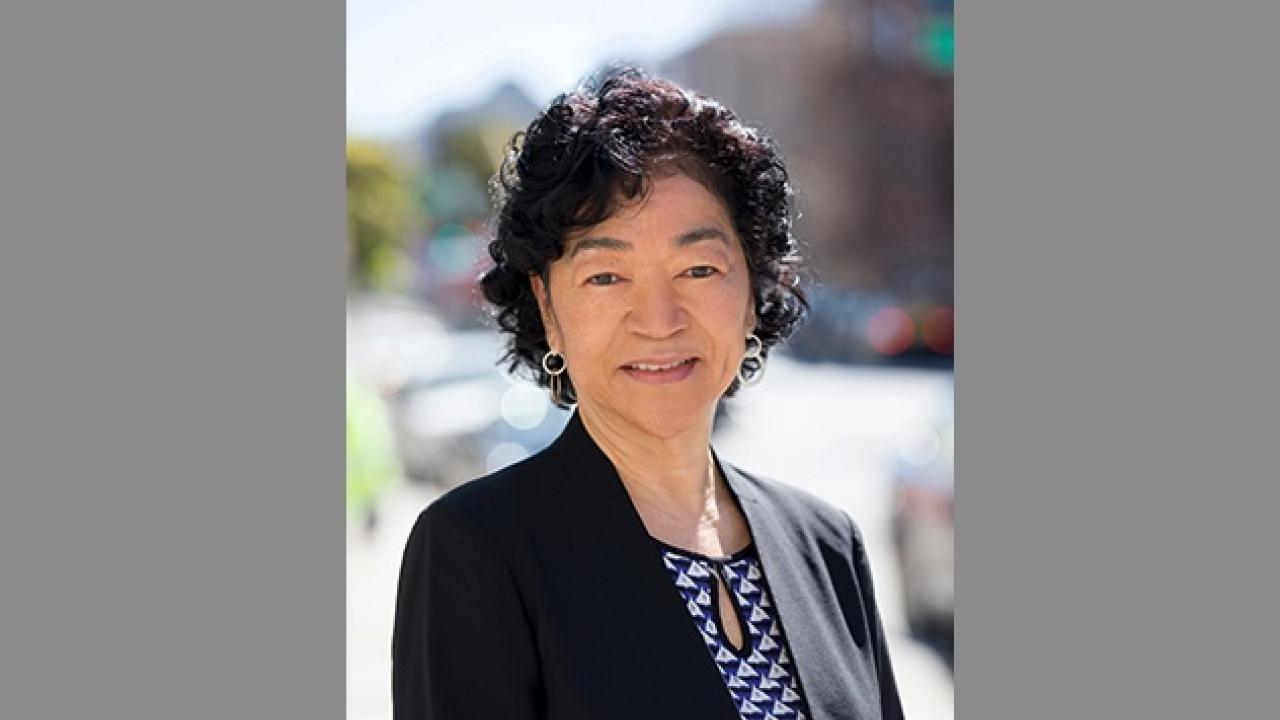 Dr. Nola Hylton's path to becoming one of the pre-eminent scientists in the field of biomedical imaging stretches back to childhood when she carried a deep curiosity about the world and "why things are as they are." Science made sense to her, and her parents, teachers, and other adults encouraged her. After attending MIT and Stanford, Hylton, PhD, professor in residence in Radiology and Biomedical Imaging, joined UCSF and worked with colleagues to pioneer the use of MRI for detecting, diagnosing, and staging breast cancer. Below, Dr. Hylton, who also is director of the UCSF Breast Imaging Research Group, talks about choosing a career that would have an impact on others, her enduring excitement for her work, and mentoring women of color in science.
Q. You are internationally recognized for pioneering the use of MRI for detecting, diagnosing, and staging breast cancer, and in the past 20 years, you've received some of the most prestigious awards in academic medicine and the field of radiology. These include the Gold Medal from the International Society for Magnetic Resonance in Medicine for foundational work in breast MRI, and induction into the National Academy of Engineering, to name just two.
Please talk about the focus of your work and what for you have been the seminal moments.
A. The field of magnetic resonance imaging (MRI) was new and growing rapidly when I was a graduate student. I had the huge fortune of joining a laboratory that was developing both the software and hardware components of MRI. At that time, it could take several hours to complete an MRI exam. My thesis work involved using computer techniques to simulate images from a reduced, basic set of acquired images, allowing shortened exams. Synthesized images could then be generated to adjust the contrast between multiple types of tissue, for example gray and white matter in the brain, to improve discernment and aid in detection and diagnosis.
"Teaching and mentoring happen in both directions as all of us who love to teach recognize. There is true enjoyment and fulfillment in seeing concepts begin to click in the minds of students and to see them get excited and start to consider how that new knowledge can be applied."
A seminal moment for me was when the opportunity arose to apply my training in MRI to the challenge of breast cancer. Breast radiofrequency coils, a hardware component of MRI systems that allow more detailed pictures of the breast, had just become commercially available and we had received one at UCSF. I had just begun my faculty position at UCSF in the Department of Radiology. I worked with a clinical colleague, Steve Frankel, to begin evaluating MRI for breast cancer detection. The next seminal moment was meeting and forming a collaboration with Laura Esserman who was joining UCSF as a new faculty member and breast surgeon at the same time. We began to use breast MRI to monitor patients during their neoadjuvant (pre-operative) chemotherapy treatment. This early partnership began a long and productive collaboration that continues today and involves scientists, clinical researchers, patient advocates, and industry partners from around the world.
Q. With your education in chemical engineering and applied physics, what prompted you to pursue imaging in breast cancer? Did you consider other professional avenues?
A. My decision to pursue chemical engineering during my undergraduate studies was largely based on practical considerations about employment opportunities after college. But I was more drawn toward physics and when I decided to apply to graduate school, the Applied Physics program at Stanford seemed ideal. It encompassed many specialized areas of interest that now exist as formal programs and departments at universities worldwide, for example biomedical engineering.
Timing and circumstances created the perfect opportunity to connect my training in science and technology with a career path that could have a direct impact on the lives of those around me. As mentioned earlier, the chance to use MRI to address the problem of breast cancer was the perfect match between my training and desire to work on a problem of immediate relevance. It also enabled me to work with more women and achieve greater gender balance in my work life since breast cancer overwhelmingly affects women. I am still excited about the work I do and have not really considered other professional avenues.
Q. In the US, STEM curricula for students in elementary, middle, and high school didn't take hold until the early 2000s, so you were a STEM-focused student before STEM was cool. Were you always drawn to science? Do you have any childhood memories of things that fascinated you along those lines? What or who inspired you? Who encouraged you to pursue a focus in science?
A. Yes, I was always fascinated by math and science and encouraged in that direction by my parents, teachers and community. I had an innate curiosity about why things are as they are, and science made sense to me. The strongest influence was from my father who was a member of the US Air Force and a Tuskegee Airman. He worked for many years as an electronics technician after he left the service. He often engaged me and my siblings with math challenges and puzzles to solve. He was the reason I applied to and attended MIT. My mother, teachers, and school administrators also encouraged my interests in science and math and navigated me to courses of study and programs that helped pave the way for my future educational opportunities.
Q. A 2015 article on MIC.com about the hardships experienced by Black women in science quotes you as saying that it was isolating to be the only Black student studying physics in your hometown of Mt. Vernon, NY. The article said that those feelings of isolation carried into your undergraduate and graduate years at MIT and Stanford -- compounded by your being among just a handful of women pursuing degrees in science.
Would you talk about that? Was it a matter of race and gender equally contributing to feelings of isolation?
A. I would qualify those comments to emphasize it was a collective feeling of isolation among the black student community and not personal isolation. My most lasting recollection is having been so much a part of a supportive and uplifting black community, however small. We struggled then, as we do now with the collective isolation and frustration about the slowness of progress.
As black women in science we face the dilemma of how to fully engage and excel in our profession yet keep firmly tethered to our source of identity. These worlds can often be very far apart. This can discourage young black women from choosing STEM career paths in the first place and is then a barrier to advancement and retention. I am hopeful this is changing in a real way. I see a next generation of black women scientists who are both highly capable and confident. In their capacity as role models, they inspire a broad spectrum of both women and people of color.
Q. You've also been recognized for being a mentor. What is important to you about helping the next generation of scientists? How have things changed for women of color pursuing careers in science?
A. Teaching and mentoring happen in both directions as all of us who love to teach recognize. There is true enjoyment and fulfillment in seeing concepts begin to click in the minds of students and to see them get excited and start to consider how that new knowledge can be applied. I also receive inspiration from that interaction that helps me in my thinking and approach to problems. I want to help the next generation of scientists with their process of considering their big picture goals and interests and focusing them into short- and long-term goals. I also want to help them navigate their choices, as others did for me, when faced with many options.
I would note that the rapidly expanding set of options represents both a huge challenge and an opportunity for younger scientists. In answering how things have changed for women of color pursuing careers in science, I would expand on my earlier comments to say that while numbers still appear dismal, I believe there is a more coherent picture being projected in our society about the significant role and contribution of women of color. I would also say that the expanding number of options allows for more possibility in envisioning a career path that will be both professionally and personally fulfilling. As a mentor, I would hope to help young scientists imagine that future.
Q. Where do you see your research going in the next five to ten years?
A. I hope to continue to move breast MRI technology forward so that it can have greater impact on reducing breast cancer. I think I can be most effective through the mentoring and support of junior research scientists and active encouragement of the partnerships necessary to move research innovations in breast imaging into wider clinical utilization.
Q. Final question – how do you like to spend time outside of work? Hobbies, favorite pastimes, etc?
A. Dance has been my passion since my earliest recollections. Mostly Alvin Ailey style modern jazz blues. I was sure that would be my future career path …. Alas. But sharing time with family and friends tops the list and often includes travel and games of all kinds, especially Bid Whist.