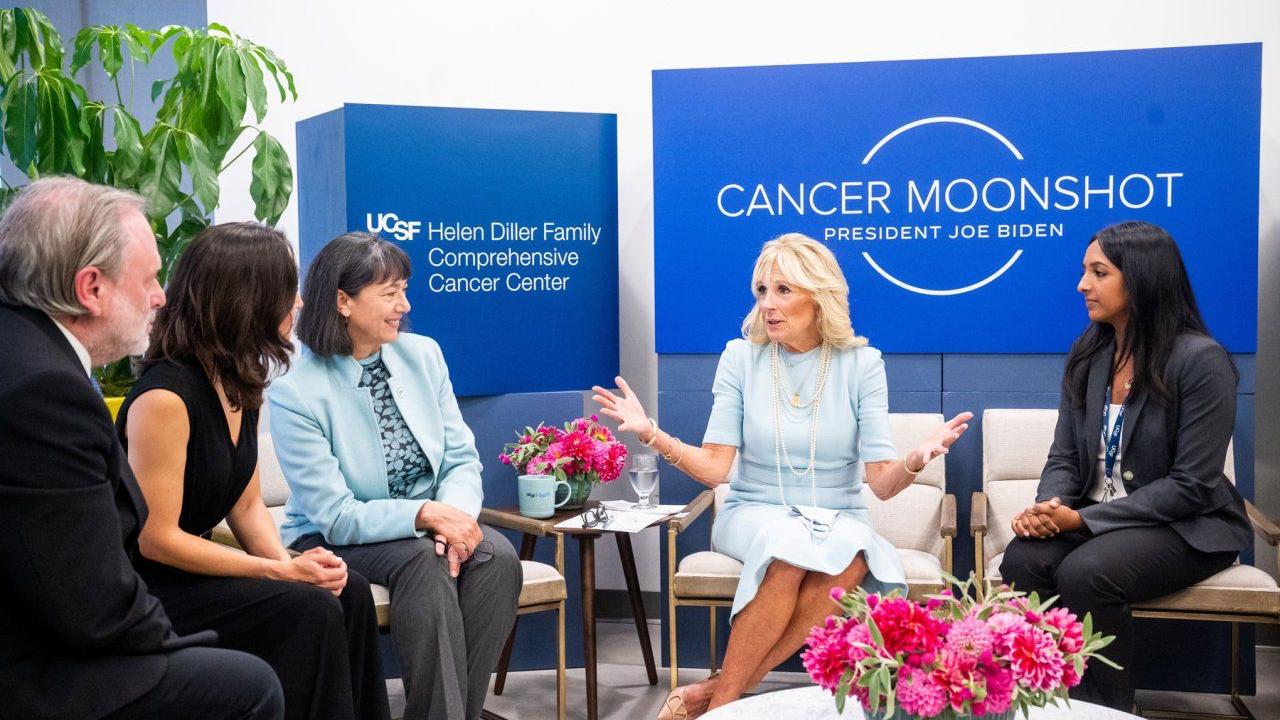 First Lady Jill Biden, PhD, met with top UC San Francisco cancer leaders during a visit Friday to hear about UCSF's breast cancer research and progress on the National Cancer Moonshot. The visit was timed to mark Breast Cancer Awareness Month in October.
Hosted by Alan Ashworth, PhD, FRS, president of the UCSF Helen Diller Family Comprehensive Cancer Center (HDFCCC), the visit highlighted the complexities of cancer, as well as UCSF advances in breast cancer research and programs that support breast cancer patients, survivors and caregivers.
Dr. Biden first visited UCSF with then-Vice President Joe Biden in 2016 as part of the launch of the Cancer Moonshot, which aimed to accelerate progress against cancer and develop new and swifter cancer therapies. In early 2022, President Biden reignited the Cancer Moonshot with an audacious goal of cutting the cancer death rate in half over the next quarter century.
During the First Lady's followup visit, Ashworth gave an overview of "tremendous" progress that has occurred in the last six years, including numerous advances that enable scientists and physicians to home in on an individual's specific cancer. He stressed the importance of genetic testing for breast cancer patients – and doing so equitably – as well as progress in understanding the complexity of cancer.
"Victories are hard work," said Ashworth, a renowned breast cancer researcher who helped discover the BRCA2 genetic mutation, as well as PARP inhibitors to treat BRCA1 and BRCA2, and who also serves as senior vice president of cancer services for UCSF Health. "That is why we have to be passionate."
Expanding Care and Research to Every Community
Accompanying Biden on her visit to the UCSF Bakar Precision Cancer Medicine Building was the new director of the National Cancer Institute, Monica Bertagnolli, MD, on her first public event during the Biden Administration, as well as Congresswoman Jackie Speier (D, CA). Joining them on UCSF's Mission Bay campus were UCSF Chancellor Sam Hawgood, MBBS, and Suresh Gunasekaran, MBA, president and chief executive of UCSF Health.
Read more at UCSF.edu