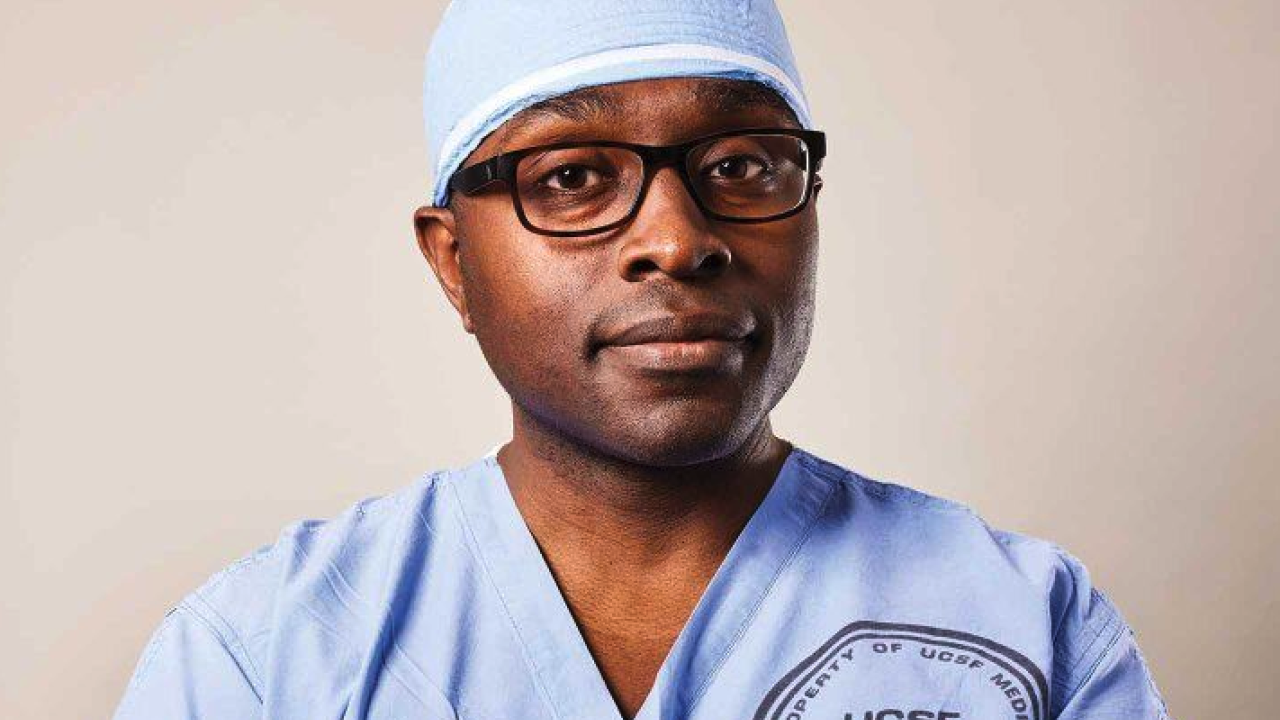 On a clear day in October, Shawn Hervey-Jumper, MD, rises before dawn at his home in the Oakland hills, a one-time horse ranch that he shares with his wife, two daughters, and a menagerie of animals, including a dog, three goats, and two kittens named Pepper and Cobbler, after his grandmother's peach cobbler. He packs a raspberry yogurt and a mug of black tea. Then he heads to the Helen Diller Medical Center at UC San Francisco, where he will attempt to excise a deadly tumor from a conscious human brain.
Hervey-Jumper specializes in awake brain surgery, in which patients are alert and engaged during parts of the procedure in order to prevent severe brain damage. His patient this morning, Gina, is 31 years old. It's not her first time under Hervey-Jumper's knife. Six years ago, after she had a seizure following a car accident, doctors discovered a mass the size of a plum in the top left lobe of her brain, near the areas that regulate movement and speech. The tumor had been spreading slowly, but there was no cure. Without surgery, she was told, she might still have several years left to live; an operation could double that time, or maybe more. Hervey-Jumper had removed the original mass, but like crabgrass, the cancer sprouted back around the hole.
Now, in the operating room, Gina (whose name has been changed to protect her privacy) rests inside a cave of blue surgical drapes. She lies on her right side, facing the cave's opening, her skull secured with a clamp. An anesthesiologist perches before her, monitoring her vital signs. At her back, on the other side of the drapes, technicians and research assistants lay out instruments and tend to various machines. Standing at the crown of Gina's head, Hervey-Jumper peers down through a window in the drapes onto a shaved patch on her scalp. With a gloved hand, he touches a scalpel to her pale skin.
For the moment, Gina sleeps. Over the years, Hervey-Jumper has gotten to know her well. He knows that she is close to her mother and sister and has been helping to raise a young niece. Her vibrant personality reminds him of his grandfather, who was full of love and life – someone he liked to "kick around with."
Hervey-Jumper lived with his grandparents, Perry and Charlotte Hervey, for the first years of his life. Perry, a custodial worker who planted a peach tree in their yard, was diagnosed with pancreatic cancer when Hervey-Jumper was 4. What scared him more than his grandfather's impending death was the way the disease diminished him. "He lost a bit of himself," Hervey-Jumper says. He hopes to spare Gina from such an experience for as long as he can. If this surgery goes well, he believes she will see her niece grow up.
He slices through her numbed scalp smoothly, swiftly, assuredly. The blade cuts an arc that follows the earlier incision. Then he peels back the flesh to expose dull, beige bone. "We're going to drill," he tells the room.
Read more at Magazine.UCSF.edu