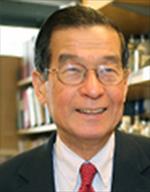 Y.W. Kan, MD, FRS
Professor, Departments of Medicine and Laboratory Medicine, UCSF
Louis K. Diamond, MD, Chair in Hematology, UCSF
Research Summary
Research Interests: The mechanisms of globin production and exploring novel ways of inserting genes into mammalian cells; investigating newer approaches for fetal diagnosis of genetic disorders.
Research Summary: The research in our laboratory is focused on the study of two inherited blood diseases; sickle cell anemia and thalassemia. These two diseases constitute the most common genetic diseases in the world and they affect people of African, Mediterranean, Middle East, and Asian origins. At present, treatment mostly consists of treatment of symptoms and complications. Bone marrow or cord blood transfusion can be curative when compatible donors can be found. However, since most of these families have a small number of children, only a minority of patients can be treated by transplantation.
An effective way of preventing genetic diseases such as sickle cell anemia and thalassemia is by carrier screening, genetic counseling, and prenatal diagnosis. Our laboratory has been involved in prenatal diagnosis from the 1970s. Currently, amniocentesis and chorionic villus sampling is used to obtain DNA for diagnosis. We are investigating the isolation of fetal cells from the mother's blood for testing so that an invasive procedure to the fetus can be avoided.
Out laboratory is also investigating gene and cell therapy for treating these conditions. In a thalassemia, the affected fetus usually dies in the third trimester or soon after birth. We have explored in utero gene therapy to treat this condition. Using a mouse model of alpha thalassemia that we have previously made, we introduced to the mouse embryo at the 14th day of gestation a lentiviral vector that contained the human alpha globin gene. Preliminary studies showed that human alpha globin was expressed at moderately levels. Our plan is to see if these vectors can rescue the fetal mouse affected by homozygous a thalassemia.
The mutations in sickle cell anemia and most clinically important ß thalassemia lie in the ß globin gene. Therefore, the approach to stem cell therapy for both is similar. We first tested embryonic stem cell therapy for a mouse model of sickle cell anemia. We made embryonic stem cells from a sickle cell anemia mouse, corrected the mutation by homologous recombination, differentiated the stem cells into hematopoietic cells and showed that the blood cells made hemoglobin A in additional to hemoglobin S.
To apply this treatment for the human diseases, it will be necessary to use nuclear transfer in stem cells in order to avoid immunological rejection. However, nuclear transfer to make embryonic stem cell has not been successful in humans. Also, the procedure is complicated, requires egg donors from normal individuals and raises ethical concern. With the description of induced pluripotent stem (iPS) cells, we have now changed to this approach for the treatment of these conditions. Our laboratory has successfully made iPS cells from mouse and human fibroblasts by retroviral delivery of transcription vectors.
Currently, we are working on correcting mutation in these iPS cells and differentiate them into hematopoietic cells. The future goal to treatment is to take skin cells from patients, differentiate them into iPS cells, correct the mutations by homologous recombination, and differentiate into the hematopoietic cells and re-infuse them into the patients. Since the cells originate from the patients, there would not be immuno-rejection. In order to achieve this goal, several conditions must first be met. First, to convert the skin cell into IPs cell it is necessary to use retrovirus induction. However, integration of retrovirus may disturb vital gene functions. Second, a reliable way of differentiating iPS cells into hematopoietic cells has to be established. We feel strongly that this approach will provide a means for curing these diseases.
Education
University of Hong Kong, Hong Kong, M.B.B.S., 1958, Medicine
University of Hong Kong, Hong Kong, D.Sc., 1980, Medicine
---
Professional Experience
1970-1972
Assistant Professor of Pediatrics, Harvard Medical School, Boston, MA
1972-1977
Assoc. Professor, Depts of Medicine & Laboratory Medicine, Univ of California, San Francisco, CA (UCSF)
1977-present
Professor, Depts. of Medicine & Laboratory Medicine, UCSF
1983-present
Louis K. Diamond Professor of Hematology, Dept. of Medicine, UCSF
1984-present
Chief, Division of Molecular Medicine and Diagnostics, Dept. of Laboratory Medicine, UCSF
1990-1994
1990-1994 Director (part-time), Institute of Molecular Biology, Hong Kong
Honors & Awards
1979
Dameshek Award, American Society of Hematology
1980
Stratton Award, International Society of Hematology
1980
George Thorn Award, Howard Hughes Medical Institute
1984
Gairdner Foundation International Award, Canada
1984
Allan Award, American Society of Human Genetics
1984
Lita Annenberg Hazen Award for Excellence in Clinical Research
1985
NIH Career Development Award
1987
Waterford Award
1988
American College of Physicians Award
1989
Sanremo International Award for Genetic Research, Italy
1989
Warren Alpert Foundation Prize
1991
Albert Lasker Clinical Medical Research Award
1992
Christopher Columbus Discovery Award in Biomedical Research
1993
City of Medicine Award
1995
Helmut Horten Research Award (Switzerland)
2004
Shaw Foundation Prize (Hong Kong)
M.D. Honoris Causa, University of Cagliari, Sardenia; DSC. Honoris Causa: University of Hong Kong, Chinese University of Hong Kong, Open University of Hong Kong. Honorary Professor: University of Hong Kong; Peking Union Medical College, Beijing; Zhejiang University, Hangzhou; Jia Tong University, Xi'an; First Military Medical University, Guanzhou; Fourth Medical Military University, Xi'an, China.