Image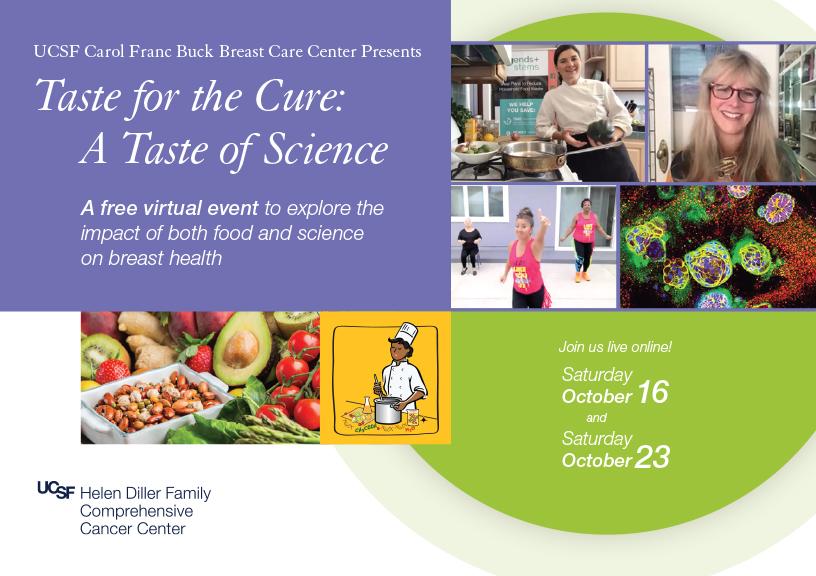 Taste for the Cure: A Taste of Science is a virtual event that explores the impact of food and science on breast health. Presented by the UCSF Breast Care Center, the event was held virtually over two days: October 16 and 23, 2021. Download the 2021 Resource Handout
Recipe from Day 2 (Oct 23rd) cooking demonstration:
Spinach + Cheese Baked Spaghetti Squash

Check out the substitutions Tab at the bottom for dairy-free cooking instructions!
We don't suggest cooking along, given the compressed timeline.
---
9:00 AM Introduction
9:10 AM How the knowledge of background risk informs screening, choice of treatment, and order of treatment. Panelists: Alan Ashworth, PhD, FRS, Hope Rugo, MD, Fraser Symmans, MD, Lisa Madlensky, PhD Moderator: Laura Esserman, MD, MBA
9:55 AM Breast Care Center Clinical Studies Flash Talks-Part One Presenters: UCSF Research Coordinators

Introduction by Laura Esserman, MD, MBA
Redefining what is cancer in 2022: Is it time to re-think the way we make diagnoses? Teddy Hill
I-SPY 2.2: A personalized medicine clinical trial to learn about new drugs and optimize treatments for each patient. Jaeyoon Cha
Why are we excited about offering women the opportunity to safely have less chemotherapy in the setting of high-risk breast cancer? Ebun Olunuga
Why we need new approaches for hormone positive breast cancer (both ductal and lobular cancers). Julissa Molina-Vega
Patient quality of life measures: what do they mean and how can they help us? Kaylee Blevins
One Source 2021: Integrating clinical care and research in the clinic. Anna Northrop
When a critical health decision needs to be made, who needs a scribe: Patients or physicians? Eliza Hearst
Navigating the new UCSF BCC website to get all the information you need when you need it. Ananya Mittal

10:15 AM Zumba Exercise Class Instructors: Angie Shin and Judy Young, MPH
10:35 AM Normal Breast Tissue Organoids Reveal Prevention Drugs Presenter: Jennifer Rosenbluth, MD, PhD
10:45 AM Closing Remarks
Please check back for updates to this agenda.
Day 2: Saturday, October 23, 2021 | 9:00 - 11:00am
9:00 AM Introduction
9:10 AM What Active Surveillance has Taught Us About DCIS and How it has Informed New Options Today. Panelists: Alexander Borowsky, MD, Karen Goodwin, DO, FACS, Heather Greenwood, MD Moderator: Laura Esserman, MD, MBA
9:55 AM Breast Care Center Clinical Studies Flash Talks-Part Two Presenters: UCSF Research Coordinators

Introduction Laura Esserman, MD, MBA
Rethinking screening in 2021: What has the last decade taught us? Paige Warner
Why we need to personalize screening based on the risk for what type of cancer? Katherine Leggat-Barr
How the changes in imaging and a risk-based personalized approach impact the cost-effectiveness of breast cancer screening. Rashna Soonavala
DCIS: What is the role that imaging can play to determine the best treatment, surgery or active surveillance. Cristian Maldonado Rodas
Vaccine trial for high-risk DCI. Nicki Schindler
Tracking the rates of critically ill patients with COVID in the I-SPY COVID trial based on vaccinations. Alex Botello
The microbiome and the potential role in reducing breast implant reconstruction infections. Anne Patterson
Navigating the new UCSF BCC website to get all the information you need when you need it. Ananya Mittal

10:15 AM Cooking Demonstration Presenters: Chef Alison Mountford and Laura Esserman, MD, MBA
10:35 AM Helping the Tumor Immune Microenvironment to Beat Cancer Presenter: Alexander Borowsky, MD
10:45 AM Closing Remarks
Day 1: Saturday, October 16, 2021 | 9:00 - 11:00am
Day 2: Saturday, October 23, 2021 | 9:00 - 11:00am
View Highlights from Taste for the Cure 2020
Day 1: October 10, 2020
Day 2: October 17, 2020
Resources from last year's event:
Contact: [email protected]