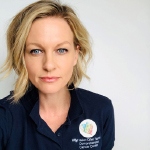 Amy Van Cleve
Art for Recovery Program Manager
I believe ART is the universal language of the soul. It is my craft, as well my passion and privilege to contribute what I can to the UCSF Art for Recovery program. As a lifelong student of the arts and psychology, the greatest education that I have ever received is from my patients. In Art for Recovery, our patients are our teachers.
As a child of an artist and an artisan, I literally grew up in between an art studio and a workshop. My training has given me the privilege of working in the mural industry with some of the world's best muralists, however, the true meaning and value of art was never made clearer to me than the first day I sat with cancer patients receiving infusions. To bear witness to the lives and stories of people facing illness and mortality was humbling in the best sense. To offer my language of art, to give voice to their stories, is an honor.
My mission at Art for Recovery is to create a safe and welcoming space for patients' voices to be heard, without judgment, in the company of others who have been in their shoes. My goal is to curate these stories throughout the UCSF Medical Center and beyond, giving voice to the voiceless, community to the isolated, and a measure of solace to our patients.
"Life is 70% fantasy and 30% reality, the arts are that 70% that helps us survive the 30%." -- AFR patient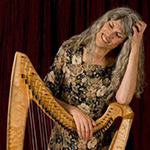 Patrice Haan
Healing Harpist
"Music can touch and comfort the deep part of the self."
Patrice Haan started playing harp with Art for Recovery 20 years ago, through her non-profit agency, Healing Muses. She believes the harp is an invitation to self-care and wellness, creating a safe place to rest in wordless music, allowing room for emotions and healing.
Her partnership with Art for Recovery has included projects with the Bone Marrow transplant wards and the Hem-Oncology Clinic at Parnassus, supporting cancer patients through Symptom Management Services clinics at Mt. Zion and Mission Bay, and playing harp during the Meri Center's biannual Days of Remembering.
In recent years, she has shared her dedication to poetry during online workshops as a door to entering and centering meditation.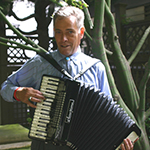 Jim Murdoch
Musician Song Writer
Originally from Montana, Jim first performed in the San Francisco Bay Area with the Pickle Family Circus as an apprentice clown and roustabout, appearing in clown and club juggling routines. Jim has since presented his own clown show at fairs and festivals up and down the west coast from Lompoc to Puyallup. Outside the ring, Jim has pursued a variety of interests: jazz piano, accordion, movement and flamenco dance.
In the tradition of the minstrels and troubadours of old, Jim has been sharing his love of music and the performing arts with healthcare communities throughout Northern California, including the Art for Recovery program, for many years. Just as a vase of flowers can transform a room through beauty, a 'bouquet' of music and stories can create community, balancing the fear and stress of illness with wholeness.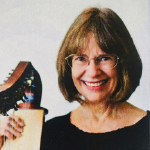 Mary Watson
Healing Harpist
Mary Watson was attracted to learning how to play the harp about 12 years ago when a friend told her that playing harp helped her heal a chronic physical condition of many years. Mary decided to complete CPMC's Healing Harp Certificate when she did a tour of a hospital with the woman running the program. One of the nurses saw this woman and her harp and said, "Now I can breathe again."
She played for patients there at CPMC for a year and then spent two years playing at S. F. General, before she started at UCSF Art for Recovery in 2015. She loves playing for patients, relatives, friends and staff. She finds each situation to be so very unique - poignant, uplifting, sad, inspiring. She is learning so much from these people and treasures this work.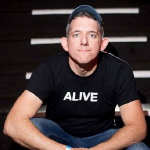 Ned Buskirk
Creative Writer
Ned Buskirk has worked with UCSF's Art for Recovery creative writing with cancer patients since 2018. His work is creatively engaging with healing through writing - at the hospital bedside, creative writing with cancer patients, and in groups, facilitating Healing with Writing Workshops. The Founder and CEO of his own nonprofit, with a MA in English Literature, he has over 5 years experience working with hospice patients, an active hospice program sending musicians to patients' bedsides, monthly sell-out live events facilitating creatively conscious mortality space for community, and enlivening open mics for men inside the prison system. He believes that our community deserves ongoing and consistent opportunities to creatively and vulnerably show up for one another. To face the hardest parts of being mortal, we need to come together, supporting and inspiring one another to heal, grow and claim our own uniquely individual creative aliveness.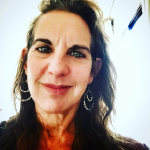 Laurie Wagner
Creative Writer
Laurie Wagner has been teaching Wild Writing for 20 years. It's an incredibly loose and free way to tell our stories and to uncover the themes we want to write about.
For 15 minutes we write as fast as we can, pen never leaving the page. By writing so quickly we are able to push past our inner critic and our ego and all the ways we stay trapped in looking good. This gives us a chance to move into a less self-conscious, loose groove where, if we're lucky we may stumble into the fertile imagination that lingers within us, conjuring up stories and memories that are waiting to be written.
What I love about working with the patients at UCSF is that they are all moving through some serious challenges in their lives, and Wild Writing invites them to courageously tell those stories on paper - something they might not do with friends or family - but can do with kindred spirits. When we write so intimately together, there is community healing for everyone. No one is alone.
Elias Medici
Artist in Residence
I am thrilled to be the artist in-residence here at Art for Recovery. I am originally from Laguna Beach, California and relocated to San Francisco in January of 2022 to be closer to my family. I found abstract art as a healthy, spiritual release during the height of COVID in my Haight Ashbury closet-sized bedroom. In the fall of 2021, I decided to put aside my career in non-profit development to pursue becoming a full-time artist. This leap has exposed me to so much - I have been very blessed to be able to support this recent dream, but I was missing being the volunteer I truly am. I am thankful to be able to do what I love and bring this outlet of expression to the community at UCSF. It has been a pleasure to provide patients opportunities for artistic expression and, in turn, become the person I truly aspire to be: ff love and service to myself and others.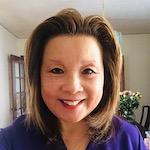 Donna Lau
Administrative Assistant
My introduction to UCSF was as a "Welcome and Support Ambassador" volunteer with the Patient and Family Cancer Support Center. As a cancer survivor, I'm committed to paying it forward by assisting others living with cancer. I met individually with new cancer patients and families to familiarize them with UCSF's Cancer Support Center resources, helping them navigate through their road to healing and recovery through education. Wanting to make more of a difference for patients, I also began volunteering with Art for Recovery in 2018 before assuming a part-time administrative assistant role supporting Cindy Perlis (co-founder and Program Director).
Since the very moment I met Cindy, I never looked back! I am so inspired by her vision, mission and life's work in healing art therapy. Art for Recovery and the friends of Art for Recovery, have taught me the true power of love, hope and gratitude. I'd worked over 35 years as a business leader, never reimagining until retirement that my life's work of helping others in need was just beginning.
As administrative assistant, I maintain program operations -- including being the face of the Program by managing all incoming email/phone inquiries. The support I provide ranges from maintaining all program files and art studio inventory, managing workshop enrollments, drafting communications, performing quality assurance, and handling the Firefly Project administration. What I find most rewarding is helping patients find the expressive art workshop that best aligns with their interests and needs.
Since July 2021, I launched the UCSF HeARTs for Recovery Facebook public group, as part of the Art for Recovery Program. Through this community, I encourage others to "see a heart, share a heart" -- to live in the present moment, cultivate positive reflections, and discover what lifts one's inner spirit. The universe gives us the gift of natural hearts that "hide in plain sight" in our daily lives, reminding us we are always surrounded by love. My art is heart photography, and I'm a curator of (natural) heart imagery. Art for Recovery has given me the opportunity to open hearts and minds by fostering "see a heart, share a heart" and encouraging others to share their own story.
Cindy Perlis
Former Director, Art for Recovery 1988-2020
As the director of UCSF Art for Recovery since its inception in 1988, my life changed when I began working with HIV patients at the beside at Mount Zion, where the expressive arts gave a voice to those who had no more words. As Director of Art for Recovery's award-winning program, I was responsible for raising funds through grants, solicited and unsolicited donations, and presenting programming that would continue to serve our patients who are looking for community, and a safe place to be vulnerable.
I have created and facilitated numerous art and healing programs including: The Breast Cancer Quilts Project, Firefly Project, Employee Well-Being Project, Healing Garden Music Series, the Open Art Studio for anyone dealing with cancer, writing and expressive art workshops on the Bone Marrow Transplant Unit, and Hematology/Oncology Dept with adults living with cancer. In addition, and in collaboration with the UCSF Department of Medical Humanities, I have published: The Firefly Project: Conversations about what it means to be alive, Bedside Manners: What to say and what not to say when someone is ill, The Portable Artist Workbook and The Portable Artist Coloring Book, the Art for Recovery Book of Prompts, and Prompts for Reflection, and The Postcard Quote Project. In the spring of 2018, the Patient as Teacher Anthology was published. Along with the Art for Recovery staff we have painted eight murals (six on the ceilings of the Ultrasound suites) throughout UCSF. Collaborating with the UCSF architects the UCSF Mount Zion Meditation Room, the Jeffrey Pearl Meditation Room was created. I am currently serving on the Mission Bay Core Committee for Arts and Interiors for new buildings and clinics associated with UCSF Health and continuing to create healing environments for our patients. In 2020, I was nominated to the board of the National Organization for Arts in Health, and currently, co-leading NOAH's ARC, a national initiative to alleviate burnout and stress in clinicians through the expressive arts. My background is in fine arts, psychology and art history, and my career began doing research in 18th and 19th Century American Painting and Sculpture, National Museum of American Art, Smithsonian Institution. I am a painter, illustrator, and work in mixed media.
I returned to the UCSF Cancer Center in June 2020, to work on special projects, part-time, with adults living with cancer and creating healing environments throughout UCSF Health. This works continues to be life-changing