Image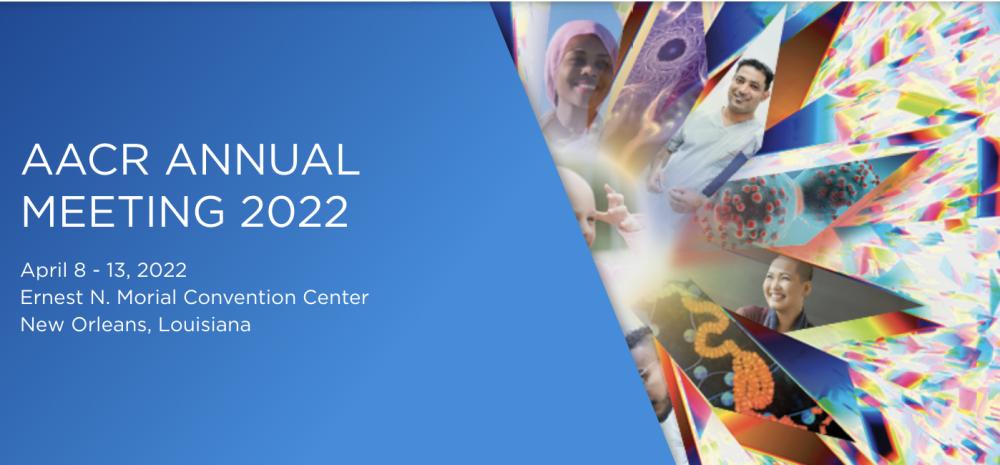 Each year UCSF Helen Diller Family Comprehensive Cancer Center scientists, physician-researchers, post-docs, and advocates participate in the Annual Meeting of the American Association for Cancer Research (AACR).
For the 2022 annual meeting, UCSF leadership, scientists, postdocs, and trainees lent their expertise of the latest discoveries across the spectrum of cancer research—from population science and prevention; to cancer biology, translational, and clinical studies; to survivorship and advocacy.
Scholar-In-Training Award Recipients
This award supports early-career investigators presenting high-quality abstracts in cancer research at #AACR22.
Image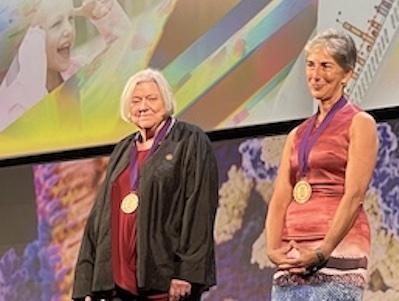 Image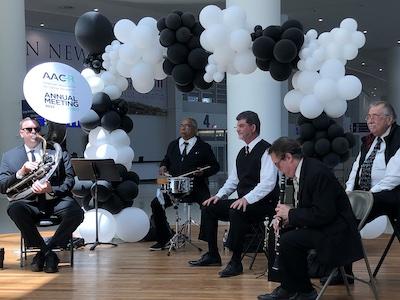 Image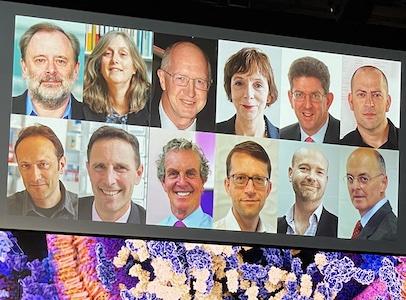 Postdocs and Trainees Take Advantage of Networking Opportunities
UCSF Research Fellow elected Chair of AACR Associate Member Council
Image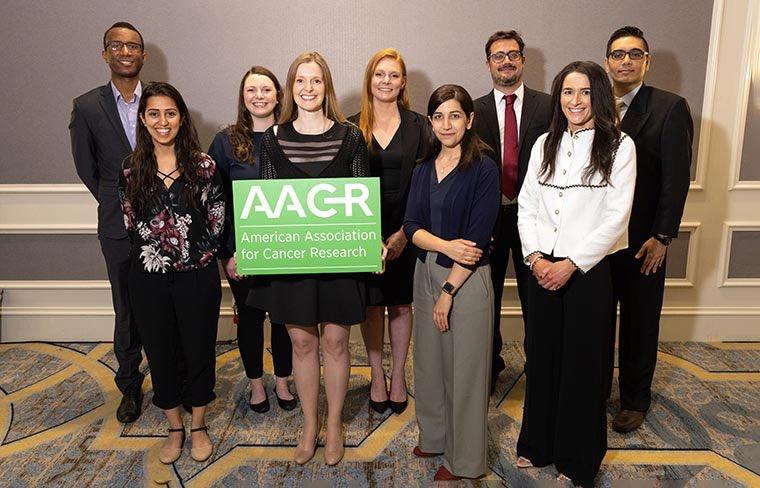 By Francesco Caiazza, PhD.
The Associate Member Council (we call it AMC) is an advisory group within the AACR that represents the needs of associate members (graduate students, postdocs, med students, and residents and clinical fellows). We advocate with AACR leadership on behalf of early career scientists, and we are involved in organizing activities and programs tailored for junior members.
Most of our work is around career development programming at the Annual Meeting, where we sponsor and run many sessions on professional advancement, but we also have other activities throughout the year (for example, we participate in Hill Day every year to do advocacy with Congress members in Washington, and we write opinion articles to highlight resources that are available to AACR members to support their research and careers). There's more details on the AACR website at https://www.aacr.org/professionals/membership/constituency-groups/associate-member-council/.
I got involved originally when I attended my first AACR Annual Meeting in 2016, and I participated in some of the AMC programming and had a chance to meet with the council members and see them "in action", I thought what they were doing was really important and I loved the collegiality of the group, so I decided to apply. I was selected two years later, and started my term in 2019. I have been on the council for three years now, and I am about to serve one more year as Chair.
So far it has been one of the most rewarding experiences of my career, and has provided opportunities for both personal and professional growth. First, it has given me a window (better, a front row seat) into the inner workings of the AACR, and the many components of advocacy. One thing I really value is the chance to contribute to my community beyond my academic work, and to support junior scientists in their career journey. On top of that, I learned new skills and got very important leadership experience.
Most crucially, the AMC has allowed me to grow my professional network exponentially, with the many talented council members I worked with over the years (we rotate on and off constantly), and every year at the Annual Meeting we are invited to special events where we meet with the brightest scientists in the world. From a personal point of view, the council has also helped me a lot to grow my self-confidence and step out of my comfort zone (for example with public speaking), all of which is tremendous help for my research and scientific career too.
Image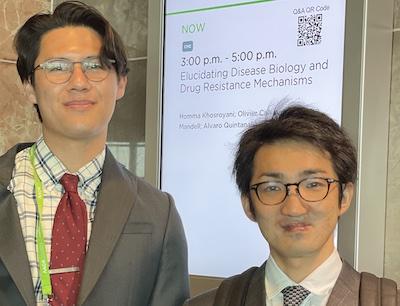 Image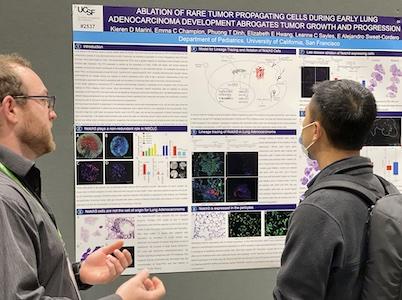 Image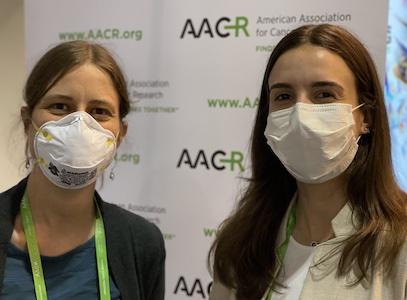 Image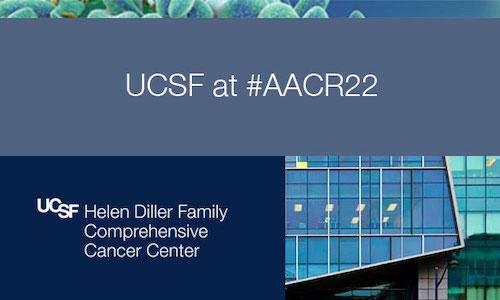 Image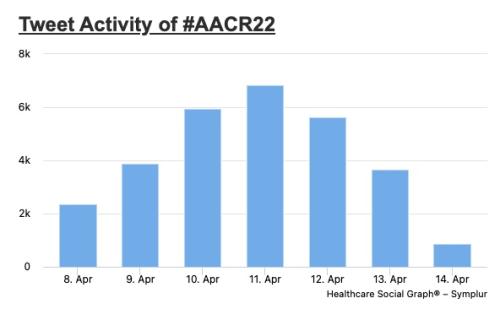 Featured Presentations
Alejandro Sweet-Cordero, MD: Identification of Pediatric Cancer Dependencies. His presentation focused on his work to identifying subtypes of osteosarcoma using genomic and epigenomic analysis, with the end goal of bringing targeted treatments to bear on a condition that is still treated the same way it was 30 years ago.
Michelle Arkin, PhD: Peptide Interaction Inhibitors in Cancer Therapeutics. She discussed her work with protein-protein interactions—central nodes in biology that have often gone awry in disease, specifically the use of "molecular glues" to stabilize and inhibit these interactions, providing access to otherwise 'undruggable' sites and amplifying a cell's innate defenses against cancer.
Kevan Shokat, PhD and Frank McCormick, PhD, FRS: KRAS Anniversary Session: Novel Mechanisms for Targeting KRAS. Their presentations covered the mechanisms for activating KRAS that may lead to new therapeutic approaches, the discovery of the druggable pocket in a KRAS allele that led to the first inhibitor of the oncogene, and investigations of drugging other oncogenic mutations of KRAS.
Scarlett Gomez, PhD, MPH: Where You Live Matters: From Biological to Social Determinants of Cancer Outcomes. She reported on findings from the RESPOND study (Research on Prostate Cancer in African American Men: Defining the Roles of Genetics, Tumor Markers, and Social Stress), a nationwide project looking at the impacts of social, genetic, and genomic factors on the risk of aggressive prostate cancer in African-American men.
Valerie Weaver, PhD: Extracellular Matrix Remodeling in Cancer. Her research links the biophysical properties of the ECM to regulation of immune metabolism and the impact on tumor immunity.
Posters
Tumor Biology 1

Jason Northey: Mechanosensitive hormone signaling promotes mammary progenitor expansion and breast cancer progression

Experimental and Molecular Therapeutics 1 / Chemistry

Hyunseok Kang: AXL as a therapeutic target in adenoid cystic carcinoma: preclinical evaluation of AXL targeting antibody-drug conjugate (ADCT-601)

Clinical Research 2

Mark Jesus Magbanua: Comparison of the predictive and prognostic significance of circulating tumor DNA in patients with high risk HER2-negative breast cancer receiving neoadjuvant chemotherapy

Population Sciences / Prevention, Early Detection, and Interception

Mindy Hebert-DeRouen: Neighborhood obesogenic environment and risk of prostate cancer: The Multiethnic Cohort
---
Cancer Genomics 1

Henry Martell: Integrative analysis of whole-genome and RNA sequencing in high-risk pediatric malignancies

Lung Cancer Treatment Resistance

Elizabeth Hwang: Notch activation drives resistance to Kras(G12C) inhibition in lung adenocarcinoma

AACR Project GENIE Use Cases 1

Lin Song: From clinical mutational data to a novel lung cancer mouse model -NF1inactivation cooperates withRASA1inactivation to drive non-small cell lung cancer (NSCLC)

Genetically Engineered Mouse Models 1

Kieren Marini: Ablation of rare tumor propagating cells during early lung adenocarcinoma development abrogates tumor growth and progression

Metastatic Cell Plasticity: EMT and Stem Cell

Juliane Winkler: Tumor cell plasticity promotes metastasis across heterogeneous tumors

Genetic and Environmental Cancer Risk Factors
Cell Cycle Control and Cell Cycle Regulators as Therapeutic Targets

Nicholas Stevers: The pan-cancer regulator of the mutant TERT promoter and a new model of the GABP-TERT axis

Risk Assessment, Biomarkers, Early Detection, and Screening

Francesco Caiazza: Using functional biomarkers to accurately predict advanced neoplasia in pancreatic cystic lesions

Stromal Tumor Interactions

Kieren Marini: Treatment with an engineered decoy receptor targeting the CLCF1-CNTFR signaling axis prevents oncogenesis in Kras mutant lung adenocarcinoma via both cell autonomous and non-cell autonomous mechanisms

Combination Immunotherapies 1

Darwin Kwok: Integrative transcriptomic and proteomic analysis reveals immunogenic and spatially-conserved HLA-binding neoantigen targets derived from tumor-specific alternative splicing events

Gene Expression and the Microenvironment

Daniel Kerr: Spatially resolved transcriptomics of cellular architecture in EGFR-mutated lung cancer

Clonal Evolution

Christina Appin: 3D whole tumor analysis of the TERT promoter mutation in gliomas

Population Sciences
Nonclinical Models of Cancer

Nehal Gupta: The CIC-ERF co-deletion underlies fusion independent activation of ETS family member, ETV1, to drive prostate cancer progression