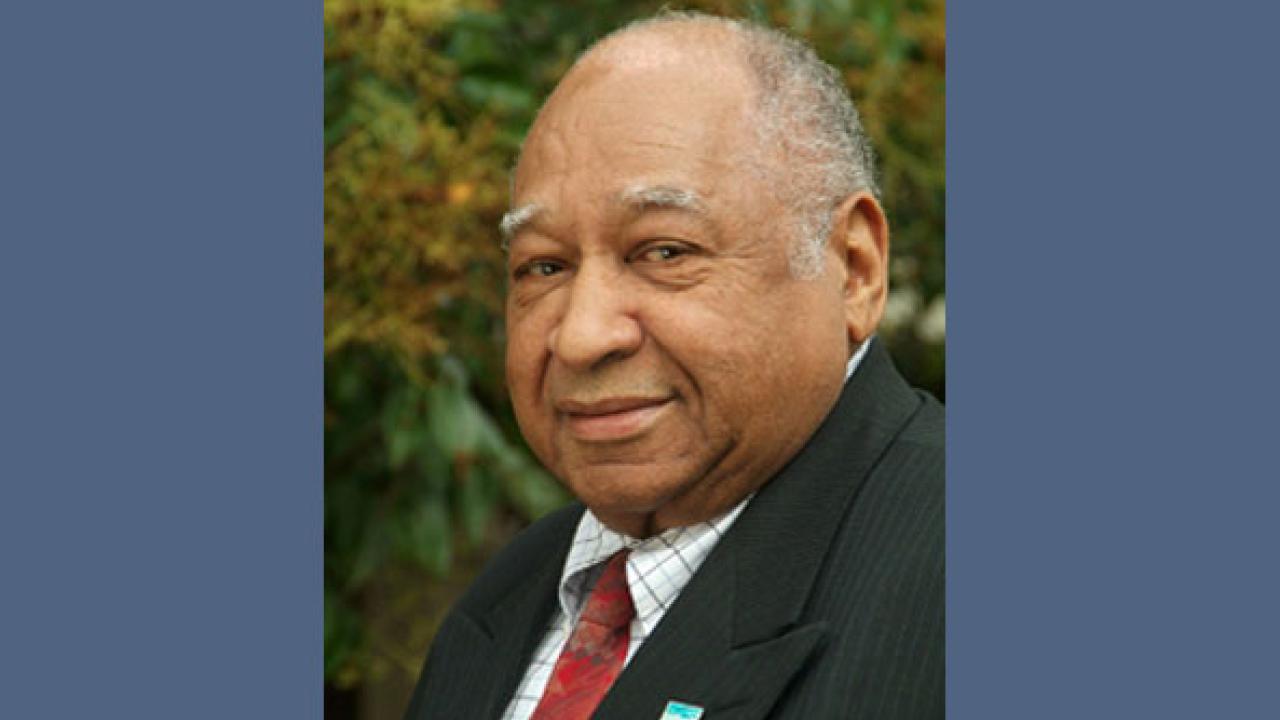 "You never said no to Dr. Staggers, because he never said no to the community."
In 2005, Dr. Rena Pasick was set to establish a community advisory board for UCSF's Helen Diller Family Comprehensive Cancer Center as a matter of course. What ensued, however, was far from routine, thanks to Frank E. Staggers, Sr., MD.
Renowned for delivering beyond expectations with an emphasis on eliminating inequality in health care, Dr. Staggers accepted the nomination to chair the board. At that moment, "unprecedented possibilities," opened for the community board and cancer center, according to Dr. Pasick, director for community education and outreach for the cancer center.
"There has been a history of strife between academic research and the black community [in the United States]," says Dr. Pasick, who recognized that having respected community leaders at the helm went a long way to bridge the gap. "As chairman, Dr. Staggers saw an opportunity to bring the power of the university directly to the community. Dr. Staggers commanded respect nationally and was so revered throughout the Bay Area that he was able to make the board into something it would never have been without him."
Dr. Staggers died at the age of 87 last November 11. A board-certified urologist, Dr. Staggers liked to describe himself as "just a little old country doctor." But particularly to African Americans, he was known as the CEO-- the "go-to person." Even doctors called him "Doctor." Friends and collaborators say that he was comfortable being called "Frank," but many say that they never felt they "earned the right" to address him casually.
Dr. Staggers was an ideal broker between "the ivory tower" and the community, as revealed by his many accolades and leadership roles:
President, California Medical Association (2001-2002)
President, National Medical Association (1988)
Chief of Urology, Alameda County Medical Center/Highland General Hospital (1989-2001)
Co-founder and chairman, Ethnic Health Institute serving underserved and minority populations at Alta Bates Summit Medical Center (1997-2013)
President of Medical Staff, Herrick Memorial Hospital (1983), which merged the following year with Alta Bates Medical Center, Oakland
Assistant Chief of Urology, U.S. Naval Hospital, Oakland (1961-63)
Only segregation said "no" to Frank E. Staggers, Sr.
It said "no" when he was born the fifth of nine children to sharecroppers in South Carolina and lived for a time in an unheated shack without glass windows or indoor plumbing.
It said "no" when the president of his undergraduate alma mater, Virginia State College, steered him to historically black Meharry Medical College in Nashville, TN, because it had a loan scholarship agreement that kept Virginia medical schools from having to consider blacks for admission.
But his parents, several teachers and his self-esteem said otherwise. And in 1957, when the future commander took his entire family to dinner at the Charleston Naval Officer's Club, it seemed clear that the universe had chosen another response to Dr. Staggers.
LEGACY
In memory of Dr. Staggers, the UCSF Cancer Center has raised $20,000 for health ministry mini-grants. These funds will go to Abundant Life churches for health promotion programming throughout 2014.
The Women's Cancer Resource Center will honor Dr. Staggers at the 3rd Annual Gala February 24, 2014.
LINKS
"You don't say no to Dr. Staggers," says Arnold Perkins, co-chairman of the CAB and retired director of the Alameda County Public Health Department. Perkins knew Dr. Staggers for more than 50 years -- since he handed the doctor instruments in an operating room at the U.S. Naval Hospital in Oakland. "Sometimes in life, you submit on behalf of the people. This man was special—chosen—and he had a gift of making you feel special."
Michael Shaw, chairman of the CAB Men's Health Committee and director of the Alameda health department's Urban Male Health Initiative, adds that "you never said no to Dr. Staggers, because he never said no to the community."
Before he went to medical school on the GI Bill, Frank Staggers visited a black physician on the east coast to complete a required physical exam. Afterward, when the future doctor reached for his wallet, the physician said that he never charged a student—only their insurance company if they had one. In 2006, Dr. Staggers related in an article for The Journal of Health Care for the Poor and Underserved that he followed that example throughout his career.
According to Perkins, there were untold acts of kindness, including anonymously providing roundtrip tickets for a poor, medical student to travel to his father's funeral. Since Dr. Staggers' death, the stories keep coming: He saved a family from losing its home during the recent economic crisis by paying the mortgage; he co-signed a medical school scholarship loan for a low-income, fatherless student, Richard S. Garcia, who had become a family friend, and later took "Staggers" as his middle name when he became a physician. Dr. Staggers was known to introduce him as his "son."
"Dr. Staggers was like a second father to me," says Joyce Gray, executive director of The Ethnic Health Institute. "Yet, we're just learning all he did for people. Dr. Staggers was a universal person who thought that he was the lucky one to meet you, not the other way around. He turned any pain he had in life into Grace, into helping and mentoring people."
Dr. Staggers led the CAB with a no-nonsense, strategic focus that Dr. Pasick says kept her "running to keep up." As co-founder of the St. Luke's Society—an alliance between East Bay African American doctors and ministers—Dr. Staggers believed that ministers are key to spreading correct health information to the African American community.
"Check out one church—Acts Full Gospel Church in East Oakland," says Men's Health Committee Chairman Shaw. "It has thousands of members and thanks to Bishop Bob Jackson, the prostate and sexual matters are being discussed in front of Jesus."
"We're thinking like Dr. Staggers. We'll do it because it doesn't exist."
Number one on his CAB to-do list in 2005 was to oversee the establishment of a faith committee. Today, the diverse CAB comprises 23 health, social science and community leaders representing all regions of the Bay Area. The Abundant Life Health Ministries Initiative of its Faith Communities Committee is its most active program, including about 70 churches that have received 163 mini-grants ($750-$2,000 each) and training enabling them to reach disenfranchised people with education, motivation and support for healthier living. To date, more than $180,000 has been distributed directly to churches through Abundant Life in San Francisco, Alameda, Contra Costa, and San Mateo counties to establish, sustain and grow health ministries that bridge the expertise of UCSF's cancer center and marginalized communities.
"The issue is who is dying of prostate cancer. African American men are dying the most. African Americans do not access medical services until it's too late because they are not educated about prostate cancer, don't have medical insurance and white physicians are not culturally trained to understand the average African American male's negative reaction to being examined for prostate cancer."
"There are about 25 more churches that want to join," says Community Programs Director Priscilla Banks, who originally introduced Dr. Staggers to Dr. Pasick. "Success does breed challenges, though. We need more money to bring more people aboard, so that we can keep our promises; if we brought them on before we had the money, the program would not be sustainable. Today, I believe that people in these communities are making healthier food choices and choosing to exercise daily in some way that they might not have. Many churches want to set up websites with classes to help the community learn and sustain healthy choices, but they do not have the budget capacity."
According to Banks, as funding becomes available, next steps include expanding CAB outreach into Hispanic and Pacific Islander communities, which are also burdened by cancer disparities.
"It is our responsibility to be aware of all cultures and to be a healing ointment for the world," says Shaw. "Dr. Staggers did his work well. We plan to establish a support group for prostate cancer survivors. We're thinking like Dr. Staggers. We'll do it because it doesn't exist."