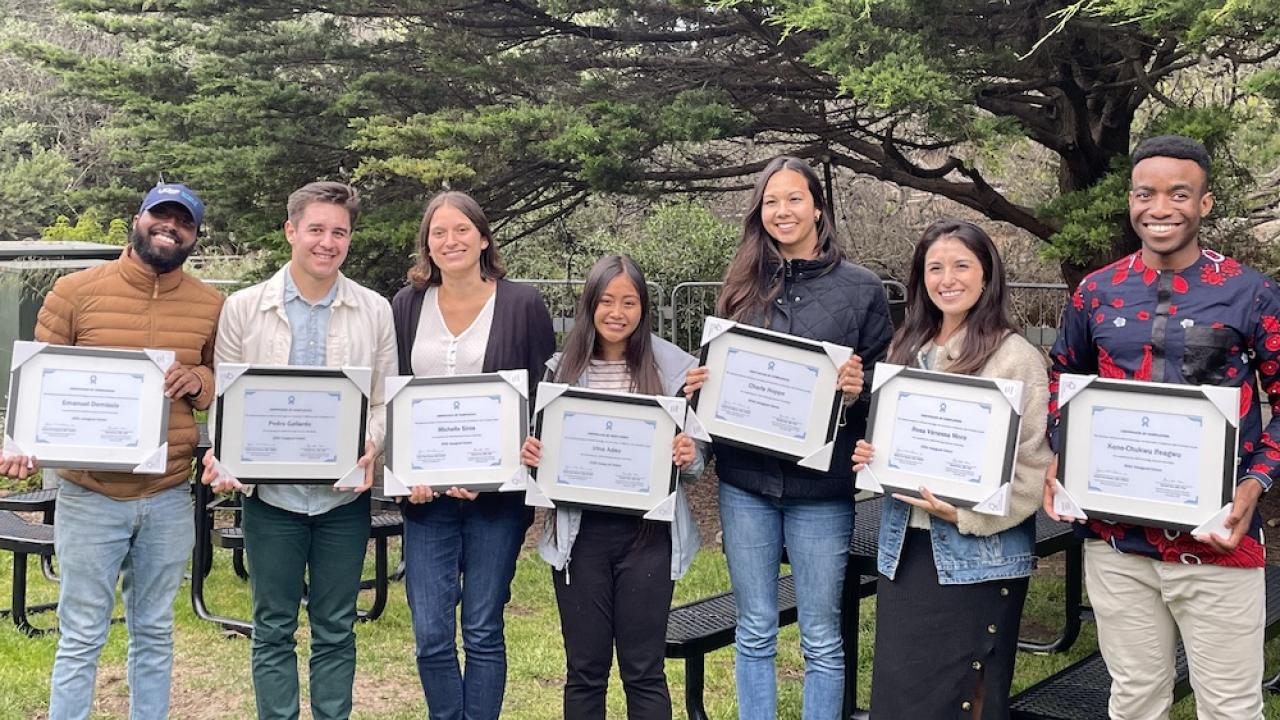 Image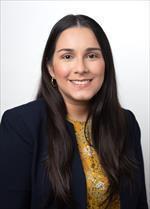 Earlier this year, under the leadership of Ana Velázquez Mañana, MD, fellow in Medical Oncology, UCSF was chosen as one of only five institutions nationwide to participate in ASCO's inaugural Oncology Summer Internship (OSI) program to increase diversity in the oncology workforce.
Velázquez Mañana, currently the only Latina in her fellowship program, is keenly aware of how underrepresented minorities are in the medical workforce. This summer, she led and mentored the first class of eight oncology student interns. Below she discusses what motivates her to increase diversity in medicine.
---
Q. Congratulations on being selected to lead this new and important ASCO internship program. UCSF was one of just five medical schools across the country for this inaugural effort. Would you share the "big picture" in terms of diversity in the oncology workforce, and what prompted you to apply on behalf of UCSF?
A. Diversity in medicine remains a challenge. While the US population becomes more diverse, we have not seen the same degree of diversity and representation of the population in the healthcare workforce. Notable advances and efforts have been made to increase diversity in the healthcare workforce which have led to increasing racial/ethnic diversity and gender parity in medical schools. However, these advances in gender equity and diversity are not reflected further along the healthcare workforce pipeline with decreasing representation of groups underrepresented in medicine (URM) in each step of the pipeline.
In oncology particularly, only 3% of practicing oncologists are Black, 4.7% Latinx, 0.1% American Indian or Alaskan Native, and estimates of Native Hawaiian and Pacific Islanders are also <1%. Further, women also represent a minority, counting only for 35.2% of the oncology workforce. The underrepresentation of women and minority oncologists worsens significantly when looking at those who hold leadership positions. These grim numbers are similar at the trainee level, with hematology/oncology fellowships having the lowest percentage of URM trainees of all other medicine subspecialties. Having a diverse workforce is important and key to advancing equity in our field, narrowing disparities in cancer care, providing culturally competent care to our patients, and building diverse teams with innovative ideas and diversity of perspectives.
My experiences as the only Latina currently in our fellowship program, really prompted me to apply to the ASCO OSI program. During the past four years, I commonly felt I shared more life experiences with my Latinx patients than with many of my peers. This was new for me; I had completed my medical school in my island of Puerto Rico and residency training in NYC were the proportion of Latinx physicians is much higher. For example, New York state's rate of Latinx resident physicians per Latinx population, is 5x higher than rates of California. Observing and living these differences fueled my interest in studying workforce and identify ways in which we can increase the diversity of our trainees, and eventually our faculty. I've been lucky to have a very supportive mentor, sponsor, and program director, Dr. Gerald Hsu, who values and embraces diversity.
Q: Why is UCSF a good fit for this program? Why is it important?
A. UCSF is a great fit for the ASCO Oncology Summer Internship program as our institutional priorities align well with ASCO's initiatives focused on equity and diversity. UCSF core values include being champions diversity, equity and inclusion as part of our mission to provide patient care and create environments in which all are welcomed.
The UCSF School of Medicine has made substantial efforts trying to increase its diversity which has led to 47% of entering students in the class of 2020 being URM. While current efforts have been able to increase representation at the medical school and core residencies (as internal medicine, pediatrics, family medicines), this increase in diversity is not reflected further down the pipeline into subspecialty care or highly specialized careers in medicine, as radiation oncology.
Creating programs as the ASCO OSI that can engage medical students in early stages of their training and expose them to cancer care is key to providing clinical and mentorship experiences that can spark their interests to consider pursuing careers in oncology.
Q. Please talk (in general—you don't have to name and describe each participant) about the inaugural class of students in the UCSF program, their backgrounds, and their interests in oncology?
A. The inaugural class of ASCO oncology summer interns at UCSF were eight wonderful student leaders from diverse backgrounds who were highly motivated and curious to explore career paths in medicine and oncology. They had varied clinical and research interests expanding across adult and pediatric hematology/oncology, surgical oncology specialties, clinical research, health disparities and public health.
Image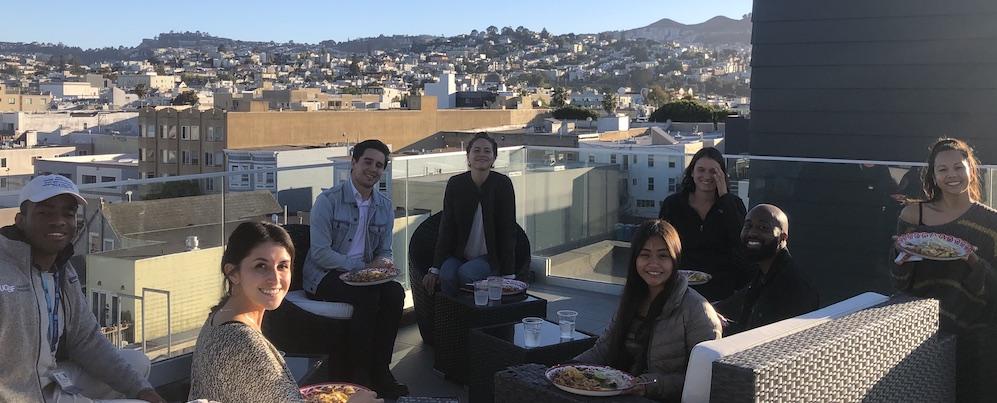 Q. Please talk about the curriculum? What seemed to resonate with the students the most? Would you change anything about it?
A. The ASCO OSI curriculum included daily educational sessions which spanned across oncology specialties including disease-specific tumor boards for the most common cancers, pharmacology and drug development, career paths in oncology, patient-physician communication, and others. These daily educational sessions were held virtually and shared with all other OSI sites across the nation. In addition, the students spent the rest of their workdays shadowing clinics across the different cancer specialties to provide broad exposure to the diversity and complexities of cancer care. The experience also included mentorship sessions with faculty from our site, individual mentorship provided by oncologists from outside institutions, and social events to network with different members and trainees from our oncology programs in social settings.
Among the feedback we received, the students really enjoyed exposure to the different areas of oncology and discovered new fields, as radiation oncology, which they had not had prior exposure too in their didactic medical school training.
Q. You must have had some compelling discussions during the program. What is on the minds of medical students these days? As students from ethnically diverse backgrounds, do they feel empowered to speak up about equity issues? Are there any norms and attitudes in place that they feel limit them from doing so?
A. I think the current generation of students have very unique perspectives and have more knowledge and awareness about social justice, inequities, racism, and systems of oppression that exist in this country than prior generations did or felt empowered to talk about. It is really exciting, and rejuvenating to see passionate young people interested in health equity who have the passion and vision to challenge status quo and develop solutions that will promote equity in healthcare and social justice.
Q. What were your experiences in leading the inaugural program? Will it be back?
Organizing and co-leading the program was a great experience that allowed me to grow in my role as a mentor, educator, and develop skills in program building. Dr. Hsu and I had amazing support from ASCO staff that led and organized all program details at a national level. We also learned a lot as we tried to organize ambitious schedules across all different clinical areas and tried to maximize learning for the students through telehealth visits in which personal connections with patients and faculty are harder to establish. We are super thankful to the students who participated and provided feedback on how to continue to adapt and refine the program for future years. Thanks to ASCO's support we will be able to continue the program for the next few years, and we hope pipeline building programs as this one can continue to expand and become a priority for our cancer center.
A Participant's Perspective: Emanuel Demissie
Image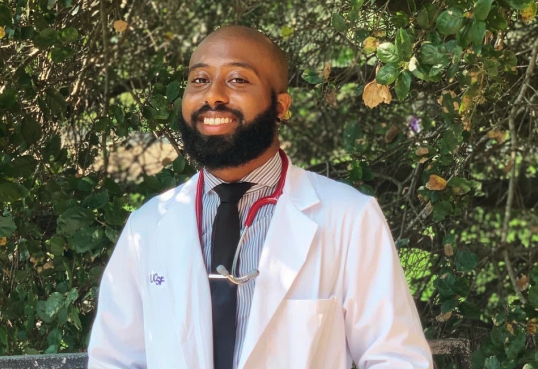 "Being a part of the ASCO Oncology Summer Internship allowed me to receive an all-encompassing view of one of medicine's most intriguing fields. As someone who has participated in several programs dedicated to increasing minority representation in medicine,  ASCO's program struck me in how comprehensive its approach was.
Gaps in our clinical exposure were addressed through daily shadowing, misconceptions in our knowledge of oncology were addressed through educational seminars, and lack of support from attending physicians was addressed through effective mentor-mentee matching. The last of these was where the program shined the most. Hearing how satisfied my oncologist mentors were with their patient interactions and research initiatives was impactful to me as a future physician-scientist." - Emanuel Demissie (MS2, UCSF)
A Participant's Perspective: Vanessa Mora
Image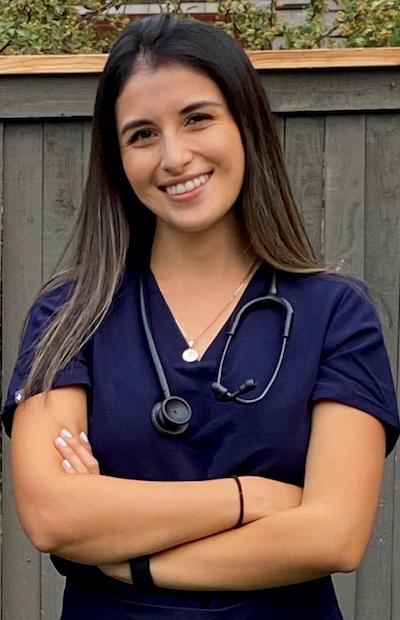 "As a first-generation student, I came into medical school with limited exposure to the vast array of subspecialties available. The ASCO internship awarded me the opportunity to gain specific clinical exposure, network with experts in the field, and collaborate with faculty on research projects. I gained invaluable knowledge, experience, and interprofessional relationships that will undoubtably contribute to my growth as a future physician." – Vanessa Mora (MS2, UCSF)