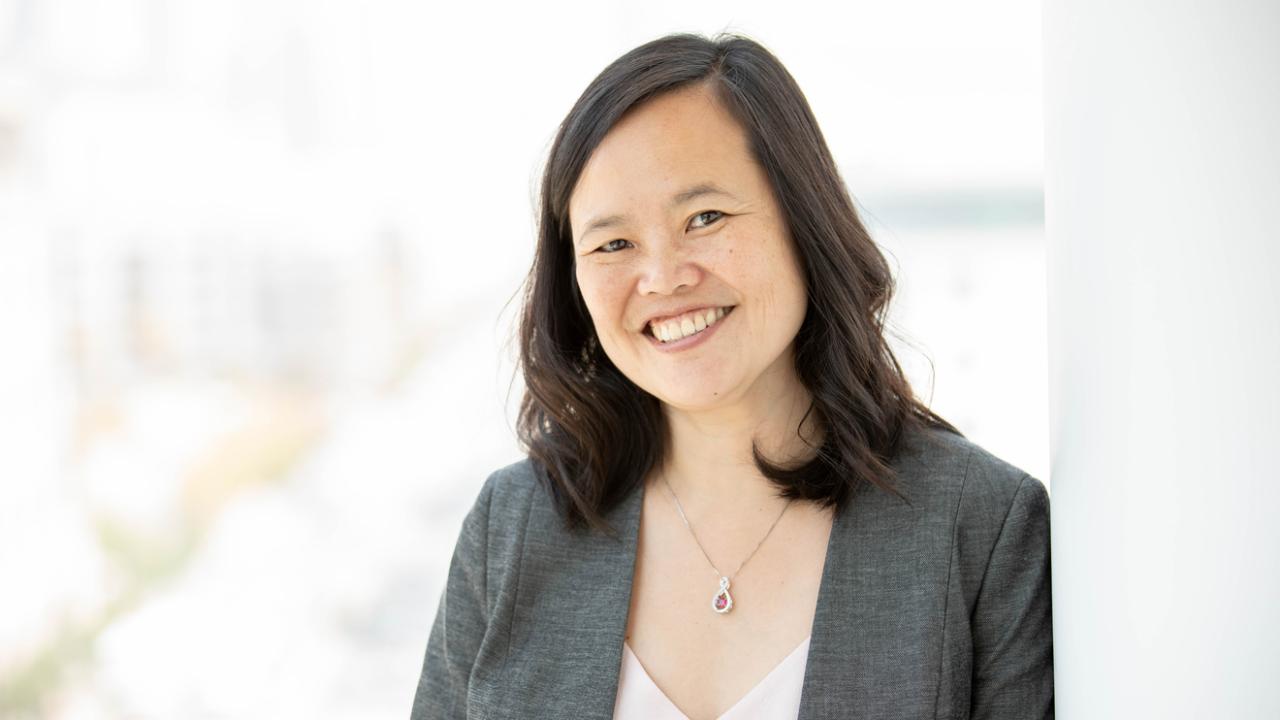 While smoking is the top risk factor for lung cancer, Asian women in the United States who have never smoked are currently twice as likely to develop the disease than female non-smokers of other ethnicities. The FANS (Female Asian Never Smokers) Study aims to collect data from Asian American women in the Greater Bay Area to shed light on the issue of non-smoking lung cancer, with the hope of identifying new prevention methods and early diagnosis and treatment options for Asian women.
We asked study investigator and epidemiologist Dr. Scarlett Lin Gomez to elaborate on the significance of the study, their current efforts to increase participation, and the importance of the studyʻs Community Advisory Board (CAB) in raising awareness of high risk of lung cancer among the Asian American female never smoker communities.
---
Q: What is the significance of the FANS study and what led to it? How did the study become a collaboration with UC Davis and Stanford? 
A: The high burden of lung cancer among never-smoker Asian American women has been a long-standing question of interest, from both a professional and personal standpoint. This collaboration with oncologist Dr. Heather Wakelee from Stanford started 15 years ago when she approached the Greater Bay Area Cancer Registry to inquire about data regarding lung cancer incidence among Asian American females who have never smoked. She and colleagues were observing increasing numbers of these patients in their clinics.
Image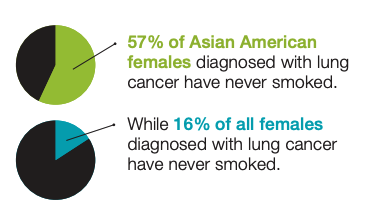 Now, 18 publications and four funded studies later, we have been able to document some key novel findings. Trends of adenocarcinoma have been increasing in many ethnic groups of Asian American females. More than 50% of Asian American females diagnosed with lung cancer did not smoke, although this proportion varies across ethnicities and is as high as 80% among Chinese females. We see 1.5-2 times higher incidence rates among most ethnic groups of Asian American females who have never smoked relative to other ethnic groups.
As non-smokers (and light smokers) are not currently eligible for lung cancer screening, most cases of lung cancer among Asian American females would not have been picked up by screening.
Q: You initially aimed to recruit 600 matched pairs of never-smoking Asian American women, half with lung cancer and half without. How is the recruitment effort going, and have any unforeseen barriers developed in reaching your goal?
A: In our current FANS (Female Asian Never Smokers) Study (funded by the National Institute for Minority Health and Health Disparities), our goal is to recruit a population-based sample of 600 newly-diagnosed lung cancer cases and 600 matched controls. We have been fortunate that the topic has received quite a bit of public interest, with a news feature in the Bay Area's KTSF channel, and with help from our studyʻs Community Advisory Board (led by Dr. Kim Rhoads and Joyce Cheng); as a result, we have received a lot of interest from the Chinese community and this has greatly helped our control recruitment. However, we are lagging in our recruitment of controls from other Asian American ethnicities, in particular Filipinas and Vietnamese. In addition, we are experiencing challenges with recruiting cases.
Our primary approach is to identify potentially eligible cases from the population-based Greater Bay Area Cancer Registry using an approach called Early Case Ascertainment. However, often, by the time we are able to initiate contact with the patient, she is too ill or otherwise unable to participate given the mental and physical toll of the diagnosis and treatment. We are hoping to engage with providers in the Bay Area, particularly those who see large numbers of Asian American females, to help with recruitment or referring cases to our study.
Q: Historically, health and government data has lumped Asian Americans into a single ethnic category, potentially masking important health differences among Asian subgroups. How will the FANS study collect and present data on these diverse Asian subgroups within the Bay Area? Does focusing on specific subgroups make recruitment or data analysis easier or more challenging?
A: The Asian American population comprises people from 20 different Asian countries, and thus, collectively, is incredibly diverse. Their heterogeneity comes through further with immigration waves, how long they have lived here, and degree of acculturation. This diversity is reflected in their cancer statistics, pointing to the need to disaggregate in the data that we disseminate and in the research that we conduct.
In the FANS study, we aim to try to capture this cultural and genetic heterogeneity by asking in the survey about their life-course experiences with exposure to various established, putative, and hypothesized risk factors, and collecting a saliva sample to ascertain genetic ancestry and other genetic factors. Focusing on specific ethnic groups is challenging, since in epidemiology we always want larger numbers to achieve the statistical power to be able to address our hypotheses. However, I believe that we constrain ourselves too much given this power and sample size concern and as a result, have not done our due diligence to provide the needed data for smaller population groups.
Q: You just received the ASPO Joseph F. Fraumeni, Jr., Distinguished Achievement Award, which celebrates and acknowledges public health scientists who have made significant contributions to cancer research and prevention. What does this award mean to you? And how do you feel the field of cancer prevention has changed during your career?
A: Dr. Fraumeni is a giant in the cancer field, and to receive this award in his name is an amazing and humbling honor. I feel very hopeful for the field of cancer control and prevention research, especially in cancer health disparities, and feel that we've come a long way in the 25 years that I have been doing this research. For one, we have come to recognize the importance of the impact of multilevel structural and social determinants such as structural racism and neighborhood factors, and the role that these factors play in shaping opportunities for access to resources, and exposures to physically and socially toxic environments.
We also are more cognizant of the diversity of populations such as the Asian American population, and the importance of studying small population groups. Just recently, several institutes across NIH hosted a workshop to review the state of health and health research among Asian American, Native Hawaiian, and Pacific Islander populations. A publication was recently published from those of us who presented at the workshop, and a Notice of Special Interest was posted by NIH inviting grant applications focusing on these populations, following the themes stemming from the workshop and articulated in the publication.
Q: We were sorry to hear that the FANS Study just lost team member and the studyʻs CAB member Dr. Trish Hom. Can you share with us Dr. Homʻs contribution to our public health efforts and the study specifically? And please tell us more about the role of the studyʻs CAB?
A: We are incredibly saddened to have lost two of the FANS Study CAB members over the past few weeks, Dr. Patricia (Trish) Hom and Dr. Cindy Ng. Despite battling a devastating illness, they generously contributed their unique and valuable perspectives to our study, to help future generations of women.
In addition to serving on our studyʻs CAB, Trish also helped our study in other ways, participating in the development of our survey, and helping to promote the study among the patient communities. With an MD and MPH degree, she was a steadfast learner and we engaged in many conversations regarding her ideas about contributing factors to this disease and how we can better help to promote awareness of the high risk of lung cancer among the Asian American female never smoker communities.
Trish, Cindy, members of our studyʻs CAB, and other lung cancer patients motivate our work to better understand how to prevent this disease.
In Memoriam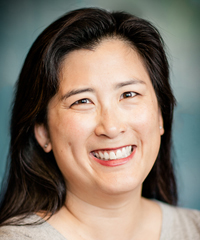 Dr. Cindy Ng, MD, a member of the FANS Study Community Advisory Board, passed away January 6th 2022 after a courageous 4.5 year battle with lung cancer. She was 49 years old. Cindy was surrounded by family and passed peacefully in San Francisco. Cindy was dedicated to community and supporting lung cancer research of Asian American females who never smoked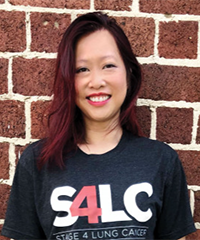 Dr. Patricia (Trish) Hom, MD, MPH, who was an integral member of the FANS Study team and Community Advisory Board, passed away on December 27th 2021 in San Francisco, from lung cancer. She was 40 years old. She was a strong advocate for lung cancer research, especially among never smoking Asian American females, and made invaluable contributions to our study. Her absence on our FANS team will be felt. If you'd like to learn more about Trish, a personal account of her cancer experience was recently published by Cancer Health. Further information about Trish and her life can be found here.