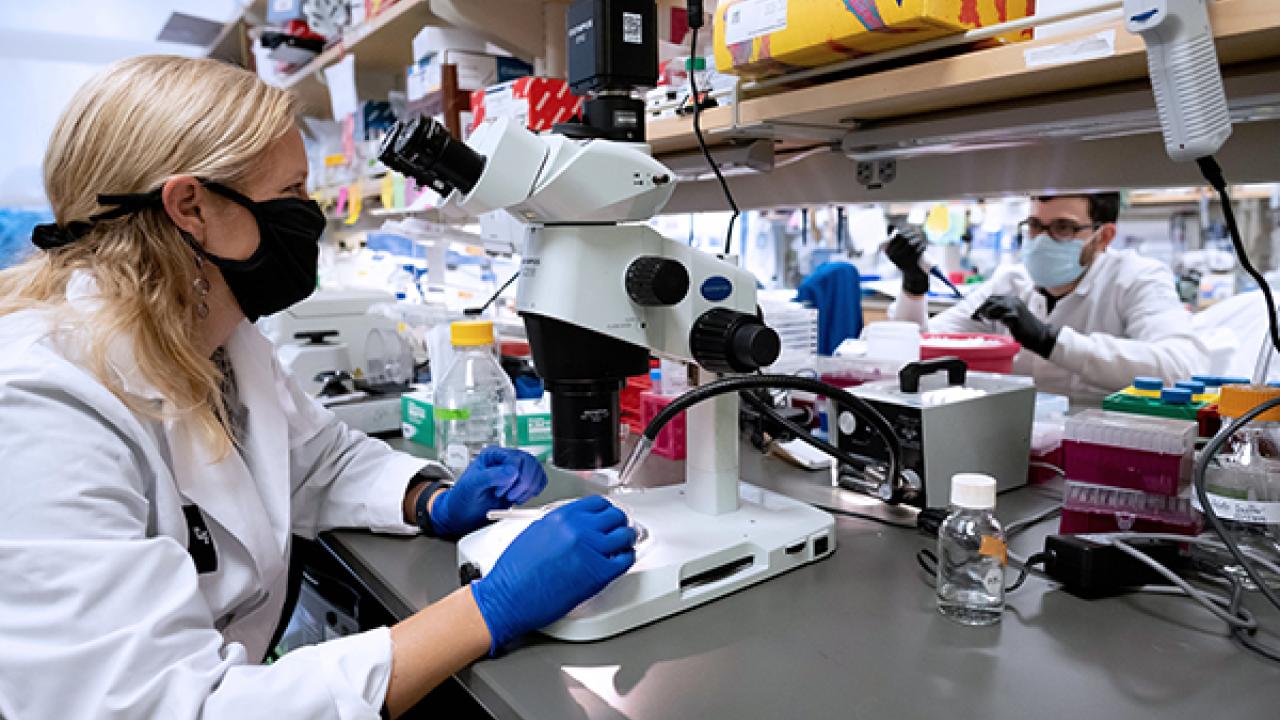 In 2022, the Helen Diller Family Comprehensive Cancer Center funded 25 promising pilot projects totaling $1 million to support cancer research in strategic and developing areas. The projects span basic, translational, and population science from early career and established investigators.
The pilot awards were created following a thorough strategic review process, which mapped out scientific priorities for the cancer center through 2030. Awards were made available through the center's NCI-supported research programs and developing research hubs as well as through the center's offices of community engagement, education and training, and clinical research support.
View the full list of awardees below.
---
Research Program Pilot Awards
Zev Gartner, PhD
Mechanism: Breast Oncology
Project: Spatial-Temporally Resolving Metastatic Niche Remodeling Using Cellular Interaction Networks
Maya Vijayaraghavan, MD, MAS
Mechanism: Cancer Control
Project: Mobile Health Support for Smoking Cessation in the San Joaquin Valley
Bridget Keenan, MD, PhD; Li Zhang, PhD; Jimmie Ye, PhD; and Lawrence Fong, MD
Mechanism: Cancer Immunology & Immunotherapy
Project: Investigating the Role of Intra-tumoral and Systemic T and B Cells in Response to CD40 Agonism
Paul Kauser (grad student); Lei Wang, PhD; and Devan Diwanji, MD, PhD
Mechanism: Molecular Oncology
Project: Developing Covalent Neuregulin Ligands to Target Cancer
Matthew Ryan (grad student); Rohit Bose, MD, PhD; Rahul Aggarawal, MD; and Felix Feng, MD
Mechanism: Molecular Oncology
Project: Dissecting Early Tumor Evolution to Uncover Mechanisms of Tumor Initiation and Drug Resistance
Lauren Cech (grad student); Trever Bivona, MD, PhD; and Collin Blakely, MD, PhD
Mechanism: Molecular Oncology
Project: Ending the Drive to Survive: A Fibroblast-Tumor Cell Signaling Blockade to Combat Acquired Resistance
Bahar Zirak (grad student); Hani Goodarzi, PhD; and Andrei Goga, MD, PhD
Mechanism: Molecular Oncology
Project: Dissecting the Molecular Mechanisms of Cancer-Immune Cell Interactions that Shape Tumor Evolution
Brian Woo (grad student); Hani Goodarzi, PhD; and Franklin Huang, MD, PhD
Mechanism: Molecular Oncology
Project: Harnessing Single-Cell Screening with Allele-Specific Readout to Understand the Mutant TERT Promoter
Michelle Wang (grad student); Atul Butte, MD, PhD; and Alejandro Sweet-Cordero, MD
Mechanism: Molecular Oncology
Project: Pan-Cancer Multi-Center Analysis to Explore Real-World Targeted Therapy Treatment
Eduardo Rodrigues Almaraz (grad student); Susan Chang, MD; and David Solomon, MD, PhD
Mechanism: Molecular Oncology
Project: Next Generation Genomic Characterization of IDH-mutant Gliomas
Shawn Hervey Jumper, MD and Hideho Okada, MD, PhD
Mechanism: Neurologic Oncology
Project: An Immunosuppressive Tumor Microenvironment Permits Glioma-Neural Circuit Remodeling
Diana Laird, PhD; Tippi MacKenzie, MD; and Marina Sirota, PhD
Mechanism: Pediatric Malignancies
Project: New Approaches to the Cellular Composition of Human Sacrococcygeal Teratomas
Ivan De Kouchkovsky, MD
Mechanism: Prostate Cancer
Project: HP 13C MRI as an Early Response Biomarker to Androgen Deprivation Therapy Plus Abiraterone And Ipatasertib in Pelvic Node Positive Prostate Cancer
Research Hub Pilot Awards
Brian Anderson, MD and Eric Collisson, MD
Mechanism: Integrative Oncology
Project: Ketamine-assisted Psychotherapy for Demoralized Pancreatic Cancer Patients
Kavita Mishra, MD
Mechanism: Integrative Oncology
Project: Qualitative Research in Integrative Oncology Group Medical Visits – Implementation and Efficacy
Shannon Fogh, MD
Mechanism: Integrative Oncology
Project: Integrative Cancer Care for Brain Tumor Patients
Daniel Kwon, MD
Mechanism: Cognition and Cancer
Project: Plasma Amyloid-Beta 42/40 to Predict Cognitive Decline from Androgen Deprivation Therapy in Prostate Cancer: A Prospective Observational Study
Courtney Gallen, PhD and Janine Lupo, PhD
Mechanism: Cognition and Cancer
Project: Digital Tools to Characterize Cognition and Real-World Behavior in Irradiated Children
Meera Ragavan, MD, MPH
Mechanism: Geriatric Oncology
Project: The Association of Geriatric Assessment Impairments and Receipt of Financial Drug Assistance Among Older Adults with Lung Cancer Receiving Oral Targeted Therapy
Jennifer Lai, MD, MBA
Mechanism: Geriatric Oncology
Project: Changes in Physical Frailty Among Older Adults Undergoing Treatment for Hepatocellular Carcinoma
Ana Velázquez Mañana, MD, MSc
Mechanism: Recruitment Science
Project: Evaluating Cancer Clinical Trial Participation of Black/African American and Hispanic/Latinx Adults
Jean Nakamura, MD
Mechanism: Survivorship and Symptom Science
Project: Investigating Genetic Risk for Therapy-associated Neurologic Dysfunction in Cancer Survivors
Jaya Mallidi, MD and Niharika Dixit, MD
Mechanism: Survivorship and Symptom Science
Project: Social Determinants of Cardiovascular Health in Safety Net Breast Cancer Survivors – A Cross-Sectional Cohort Study
Social Determinants of Health Pilot Awards
Rohit Bose, MD, PhD
Mechanism: Laboratory Research Related to Social Determinants of Health
Project: In Vivo Cooperative Evolution Screen to Interrogate Ancestry-enriched Mutations
Lena Winestone, MD
Mechanism: Laboratory Research Related to Social Determinants of Health
Project: CTRA as a Molecular Correlate of Socioeconomic Status and Clinical Outcomes in Patients with Leukemia
Clinical Research Staff Project Support Awards
Tanya Jindal - Clinical Research Coordinator, Genitourinary Oncology
Mechanism: Professional Development for Clinical Research Support Staff
Supporting Investigator: Vadim Koshkin, MD
MacKenzie Johnson - Clinical Research Coordinator, Breast Oncology
Mechanism: Professional Development for Clinical Research Support Staff
Supporting Investigator: Jo Chien, MD
Victoria Onyike - Clinical Research Coordinator, Gynecologic Oncology
Mechanism: Professional Development for Clinical Research Support Staff
Supporting Investigator: Lee-May Chen, MD