Alan Ashworth, PhD, FRS, president of the UCSF Helen Diller Family Comprehensive Cancer Center and senior vice president for cancer services at UCSF Health, has received two prestigious national awards for his transformative research accomplishments and work developing PARP inhibitors for cancer.
The American Society of Clinical Oncology (ASCO) honored Ashworth with the 2023 Science of Oncology Award and Lecture, one of the organization's highest honors. He will accept the award at the ASCO annual conference in June. In an interview with the ASCO Connection, Ashworth emphasized the importance of team science and clinical trials.
"This is a lovely recognition of the work that has been going on for decades, not just for me, but the entire team," he said. "I've been privileged to work with many great people over the years and [this award] is a recognition for all the hard work that's been put in to get us to this stage and, of course, all the patients that have been involved in the clinical trials that have led to drug approvals."
Also in May, Memorial Sloan Kettering Cancer Center honored Ashworth with its C. Chester Stock Award Lectureship. This award is given annually to someone who has made a significant contribution toward the control of cancer.
Ashworth was a key member of the team that discovered the BRCA2 gene in 1995. In 2005, his lab identified a way to exploit genetic weaknesses in cancer cells with mutated BRCA1 or BRCA2 genes, leading to a new approach to cancer treatment, PARP inhibition. Four different PARP inhibitors have now been approved by the FDA for the treatment of ovarian, breast, pancreatic, and prostate cancer based on this observation, which was named by Nature as one of the top 20 discoveries in cancer in the 21st century.
Ashworth is an elected member of the European Molecular Biology Organization (EMBO) and a Fellow of the Academy of Medical Sciences, the American Association of Arts and Sciences, the American Association of Cancer Research, and the Royal Society.
Also, he has received the European Society for Medical Oncology (ESMO) Lifetime Achievement Award, the David T. Workman Memorial Award of the Samuel Waxman Cancer Research Foundation, the Meyenburg Foundation's Cancer Research Award, the Genetics Society Medal, the Susan G Komen Brinker Award, and the inaugural Basser Global Prize.
Image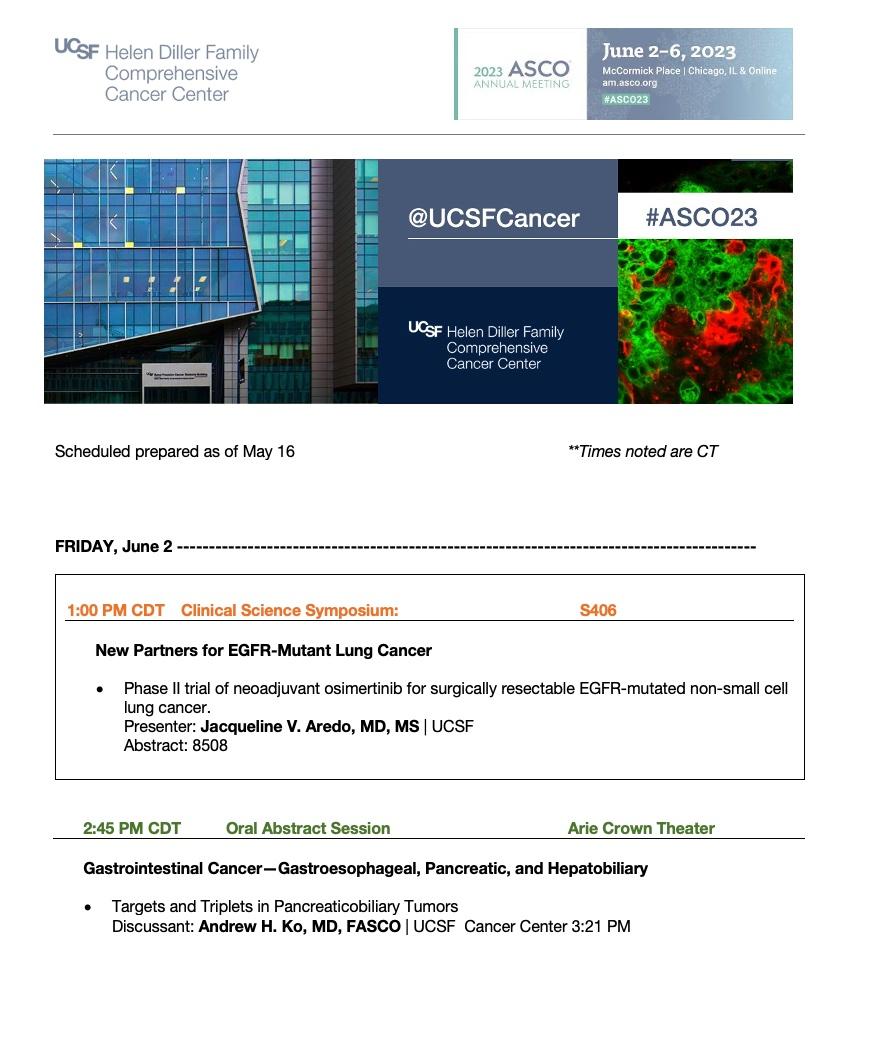 Click to see the full list of presentations from UCSF Helen Diller Family Comprehensive Cancer Center faculty at #ASCO23
Read more at cancer.ucsf.edu