Through a generous philanthropic gift, we are soliciting applications for funding research to understand the basic biological drivers of aggressive prostate cancer. The Benioff Initiative for Prostate Cancer Research looks to change the face of prostate cancer research with a dual pipeline approach:
Basic and Translational Research Awards in Prostate Cancer: proposals should focus on expanding our understanding of the biology, early diagnosis, treatment and/or prevention of aggressive prostate cancer.
Harnessing novel technologies or research tools: Application of novel technologies or tools to the field of prostate cancer research. Aimed towards investigates who have developed unique in interested research methods and would like to apply these toward the field of prostate cancer research. This pipeline targets investigators who previously have not worked in prostate cancer research.
Award Summary:
Eligibility: Any UCSF researcher(s) with faculty status
Funding: Awards of $75,000 - $150,000 are for one year
Award period: July 1, 2021 – June 30, 2022
See RFA for full announcement details and requirements.
---
Therapy for prostate cancer is not yet individualized based on the molecular drivers found within each individual's cancers. This makes prostate cancer unlike other common cancers, such as breast, colon, and lung cancer.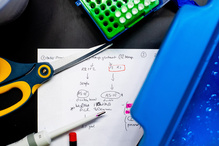 The difference highlights the critical need to understand the fundamental biology underlying aggressive prostate cancer, in order to radically improve outcomes. The UCSF Benioff Initiative looks to fund projects and core resources that aim to accelerate research in aggressive prostate cancer.
To accomplish this the BIPCR:
Seeks to partner with departments on the recruitment of basic scientists to UCSF, working in part or fully on prostate cancer.
Provided funding for the generation of resources for UCSF prostate cancer researchers, contributing to recruitments and team-based science within specified research directions. Pilot funding is available to groups interested in developing a core resource or applying their current practices to the field of prostate cancer. These projects will be assessed on an individual basis and interested groups should first contact the BIPCR at

[email protected]

to discuss their proposals.
---
Funded Research Projects
The Benioff Initiative for Prostate Cancer Research is excited to announce the funded projects from our first RFA Cycle. Were received a total of 18 RFAs during this cycle and were able to provide funding to the top 6 scored proposals.  
RFA Funded Projects, February 2020 - June 2021:
Principal Investigators: Danica Fujimori, PhD & Lawrence Fong, MD
Project Title: Potentiating Prostate Cancer Immunogenicity through Epigenetic Modulation
Principal Investigators: Matthew Krummel, PhD & Vincent Chan, PhD
Co-Investigators: Felix Feng, MD & Eric Small, MD
Project Title: Investigating the Tumor Immune Microenvironment in Metastatic Prostate Cancer
Addition support for this project will be provided by the Bakar ImmunoX Initiative at UCSF.
Principal Investigator: David Quigley, PhD
Project Title: Investigating the evolution of targeted therapy resistance in advanced prostate tumors
This project will be cosponsored with the Center for BRCA Research.
Principal Investigators: Robert Blelloch, MD, PhD & James Fraser, PhD
Project Title: Enhancing the anti-tumor immune response in prostate cancer through the inhibition of exosomal PD-L1
Principal Investigators: Luke Gilbert, PhD & Eric Small, MD
Project Title: Systematic elucidation of WNT signaling in Prostate Cancer
Principal Investigators: Davide Ruggero, PhD & Hao Nguyen, MD, PhD
Project Title: Deciphering the role of the translational oncogenic program in prostate cancer