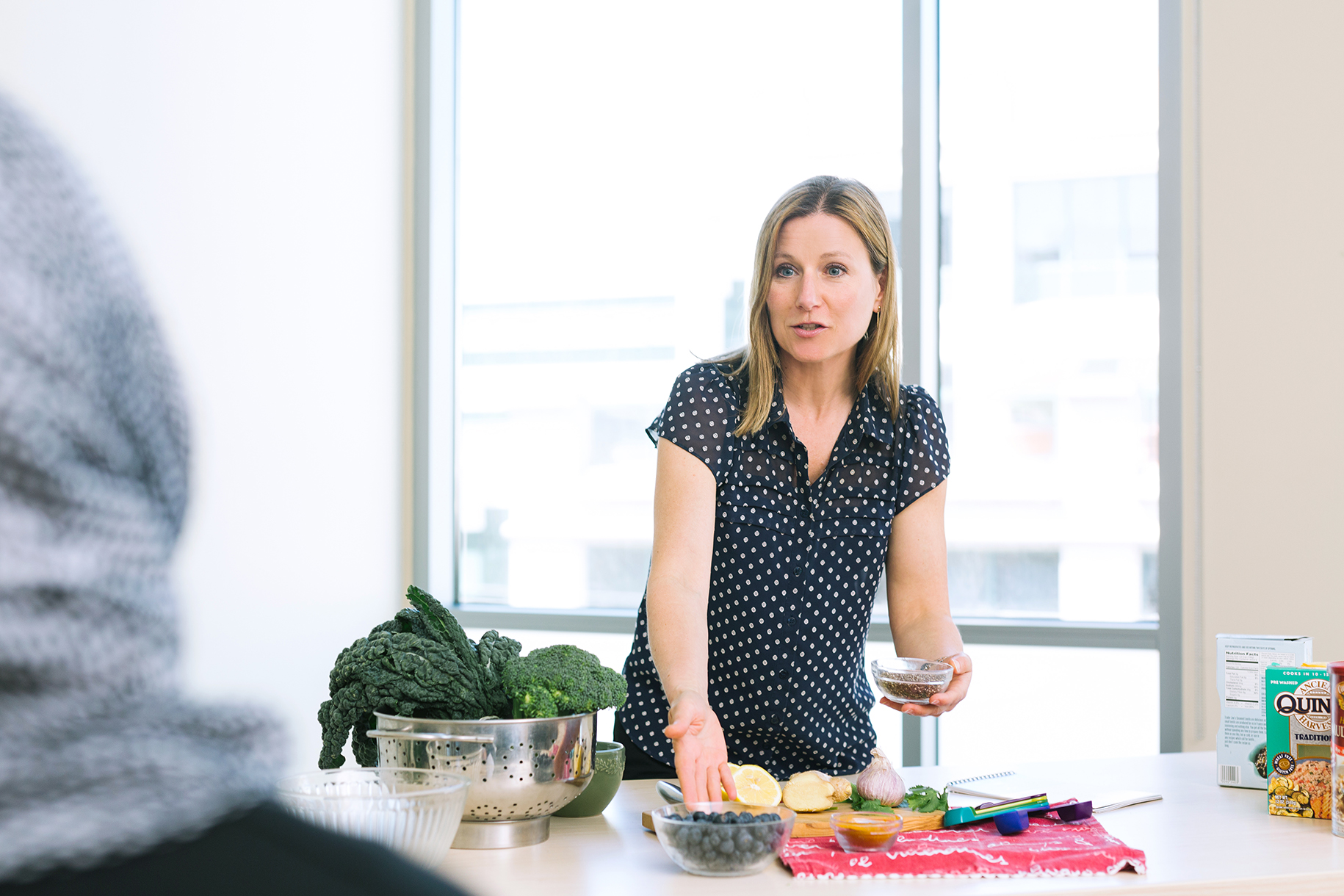 If you are a UCSF cancer patient and would like to meet with a dietitian on a one-on-one basis, please contact your UCSF oncology practice directly for a referral and scheduling. For general information about our Nutrition program, call 415-502-5547. The services are open to UCSF cancer patients at no charge, although donations are appreciated.
A dietitian is available Monday through Friday between 9 am and 4:30 pm at both the UCSF Mt. Zion and UCSF Mission Bay campuses, and now Thursdays at the Berkeley Outpatient Center.
Ayana Davis, MS, RD (Berkeley)
Greta Macaire, MA, RD, CSO (San Francisco)
Anna Hom, MS, RD, CSO (San Francisco)
Neha D. Shah, MPH, RD, CNSC, CHES (San Francisco)
UCSF Mount Zion
1600 Divisadero Street, Room B-101

UCSF Mission Bay,
Bakar Precision Cancer Medicine Building
1825 4th Street, 4th and 5th Floors
Berkeley Outpatient Center (Thursdays only)
3100 San Pablo Ave., Suite 430
Berkeley, CA 94702
Questions that the dietitian may address include:
Nutrition recommendations for specific cancers
Nutrition and food safety guidelines during various cancer treatments
Tips for coping with nutrition related symptoms from treatment such as:

Appetite changes
Difficulty with chewing or swallowing
Coping with nausea
Problems with constipation or diarrhea
Help managing unwanted weight loss or weight gain
Nutrition recommendations for cancer survivorship
Recommendations for dietary supplements
To schedule an appointment with one of our Registered Dietitians, please contact the UCSF oncology practice where you are being seen.
---
Nutrition Seminars
Greta Macaire presents nutrition workshops and seminars for the general public. Topics include prostate cancer and nutrition, nutrition during radiation and/or chemotherapy treatment, dietary supplements, phytonutrients, plant-based diets, and truths & myths of nutrition and cancer. (Topic suggestions welcomed.)

The Patient and Family Cancer Support Center also offers periodic nutrition workshops and demonstration-style cooking classes. (See box at right.) For additional information or resources, please visit the Patient and Family Cancer Support Center (Mission Bay) at 1825 Fourth Street, First Floor or The Ida and Joseph Friend Patient and Family Cancer Support Center (Mount Zion)at 1600 Divisadero Street, B-101on the first floor, or call (415) 885-3693.

For upcoming events, visit our Patient Events page. For information about upcoming seminars and to register, call 415-885-3693 or email [email protected].
---