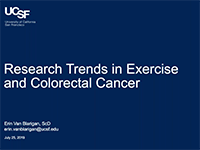 WEBINAR - JULY 2019
Research Trends in Exercise and Colorectal Cancer Webinar
Presented by Dr. Erin Van Blarigan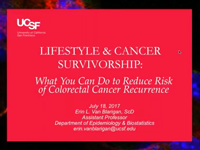 WEBINAR - JULY 2017
Lifestyle & Cancer Survivorship: What you can do to reduce risk of colorectal cancer recurrence
Presented by Dr. Erin Van Blarigan
Research in GI Oncology Survivorship
Our research program reflects the multi-disciplinary practices of the clinic, with doctors, nurses, epidemiologists, dietitians, psychologists, and physical therapists all working together to improve outcomes for patients. We practice clinical research with two strategies:
Collecting clinical and patient-reported data to understand patient experiences and find lifestyle factors that are associated with better clinical outcomes and quality-of-life.
Developing interventions to support healthy behaviors associated with lower cancer recurrence risk. Examples include the SmartPace Study and SUCCEED Study. Patient feedback about these research interventions is our most valued outcome and we seek to improve the content and delivery of health information to enhance survivorship.
Open Studies
Lifestyle and Outcomes after Gastro-Intestinal Cancer: A Prospective Cohort Study (LOGIC)
Principal Investigator: Erin Van Blarigan, ScD
The goal of the LOGIC study is to learn more about risk factors for cancer recurrence, quality-of-life, and psychological well-being in patients with gastrointestinal cancers. Participants are asked to complete surveys online every six months for five years and annually thereafter. For more information, please contact us at [email protected].
> GI Oncology Survivorship Program Overview