Research in GI Oncology Survivorship
Our research program reflects the multi-disciplinary practices of the clinic, with doctors, nurses, epidemiologists, dietitians, psychologists, and physical therapists all working together to improve outcomes for patients. We practice clinical research with two strategies:
Collecting clinical and patient-reported data to understand patient experiences and find lifestyle factors that are associated with better clinical outcomes and quality-of-life.
Developing interventions to support healthy behaviors associated with lower cancer recurrence risk. Patient feedback about these research interventions is our most valued outcome and we seek to improve the content and delivery of health information to enhance survivorship.
> GI Oncology Survivorship Program Overview
Image

Tools To Be Fit
Principal Investigator: Erin Van Blarigan, ScD
The Tools To Be Fit study is testing different tools to see which ones work best to help cancer survivors eat well and be physically active. Tools To Be Fit participation runs for approximately 1 year and you receive a combination of tools to help you adopt and maintain the American Cancer Society's Nutrition and Physical Activity Guidelines for Cancer Survivors. To learn more or see if you are eligible to participate, please go to our study website: https://toolstobefit.eurekaplatform.org/ 
---
Image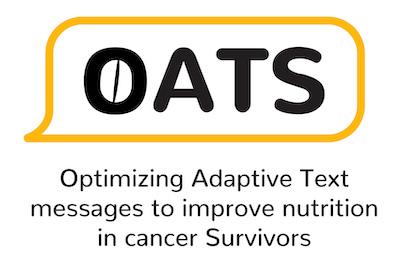 OATS: Optimizing Adaptive Text messages to improve nutrition in cancer Survivors
Principal Investigator: Erin Van Blarigan, ScD
The OATS study aims to develop a continuously adaptive text message-based intervention using reinforcement learning to increase the proportion of healthy grains consumed among colorectal cancer survivors. Participation opportunities include interviews, focus groups and/or testing text messages for 12-weeks. To learn more, please contact the study coordinator Evelyn Montenegro at [email protected] or (415) 514-6258.
---

Lifestyle and Outcomes after Gastro-Intestinal Cancer: A Prospective Cohort Study (LOGIC)
Principal Investigator: Erin Van Blarigan, ScD
The goal of the LOGIC study is to learn more about risk factors for cancer recurrence, quality-of-life, and psychological well-being in patients with gastrointestinal cancers. Participants are asked to complete surveys online every six months for five years and annually thereafter. For more information, please contact us at [email protected].
---
> GI Oncology Survivorship Program Overview