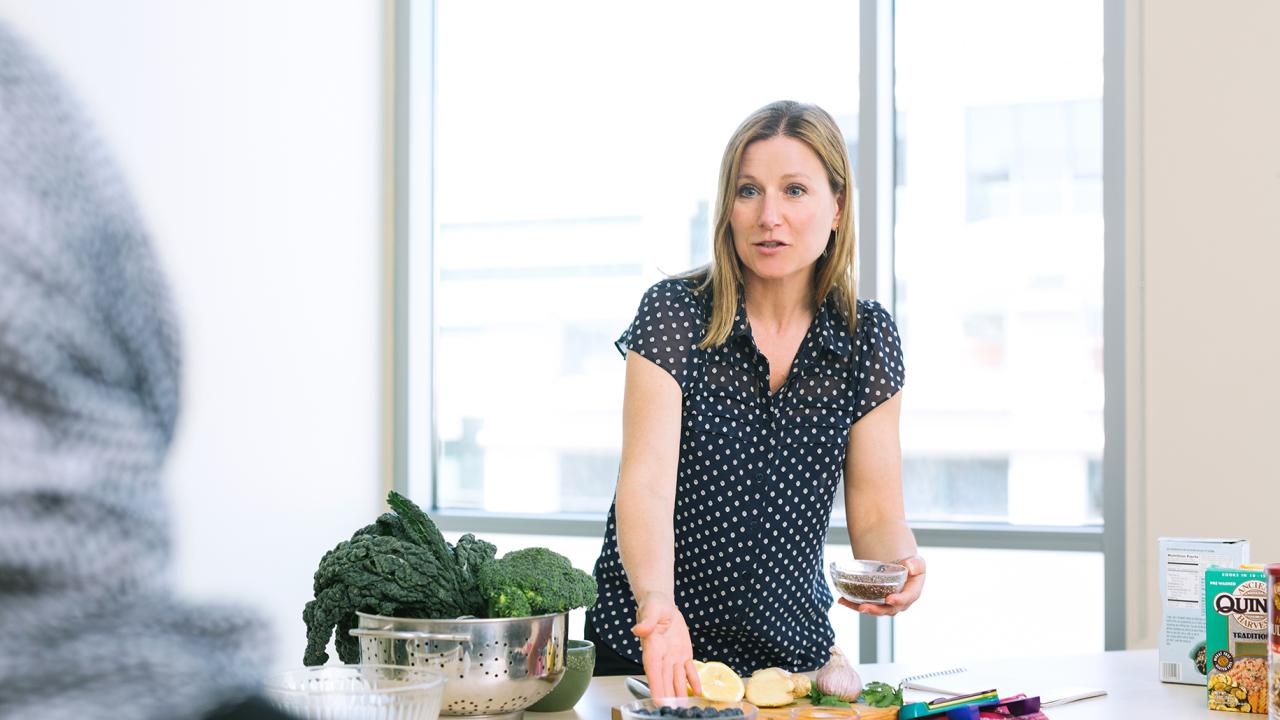 For 14 years oncology dietitian Greta Macaire, RD, MA, has provided nutrition support to cancer patients before, during, and after treatment. She creates tailored nutrition plans that support individual goals and that optimize wellness and quality of life by taking into account a person's overall health, specific cancer, nutritional needs during treatment, and eating patterns. Below, Macaire reflects on developments in nutrition counseling and research, shares general nutrition tips for cancer prevention, and links to some of her favorite holiday recipes.
---
What does a typical day look like for an oncology dietitian at UCSF?
My typical day starts off with a nice cup of coffee, a run with my dog, Fiona, and a nutritious breakfast. I usually get to work by 7:45 am which gives me time to answer emails, voicemails, and MyChart messages before prepping to see patients for the day. Most of my day will be filled with individual nutrition consults. In some cases, this will include working with the patient's care team to request nutrition labs, communicate recommendations, make referrals to other support services, or assist with the set-up of home nutrition support.
Due to the COVID-19 pandemic, the bulk of our visits are via telehealth for now. On Fridays, I spend my day in the Radiation Oncology department seeing patients being treated for head and neck cancer. Variations to my day come in the form of attending meetings, precepting dietitian interns, teaching a class for patients, caregivers, or staff, or attending a Cancer Center support group as a guest speaker. My day at work wraps up around 5 pm. On weeknights, I enjoy cooking (not so much the clean-up), going for walks after dinner, watching Giants games and travel shows, and researching the latest in nutrition.
---
You've worked at the UCSF Helen Diller Family Comprehensive Cancer Center since 2007. In that time, how has the nutrition program grown or changed? Have you witnessed developments to the role that nutrition counseling plays in patient care?
When I came to the UCSF Cancer Center in 2007 the nutrition program started by my predecessor Natalie Ledesma was already going strong providing individual nutrition counseling, offering nutrition seminars, and more. As the Cancer Center has grown, so has our program. We have gone from a staff of one dietitian to 2.4 full time dietitians in San Francisco (myself, Anna Hom, and Neha Shah) and a one-day-a-week position at the Berkeley Outpatient Cancer Center (Ayana Davis).
We serve as the out-patient nutrition services for all adult oncology clinics at the Mission Bay, Mt. Zion, and Parnassus campuses. As the importance of nutrition for improving cancer patient outcomes is increasingly recognized, so are our roles in patient care. We are now integrated into certain teams including the Cancer Committee, Head and Neck Radiation Oncology, Head and Neck Surgery Multi-Disciplinary Pre-Op Clinic, Neuroendocrine Wellness Clinic, and the Survivorship Wellness Group Program.
---
How can proper nutrition enhance a patient's treatment? Do you tailor nutrition plans around the drugs a patient may be receiving? How about for oral cancer patients receiving radiation?
Studies link nutrition interventions with better clinical outcomes for cancer patients. Proper nutrition can enhance a patient's treatment via decreased weight loss, lower unplanned hospital admissions, better performance status, greater quality of life, higher treatment tolerance, and overall survival.
Personalizing nutrition plans to account for drugs or treatments a patient is receiving, their individual health needs, lifestyle, and goals has been a more effective intervention for my patients than taking a "one size fits all" approach. This is also true for oral cancer patients receiving radiation treatment. They experience side effects including chewing and swallowing difficulties, painful mouth sores, dry mouth, and taste changes. Tailoring nutrition plans for these patients to include nutrient dense foods and liquids, modified diet textures, and when necessary, nutrition support can help them meet their needs at a time when eating and drinking can be extremely challenging.
---
Are there examples of current UCSF faculty research on nutrition and cancer that have impacted your recommendations?
Yes. One example being many of my nutrition recommendations for our men with prostate cancer come from research conducted by our Lifestyle Studies Research Team in the Department of Urology. The team which includes June Chan, ScD, Stacey Kenfield, ScD, and Erin Van Blarigan, ScD, have explored a variety of dietary and lifestyle factors that appear to affect prostate cancer progression. Based on their research, I encourage men with prostate cancer to maintain a healthy weight, include regular vigorous physical exercise, and routinely incorporate foods including cooked tomatoes, cruciferous vegetables, fish, and healthy sources of vegetable fat such as olive oil, avocados, and nuts into their diets.
Another example is a study from Dr. Van Blarigan that I often reference when talking to colorectal cancer survivors. Her study found that following the American Cancer Society Nutrition and Physical Activity Guidelines for Cancer Survivors (having a healthy body weight, being physically active, and eating a diet rich in vegetables, fruits, and whole grains) after diagnosis of stage III colon cancer is associated with a longer survival.
---
Tips for Keeping Healthy During the Holidays
---
What is something you wish all people knew about nutrition in terms of cancer prevention?
About 40% of cancer cases in the United States are linked to modifiable risk factors – and could be prevented. In addition to avoiding tobacco exposure and excess sun, following the recommendations from the American Institute for Cancer Research/World Cancer Research Fund can significantly lower cancer risk. These recommendations include being a healthy weight, being physically active, and eating a diet rich in whole grains, vegetables, fruits, and beans. They recommend we limit consumption of processed foods, red and processed meat, sugar-sweetened drinks, and alcohol.
Additionally, when possible, aim to meet nutritional needs through food instead of using dietary supplements for cancer prevention. Overall, covering 2/3 of more of your plate with minimally processed plant-based foods is their recommended eating pattern for cutting cancer risk. Including a colorful fruit or vegetable at every meal and snack is a great place to start.
---
What do you find most rewarding about your work?
During college I worked as a concierge in an exclusive four-star hotel in downtown San Francisco. My day was filled with assisting guests by arranging tours, making theater and restaurant reservations, etc. It was there that I learned that I love helping people, but I wanted to help with something bigger, something that was more meaningful to me.
As an oncology dietitian I get the opportunity daily to help and support people during one of the most seriously challenging times in their lives – this can be a patient, a caregiver or another of my Cancer Center team members. Knowing that at the end of the day I have helped someone feel a little better and a little more in control of their life is what I find most rewarding about my work here at the UCSF Cancer Center.
A sample of healthy recipes from our oncology dietitians

Sun Dried Tomato, Kale, and White Bean Skillet

Green Monster Smoothie

Sun-Dried Tomato Tofu Spread
---