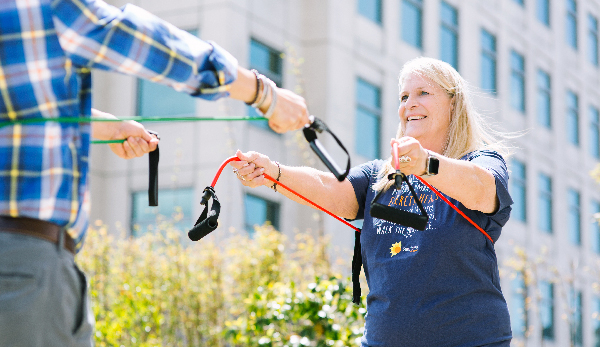 Click on the questions to see the answers!
No. Most services are open to all cancer patients, regardless of where they receive their care. Check the home page for current offerings.
There is no charge for PFCSC programs, events or services, unless specified. Donations are always appreciated.

In addition to PFCSC services, UCSF offers a range of supportive care services. Some of these are available only to UCSF patients. [
See the full list here
]
Some commonly used services are:
The PFCSC offers many support groups for people with cancer. Support groups are a place to share experiences and connect with other patients. For people who may not want to be in a group or are unable to attend in person, the Peer Support Program is available to speak with someone by phone.

Audio and video podcasts of selected talks are available on the PFCSC website.
Patient Education Resources are available the PFCSC website.
The Peer Support Program is available by phone.

The PFCSC sends a monthly events calendar by email and/or a hard-copy quarterly calendar of events via the postal system. To subscribe to one or both of these calendars,
sign up here
.
There are a number of ways in which we can support you in learning all you need to know about your diagnosis and treatments.
Online. The Patient and Family Cancer Support Center's Patient Education Resources are available on our website. These provide links to reliable and credible educational materials as well as names of agencies that provide education and support for patients.
In person. You can visit the Patient and Family Cancer Support Center and pick up flyers about events, free informational brochures, or browse our library of books and CDs.
Patient Health Library. For more in depth research about specific topics, you may speak with a professional librarian from the Fishbon Library. You can call or make an appointment to visit in person.

In most cases yes your caregiver is most welcome. However, for certain popular movement or exercise classes priority may be given to current cancer patients. We suggest that you inquire with the instructor prior to attending. Additionally some support groups are restricted to patients only, so please inquire at the time of registration.